McClendon's confidence in Morales unshaken
Switch-hitting DH brings balance to batting order in cleanup spot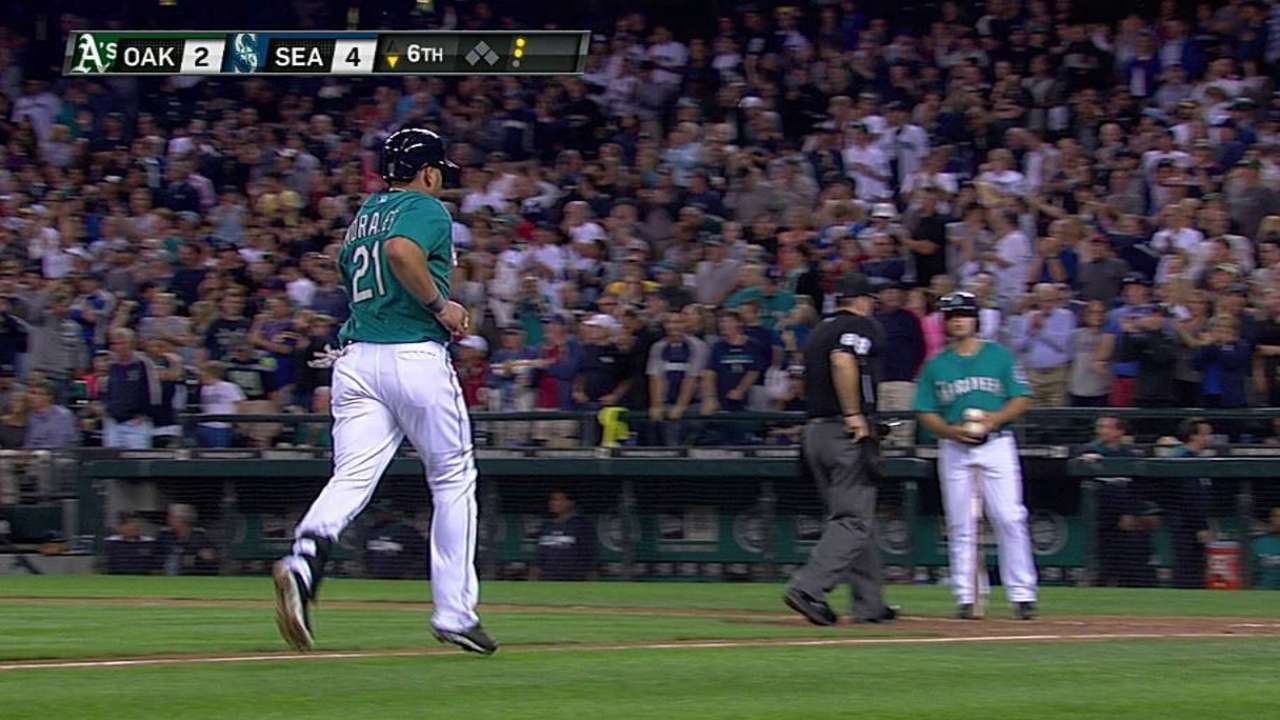 SEATTLE -- While Kendrys Morales went 0-for-11 in the Astros series and grounded into two double plays in Wednesday's 5-2 loss, manager Lloyd McClendon believes the veteran designated hitter is a key part of his team's attack heading down the stretch.
Morales went 6-for-15 with two home runs and five RBIs in the previous four-game series in Texas, and McClendon sees continued progress from the 31-year-old, who was acquired in a trade with the Twins on July 25 after signing two months into the season with Minnesota.
"I think he's got all the rust off him," McClendon said prior to Friday's series opener with the A's. "He had no Spring Training, he's swinging the bat good. His bat speed is back, he's starting to recognize breaking stuff. Earlier in the year he wasn't hitting breaking stuff very hard, now he's starting to drive it. I think it's just a natural progression. He's feeling better about things."
McClendon continues penciling Morales primarily into the cleanup spot, which is where he was again Friday. The skipper likes having the switch-hitter separating left-handers Robinson Cano and Kyle Seager in his lineup.
"That plays a big part of it," he said. "You have the switch-hitter between them, it helps quite a bit. Now if we're facing a team that doesn't have left-handers in their bullpen, then you can stack your lefties. But this gives us a little better balance."
In 42 games with Seattle, Morales is batting .215 with five home runs and 22 RBIs.
Greg Johns is a reporter for MLB.com. Follow him on Twitter @GregJohnsMLB as well as his Mariners Musings blog. This story was not subject to the approval of Major League Baseball or its clubs.