Happ excellent, but Toronto cedes WC ground
Lefty gives up one run in seven as Blue Jays fall to four games out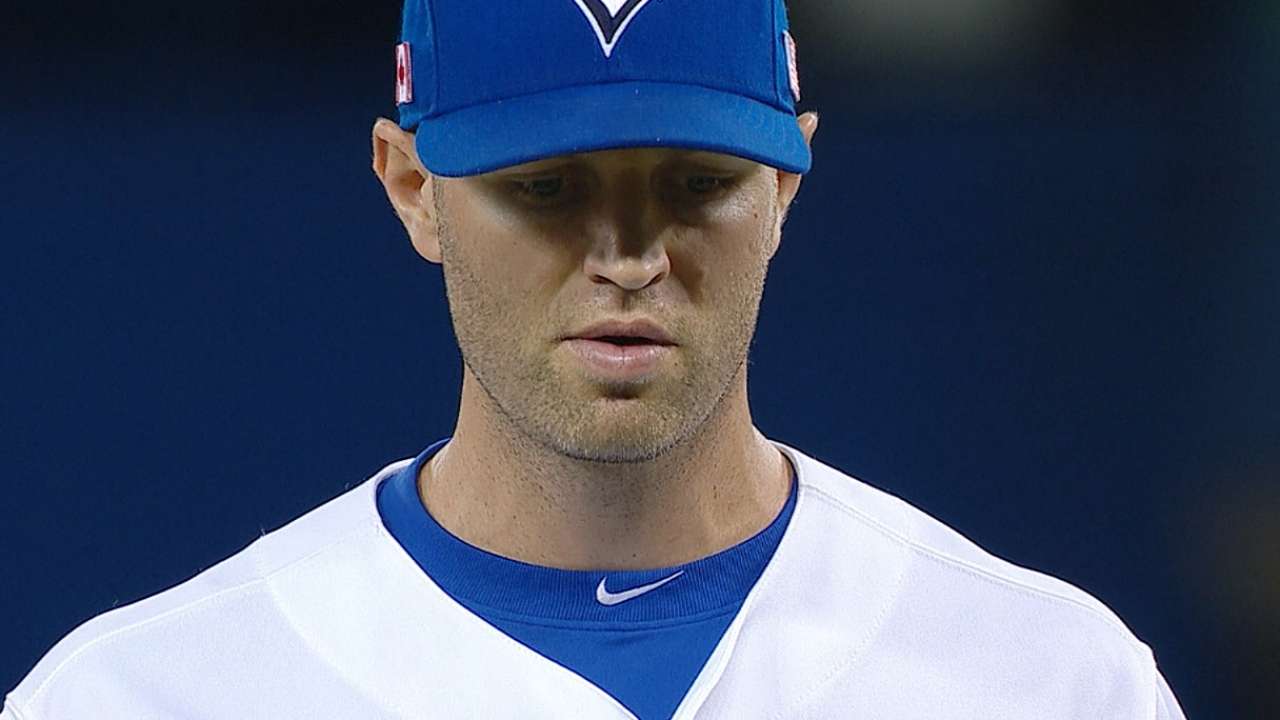 TORONTO -- The margin for error was so low, that despite allowing only two hits through seven innings, J.A. Happ was saddled with the loss as the Blue Jays fell to the Rays on Friday night. Happ's only blemish came on a solo shot from Ryan Hanigan to lead off the third, giving the Rays the 1-0 lead they would not relinquish en route to a series-opening victory at Rogers Centre.
The Blue Jays, who opened the day 3 1/2 games out of the second American League Wild Card spot, fell to four games behind, and their four-game win streak was snapped.
"That hurts," said Happ. "You expect to win those games."
It was another case of the Blue Jays' inability to back up a decent outing by the left-hander, who entered the contest with a 3.55 run-support average, the lowest among Toronto starters. Happ has now gone six innings or more in seven of his last eight starts, but he has received only 16 total runs of support over that span. With the loss, he falls to 9-10 on the season. He's won only once in his last eight outings.
Happ was excellent over seven innings, and outside Hanigan's homer, allowed only a single to James Loney in the fourth. He walked one and struck out seven.
Happ said he was trying to get ahead of Hanigan early in the count on that fateful pitch, and that the Rays' batter "guessed right and ambushed" the four-seamer on his first offering.
Hanigan, who swatted his fifth homer of the season, said he anticipated an aggressive approach from Happ and adjusted accordingly.
"I saw him, he was kind of challenging some guys the first two innings -- I was watching," he said. "So I wanted to be aggressive and came in there and it worked out."
As good as Happ was, in the end he was outmatched by Rays starter Nathan Karns, who made his regular-season debut after he was recalled from Triple-A Durham to take Drew Smyly's place in the rotation. Karns, who earned his first Major League victory, also went seven innings and gave up just two hits. He issued a pair of walks while striking out eight.
Karns gave the Blue Jays a window of opportunity early in the contest when he put the first two batters he faced on base. He walked Jose Reyes and hit Jose Bautista, but the Blue Jays were unable to capitalize on that shaky start, as Edwin Encarnacion hit into a double play before Dioner Navarro grounded out to strand a pair of a runners. But outside of that, Karns settled in and shut down the Blue Jays, who took their third loss in the last 12 games.
Toronto manager John Gibbons said his club ended up on the wrong end of a pitchers' duel.
"[Karns] was pretty [darn] good. The chance to get him was in the first, when he had trouble with the zone. He didn't throw a lot of strikes, and of course he got the ground back to get two and get out of there scoreless," said Gibbons. "And then after that, things clicked for him. I thought Hanigan did a great job for him behind the plate. It really all came together. He was great tonight. Happ was great, and the difference was that solo home run. If you love good pitching, you saw it."
The absence of offense was a rare sight after the Blue Jays put up 28 runs over three games in a sweep of the Cubs earlier this week. After the first inning, only Danny Valencia was able to reach scoring position when he doubled with two outs in the fourth.
Happ said that given the team's place in the playoff race, there's no time to dwell on the loss.
"We have come back and try to bounce back tomorrow," he said.
Jamie Ross is an associate reporter for MLB.com. This story was not subject to the approval of Major League Baseball or its clubs.