Karns fans eight in dazzling debut for Rays
Rookie gives up two hits in seven scoreless; Hanigan goes yard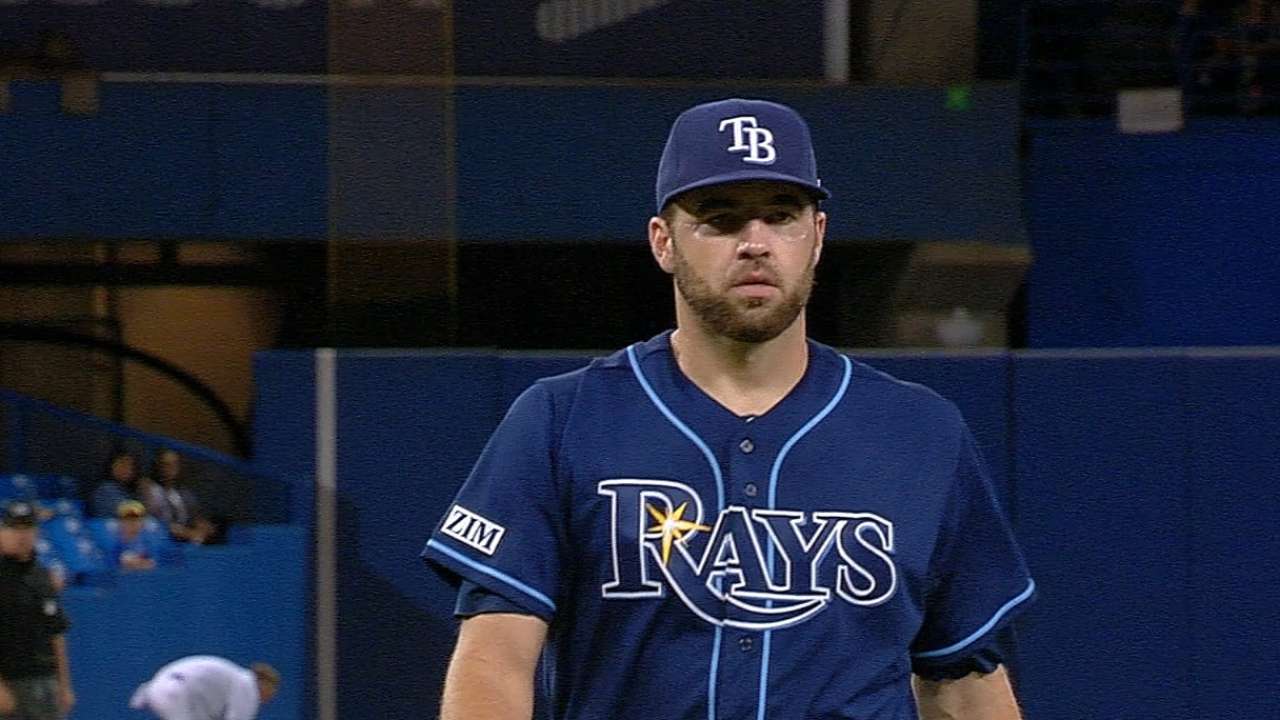 TORONTO -- Nathan Karns got an early lift then brought the heat Friday night, providing a nice glimpse into the future for Rays fans in a 1-0 win over the Blue Jays at Rogers Centre.
Karns, who came to the Rays in the February trade that sent catcher Jose Lobaton to the Nationals, made his first Rays start after spending the season at Triple-A Durham. The right-hander got off to a less than auspicious beginning when he walked Jose Reyes then hit Jose Baustista before Evan Longoria gave him an assist.
Edwin Encarnacion chopped one to third. Longoria fielded the ball, stepped on the bag and threw across his body to first to complete the 5-3 double play. Karns then walked Adam Lind, but retired Dioner Navarro on a grounder to first to end the inning -- 25 pitches after it began.
"That was huge for me," Karns said. "I walked a guy. I hit a guy. And then the double-play ball, two outs, execute a few pitches, get out of the inning, so that was big for me as well."
With the first inning in the rearview mirror, Karns let his fastball do the talking, settling into a nice rhythm while his heater blistered the strike zone.
The Blue Jays did not get their first hit until two outs into the fourth, when Danny Valencia doubled to left on a ball that landed just outside the reach of diving left fielder Brandon Guyer.
Karns recovered nicely by striking out Kevin Pillar, who watched strike three to end the inning.
All told, Karns used 114 pitches to post seven zeroes, allowing just two hits and two walks while striking out eight en route to his first Major League win. Of the 25 pitches he threw in the first, only 11 went for strikes. Of the next 89, 61 were strikes.
"You didn't know what was going to happen in the first inning, quite frankly," Rays manager Joe Maddon said. "But I'm always looking at what kind of swings Bautista is getting. What kind of swings is Encarnacion getting? I want to see what kind of swings those guys are getting to really be an indicator of what his stuff was like. And I didn't think they saw him that good."
Karns, who enjoyed the beer shower in the clubhouse following his first Major League win, made three starts for the Nationals in 2013, posting an 0-1 mark with a 7.50 ERA. He allowed that he is now a "little more polished."
"A little more under control," Karns said. "... It was nice to sharpen my skills in Triple-A and then come back out here and do it again."
Ryan Hanigan caught the team's 20th shutout of the season and sounded especially pleased to be in harmony with the rookie.
"It was good, it was fun. I had a good time working with him tonight," Hanigan said.
In addition to serving Karns well from behind the plate, Hanigan delivered the only offense provided by either squad when he homered to left off Blue Jays starter J.A. Happ in the third inning, his fifth home run of the season.
Happ "was kind of challenging some guys the first two innings -- I was watching," Hanigan said. "So I wanted to be aggressive and in came in there and it worked out."
Jake McGee recovered nicely after surrendering a walk-off, three-run homer to Chris Young Thursday night in New York by pitching a scoreless eighth. Grant Balfour followed by retiring the Blue Jays in order in the ninth to pick up his 12th save of the season and first since July 1. He now has 6 1/3 consecutive scoreless innings under his belt.
"You know that the guy's gone out there and pitched a [nice] game, the last thing you want to do is sort of ruin that," Balfour said. "A great win for the team and obviously, congratulations to Nate for his first big league win."
The Rays managed just two hits on the night and the Blue Jays matched that total.
Karns "was great tonight," Blue Jays manager John Gibbons said. "Happ was great, and the difference was that solo home run. If you love good pitching, you saw it."
Bill Chastain is a reporter for MLB.com. This story was not subject to the approval of Major League Baseball or its clubs.