Matheny reflects on HBP from playing career
Cards manager, who was hit in the mouth, wants pitchers to be more careful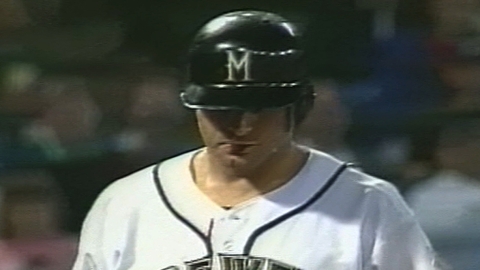 ST. LOUIS -- Giancarlo Stanton's gruesome injury after getting hit in the face with a pitch Thursday night struck a chord with Cardinals manager Mike Matheny.
Matheny was hit in the face by a pitch while playing for the Brewers on May 26, 1998.
"I just lost the ball," Matheny said. "I was working hard to stay in. I was the tying run in the ninth inning, a guy already on base and I'm trying to figure out how to get on base any way I can, not necessarily getting hit in the face. I'm making sure I'm staying in there on a ball that started up that may possibly break toward the plate, and the next thing I know I'm spitting out a lot of blood."
Matheny lost several teeth, but he was able to play the next night.
Cardinals players Jon Jay (19) and Matt Holliday (17) rank first and second in the Majors in being hit by pitches entering Friday. Jay's seem to be lower around the legs, but Holliday's tend to be up.
"It's not necessarily guys leaning into pitches and trying to get hit, which guys have done in the past," Matheny said of Jay and Holliday. "The balls on Holliday, guys are just getting careless going up and in on him and that's not a good place to go."
Not including Stanton, who was ruled to have swung at the pitch, 14 batters were hit on Thursday. Matheny is seeing a disturbing pattern.
"What I am seeing more of recently is catchers setting up and in," said Matheny, a former catcher. "We didn't do that. That's one of those things, your pitcher better be really good at making pitches up and in or else you're going to risk someone getting really hurt."
Matheny didn't wear any special face guard after he was hit.
Stanton's injury has brought up the question of whether face protection should be mandatory for hitters. Matheny believes it will continue to be along individual preferences.
"No matter who it is, you've got to be careful when you're trying to make pitches up and in," Matheny said. "[Hall of Fame pitcher Bob Gibson] and those guys would tell you something different, but in the last 15 years here, not too many pitchers have the kind of control where they can go up there and make a quality pitch without the risk of hurting somebody."
Joe Harris is a contributor to MLB.com. This story was not subject to the approval of Major League Baseball or its clubs.