Nuno denied his first National League win again
D-backs rally in fourth and ninth, but lose seventh straight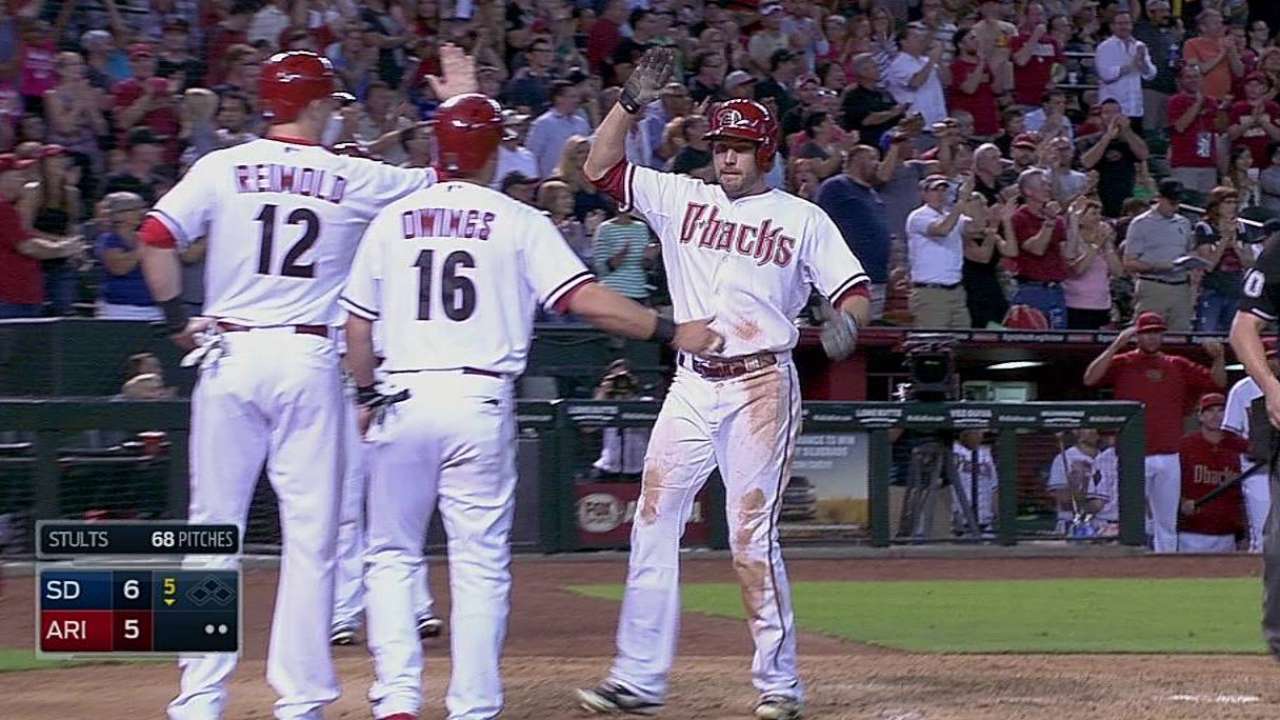 PHOENIX -- The D-backs returned to Chase Field on Friday hoping to put a disastrous 2-8 road trip behind them. The offense averaged only 2.1 runs per contest during the 10-game swing, so the D-backs were hoping playing at home for the first time in September would get the bats going.
Although the offense did have a relatively good day, the D-backs still dropped their seventh straight game, falling 6-5 to the Padres to start a three-game weekend series.
Was it nice to see the offense scoring more than two runs for the first time in a week? Yeah," manager Kirk Gibson said. "But it's nice to win games, too."
Not only did the offense seem to break out of its recent slump, it also gave starter Vidal Nuno more run support than he is used to receiving.
In Nuno's first 11 starts with the D-backs, the offense averaged only 2.5 runs per game and never scored more than five.
This relative outburst could have propelled Nuno (0-6 with the D-backs and 2-11 overall) to his first D-backs victory, but the 27-year-old had an outing uncharacteristic of his time in the National League.
Nuno entered the game with a 3.16 ERA in his 11 starts with the D-backs, but he surrendered six runs on eight hits in only five innings.
"It's just annoying," Nuno said. "I got some run support today, but I blew it."
Four of the D-backs' five runs came in the fifth inning - when they were already down 6-1 to pitcher Eric Stults (7-16).
The D-backs got on the board first thanks to an RBI single by A.J. Pollock, but the center fielder's big knock came in the four-run fifth inning.
After a Jake Lamb triple and a Nolan Reimold single cut the deficit to four, the D-backs put two runners on for Pollock, who connected for his first home run since May 26.
"I just wanted to be a little aggressive on that first pitch," Pollock said. "He was trying to sneak the first one over and then he was going to his other stuff to try to get you off the zone. I just wanted to put a good swing on it and get a runner in."
His three-run shot seemed to give the D-backs momentum, but it was not to be.
The D-backs had a shot at a walk-off win against Padres closer Kevin Quackenbush, but they faltered in the ninth, partially thanks to a stellar defensive play by Padres shortstop Alexi Amarista.
Cody Ross singled to put a runner on with one out, and Lamb followed him by scorching a grounder to shortstop. Amarista dove to his right, rolled and fired the ball to second for one out, but Jedd Gyorko couldn't complete the double play.
"That was a tough play, and Alexi made an acrobatic turn, a great acrobatic turn," Padres manager Bud Black said.
The play sealed the victory for the Padres, though it was not immediately apparent. The D-backs still put runners on the corners after a Cliff Pennington single, but Aaron Hill flew out to end the inning and the game.
"It would have been a completely different ballgame if we got that runner on," Pollock said about Amarista's play.
"We just got too far behind tonight to catch up," Gibson said.
Adam Lichtenstein is an associate reporter for MLB.com. This story was not subject to the approval of Major League Baseball or its clubs.