Six Padres drive in runs to edge D-backs
Bullpen, defense come through, too, in support of Stults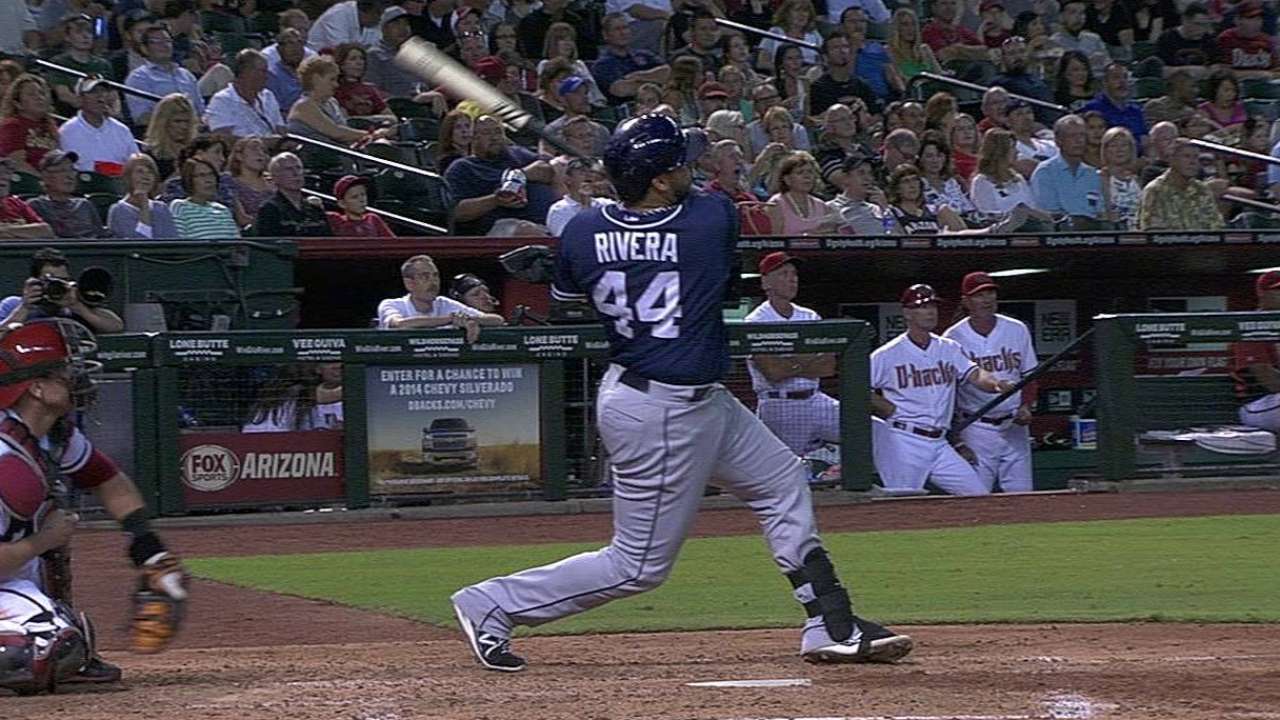 PHOENIX -- Some of the names and roles have changed this season but there's been one constant with the Padres' bullpen in 2014 -- six months of unwavering success.
It happened again Friday, as the relief trio of Nick Vincent, Dale Thayer and Kevin Quackenbush got the final nine outs in the Padres' 6-5 victory over the D-backs before a crowd of 31,238 at Chase Field.
The Padres, for all their struggles this season, are 51-1 when leading after six innings, 52-2 after seven innings and 54-1 after eight innings.
"A great standard has been set in our bullpen from a lot of great relievers," said San Diego manager Bud Black. "These guys weren't around for [Trevor] Hoffman, [Mike] Adams and [Heath] Bell, but they were for [Joaquin] Benoit and [Huston] Street and a few were for [Luke] Gregerson.
"There's a great deal of mentorship that's gone on that's been passed down to these guys."
The Padres (68-78) needed each and every strike from those relievers once Eric Stults (7-16) left after he allowed five runs, two earned, over six innings.
The Padres' defense chipped in Friday with a handful of gems, including double plays in the first, fourth and eighth innings. The one in the eighth was of the 4-6-3 variety, a short-hop that Jedd Gyorko flipped to Alexi Amarista who made a nice play at the bag to get a throw off.
"Jedd has good hands and good feet. That was a tough play and Alexi made an acrobatic turn, a great acrobatic turn," Black said. "Overall, I thought the infield play was very good."
Third baseman Yangervis Solarte made a nice backhand play and came in on a ball to get an out, but his miscue in the fifth inning with two outs prolonged the inning, which led directly to A.J. Pollock coming to the plate with two on. His home run cut the Padres' lead to 6-5.
But the D-backs (59-88) wouldn't score again, even though they put two on in the ninth inning. A nice play by Amarista to smother a ball hit by Jake Lamb that he turned into a force out certainly helped.
Two batters later, Quackenbush -- filling in for an injured Benoit, who took over after Street was traded in July -- got pinch-hitter Aaron Hill to fly out to end the game.
Quackenbush, a rookie, has had to cut his teeth in a lot of high-leverage situations. Some because the Padres have wanted to see if he can handle it and some because the situation has called for it. He said time spent around veterans like Benoit and Street has prepared him well.
"Guys like Benoit and Street, they've been so successful for so many years, you can learn so much from them by picking their brains or even just watching them," Quackenbush said. "I think one of the things I have learned is you can't let certain situations affect you too much."
If anyone knows that, it's Stults, who entered this start with the lowest run support average (2.84) in all of baseball. And so, of course, on Friday, the Padres scored six runs for him in five innings. The Pollock home run, all unearned runs, cut into his lead, but for the most part, he did his job.
The defense helped. So did the bullpen.
"They're huge," Stults said of the defensive plays. "It's nice to see guys make the not-so-routine plays. It's hard to get 27 outs."
The Padres got two hits from Solarte, Gyorko, Yasmani Grandal, Cameron Maybin and Amarista. Rene Rivera had a home run, his 10th of the season. That came in the fifth inning off Vidal Nuno (0-6 with the D-backs).
Corey Brock is a reporter for MLB.com. Keep track of @FollowThePadres on Twitter. This story was not subject to the approval of Major League Baseball or its clubs.