Braves drop duel, fall back in Wild Card race
Wood twirls nine-strikeout gem before Rangers rally vs. 'pen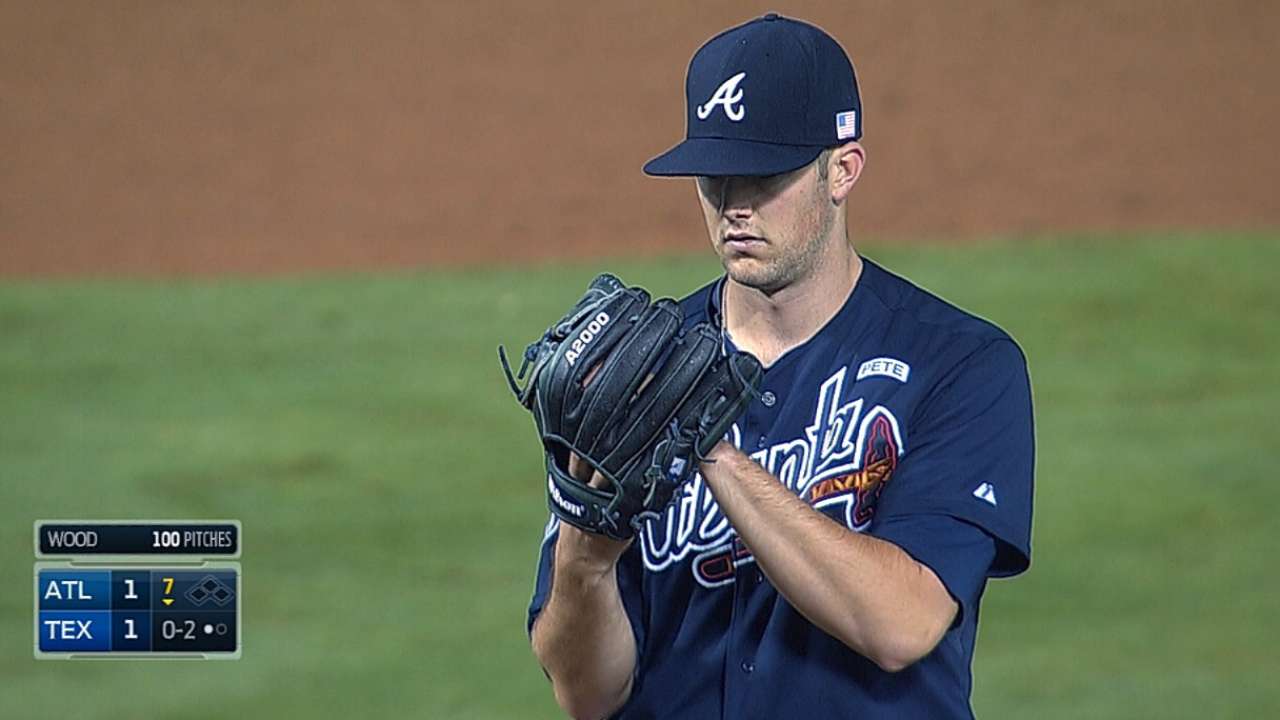 ARLINGTON -- Coming off a win on Wednesday in Washington, the Braves were facing a Rangers team that had the worst record in baseball and had lost 11 of 12 games entering Friday night's series opener. The Braves spoiled another dominating pitching performance from starter Alex Wood, stranding eight men on base in a 2-1 loss.
The loss for the Braves moved their deficit for the second National League Wild Card spot to three games after the Pirates defeated the Cubs, 7-3.
Wood entered the game having thrown seven innings or more in four straight starts, and hadn't allowed more than three runs in eight straight. The trend continued for Wood, even in the hitter-friendly confines of Globe Life Park. The lefty tossed seven solid innings, surrendering only four hits, striking out nine and giving up one earned run in the no-decision.
"The only thing that's frustrating is us not getting a win as a team," Wood said. "Right now everything matters and we were grinding and battling against a good pitcher tonight. Sometimes that's just how things shake out at their home ballpark after an off-day."
Wood has received three runs or fewer of support in each of his last five starts.
"It doesn't bother him," manager Fredi Gonzalez said of Wood and his lack of run support. "He'll come back out next time and give you a chance to win a game.
"We had some opportunities early on. It's hard to win games [scoring only] one run. Our pitching staff is doing a tremendous job by just giving up two runs."
In the third inning, the Braves scattered four singles, but only managed one run, with Jason Heyward's fielder's choice groundout scoring B.J. Upton. Atlanta had opportunities with the bases loaded and only one out, but Justin Upton struck out swinging and Ryan Doumit popped out to third base.
The Braves went 1-for-7 with runners in scoring position.
After not starting the series finale against Washington on Wednesday, shortstop Andrelton Simmons went 2-for-3 with two singles in his return to the starting lineup. The rest seems to have benefited Simmons, who now has three hits in his last four at-bats after starting the month going 3-for-30. It was Simmons' first multihit game since Aug. 31 vs. Miami.
"You can't expect to beat anybody in the big leagues," Simmons said. "They've got big leaguers, too, and can play good at any moment. We have to make sure we do our part and play solid baseball, play solid defense and produce runs."
In his third start of the season since coming back from a knee injury, Rangers left-hander Derek Holland doesn't appear to have missed a beat on the mound. Holland matched Wood by hurling seven innings of his own and striking out six while only giving up one run.
"You can tell why [Holland] is what he is," Gonzalez said. "He doesn't panic. It was bases loaded early in the game with Justin Upton at the plate and he threw a 3-2 changeup with a ball in the dirt that Justin couldn't lay off on. That's what makes good pitchers. They don't give in."
Texas' offensive struggles continued, but the Rangers did enough late to pull off the rare September win.
A leadoff double in the sixth inning by J.P. Arencibia that bounced over the third-base bag started the rally to tie the score. Guilder Rodriguez pinch-ran for Arencibia and moved to third on an Adrian Beltre single. He scored on Ryan Rua's groundout.
In the top of the eighth with the game tied, 1-1, it appeared the Braves might retake the lead when Freddie Freeman reached on a walk, stole second and advanced to third when the throw by Rangers catcher Robinson Chirinos went into center field. With runners at second and third after Doumit was intentionally walked, Chris Johnson struck out swinging.
David Carpenter relieved Wood in the eighth. After retiring the first two Rangers hitters, Beltre started the two-out rally with the first of three straight singles. The last was the game-winner, an RBI knock up the middle by Chirinos.
"It stinks because Woody pitched his butt off again and we spoiled another really good outing," said Carpenter (6-4). "It's a tough loss against a team who's had some tough luck this year. We have to come back the next two days and grind it out to try and get two."
Ryan Cox is a contributor to MLB.com. This story was not subject to the approval of Major League Baseball or its clubs.