Cards push back Wacha to give him extra rest
Righty recently returned from a shoulder injury; Gonzales to start Sunday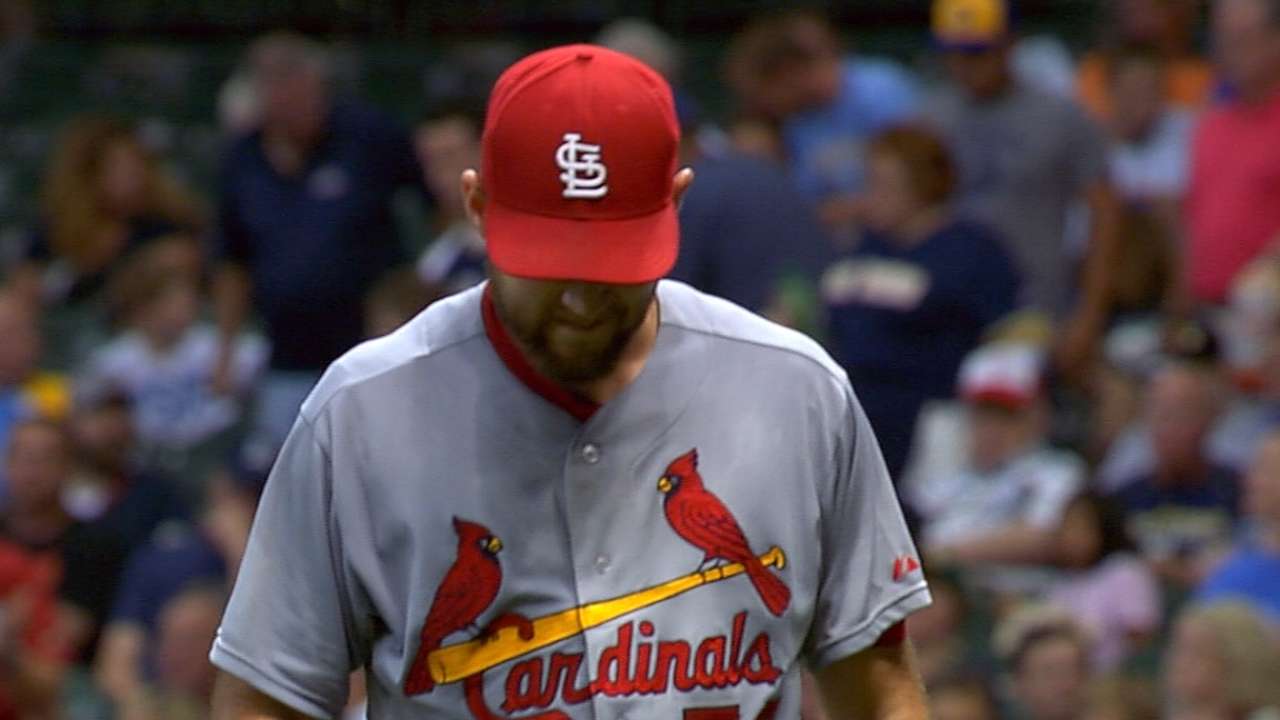 ST. LOUIS -- Michael Wacha, who recently returned from a right shoulder injury, will not make his scheduled start for the Cardinals against the Rockies on Sunday.
"Give him a little rest," Cardinals manager Mike Matheny said. "Just to us he didn't look quite right and he's coming in in kind of a different scenario. We're trying to build him up, and typically he just doesn't look right. He'll take more rest, and we had an opportunity to do that."
Wacha was sidelined in June with a stress fracture in his right shoulder. The right-hander was 5-5 with a 2.79 ERA in 15 starts prior to the injury. Wacha made two abbreviated starts while trying to build his pitch count since coming back. He gave up one run in three innings against Milwaukee on Sept. 4, and he gave up five runs in four innings against Cincinnati on Tuesday.
"He's not at full go," Matheny said. "He's been working to get there, and we kind of gave ourselves the freedom to throw him in there and see how it looks, and if we like how it looks, we keep pushing him and if we don't, we stop. And right now we didn't like kind of how it was coming together. He wasn't necessarily overly excited about how the ball was coming out of his hands, so what do you do? You stick to the plan and just stop."
Matheny said the club is taking a wait-and-see approach as to Wacha's next step. Matheny said any conjecture about what this decision means to Wacha's postseason availability would be "taking it too far."
Left-hander Marco Gonzales will get the start in Wacha's place.
Gonzales made his Major League debut at Colorado on June 25, getting a no-decision after giving up five runs in five innings. Gonzales, who has been piggy-backing Wacha, got his first Major League win in his last start by giving up one run over six innings against the Cubs on Aug. 30.
"He's doing a great job," Matheny said. "That time we gave him an opportunity against Colorado, I thought he did a great job, too. Put him back in that position and see how he does."
Joe Harris is a contributor to MLB.com. This story was not subject to the approval of Major League Baseball or its clubs.