MLB.com Columnist
Lyle Spencer
Giants working on more even-number-year magic
World Series champs of 2010, '12, gaining steam in '14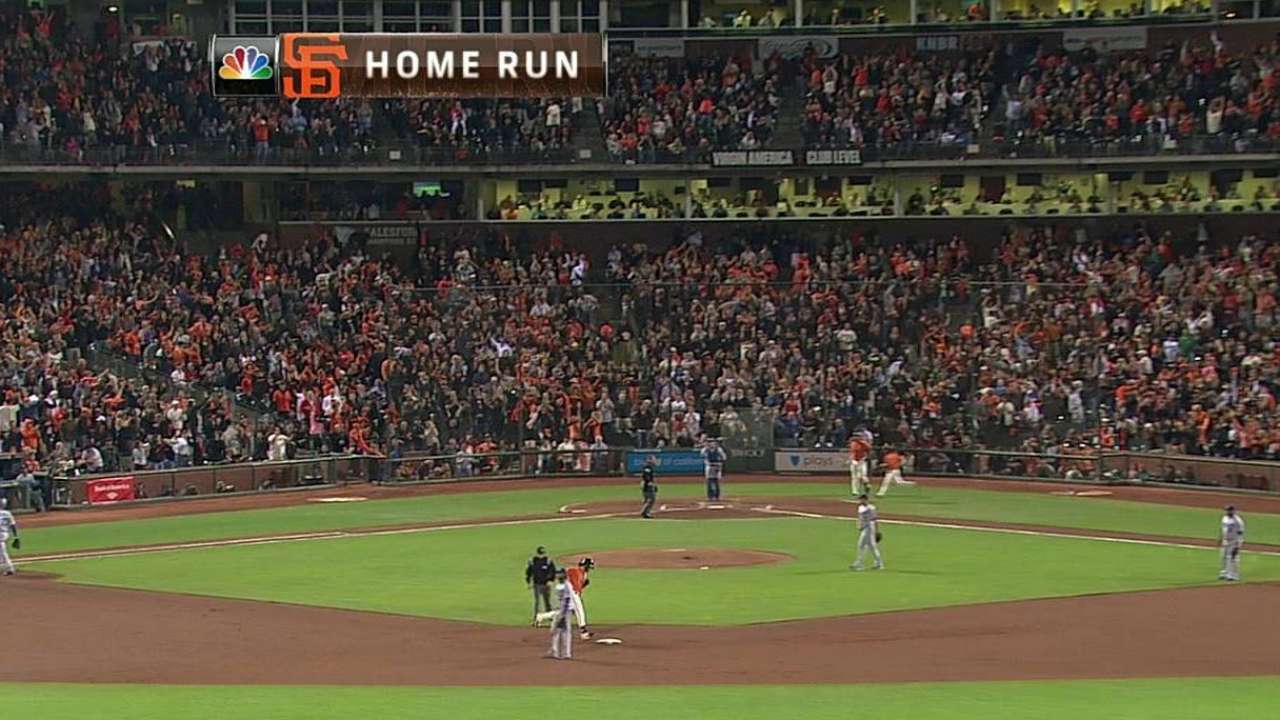 SAN FRANCISCO -- The Giants came out of their corner for the first round of this heavyweight bout against the Dodgers with the mindset and activity of Smokin' Joe Frazier, punishing Hyun-Jin Ryu with body blows.
As it turned out, it was the left shoulder that was irritating Ryu. This is a potential red flag for the National League West leaders -- by a thread -- at a time when the only flags you prefer to be thinking about are pennants.
Ryu faced nine hitters on Friday night at crackling AT&T Park, yielding four runs on five hits and a walk. This was more than enough support for Madison Bumgarner, who snuffed the Dodgers over seven innings in 9-0 San Francisco win to slice L.A.'s division lead to one game.
Ryu lately has been almost as good as Clayton Kershaw. This brief outing was not at all what manager Don Mattingly and Co. had in mind for the first of six head-to-head meetings that could determine who wins the division and who plays in the NL Wild Card Game for October survival.
"Extremely disappointed," Ryu said through a translator when asked how he felt. "It was one of the most important games of the season, and I'm very sorry I couldn't do better. Tomorrow I'll see the doctor and see how that goes. On the third batter, I started to feel discomfort [in the shoulder]. It was a little bit of everything -- a little stiffness, a little pain."
The Giants strongly identify with even-numbered years. If 2014 plays out like '10 and '12, manager Bruce Bochy should be a lock for the Hall of Fame.
Bochy has these Giants looking remarkably similar to the World Series champions of 2010 and '12, bringing good cheer to the orange-and-black faithful.
"We've got a lot of guys who were here in '10 and '12," Bochy said. "That experience is invaluable. At the same time, you've got to execute your pitches and get some timely hits."
Consider it done, boss.
Following a one-out double off Ryu by rookie Joe Panik, Buster Posey crushed an RBI double to left to get the merry-go-round going.
Posey is banging the ball the way he did when he was the NL Most Valuable Player Award winner two years ago. Bumgarner, his batterymate and buddy, looks very much like the best lefty in the league not named Kershaw.
If you're looking to make it three World Series championships in five years, Posey and Bumgarner form a firm foundation -- and the rest of the bricks, masonry and mortar appear to be fitting nicely into place.
Bumgarner notched his 18th win with a characteristically stout effort, joining Kershaw and Johnny Cueto atop the NL leaderboard. Kershaw goes Sunday against Yusmeiro Petit after Zack Greinke and Tim Hudson, a pair of tough-minded veterans with similar arsenals, go to work on Saturday night.
The Dodgers will have their normal lineup back for Hudson. In a show of respect for the cross-firing Bumgarner, Mattingly went to an all-righty alignment save for Adrian Gonzalez. This removed leadoff generator Dee Gordon and the Majors' hottest hitter over the past month, Carl Crawford.
Justin Turner, playing and batting second, and Scott Van Slyke, assuming Crawford's role in left, were a combined 0-for-5 against Bumgarner. Turner worked a 12-pitch walk in the fifth that loaded the bases for Gonzalez, fourth in the NL at the moment with runners in scoring position at .341. His fly ball was handled by Angel Pagan in left-center to quell the threat.
Crawford has been ablaze, hitting .434 in 83 at-bats since Aug. 10, with a 4-for-4 effort in his most recent appearance Wednesday night. Crawford is slugging .614 during this stretch, third in the Majors.
Gordon hit .303 with eight runs scored on the recent homestand, and he leads the Majors in steals with 59 and triples with 12.
The Giants' own Crawford, Brandon, put his wide range of talents on display as Carl watched. Few shortstops in the game are better than this one, and he can hurt you with his bat. After doubling during the first-inning uprising, the Giant unloaded a two-run homer to right in the fifth, his ninth of the season.
Travis Ishikawa's pinch-hit three-run blast off Kevin Correia in the seventh put the game on ice.
Panik, Brandon Crawford's new middle-infield partner, is performing down the stretch in the productive manner of another Giants second baseman. It was Marco Scutaro, coming over from the Rockies in an under-the-radar midseason move in 2012, who served as a prime catalyst in San Francisco's fairly unbelievable navigation of an October obstacle course.
With Scutaro shelved by a lower back strain, Panik -- the club's No. 1 choice in the 2011 First-Year Player Draft out of St. John's University -- has delivered with uncommon poise at 23. He's batting .313 with a five-hit game and two four-hit games on his resume, making all the plays with the glove.
"He has a calm demeanor, no matter what's going on," Brandon Crawford said of Panik, who has no panic in him. "I played with him in the 2011 [Arizona] Fall League, his first year, and I could see the skills even then. He's athletic enough, and he has a real good approach to the game."
Panik's physical resemblance to Posey is remarkable. John Barr, the Giants' scouting maven, favors athletes with high intelligence and good habits. He appears to have found another to add to the collection that includes Posey, Crawford and Brandon Belt.
"All the time," Panik said, grinning, when asked if he gets mistaken for Posey. "We come out of the locker and fans are yelling, 'Buster!' when they see me."
Panik appears intent on carving out his own unmistakable identity for another resolute, resourceful Giants outfit.
Lyle Spencer is a reporter for MLB.com. This story was not subject to the approval of Major League Baseball or its clubs.