Errors prove costly as Astros drop series opener
Marisnick's miscue helps spark Angels' decisive seven-run outburst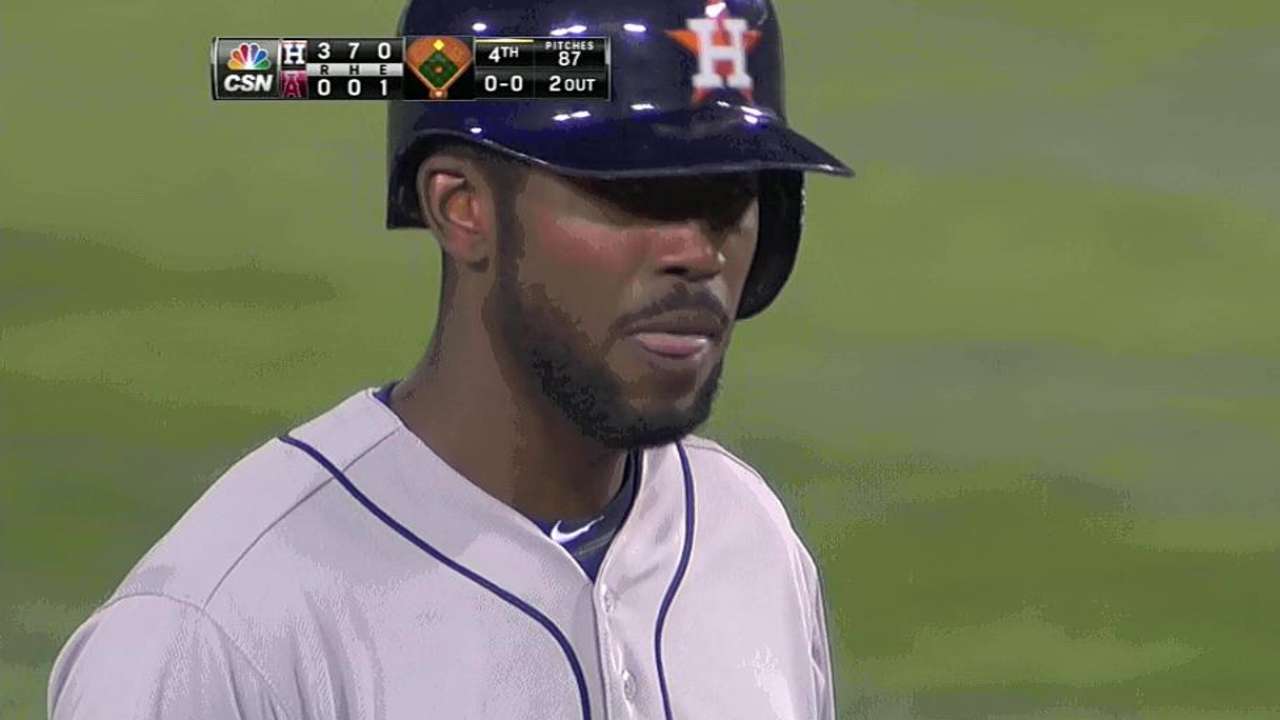 ANAHEIM -- Playing against a team as hot offensively as the Angels are now, one mistake can prove costly.
That's what happened to the Astros on Friday night at Angel Stadium, when a dropped fly ball by rookie right fielder Jake Marisnick paved the way for a seven-run fifth inning, and the Angels cruised to an 11-3 victory.
"I thought it was going to be a special night for me," said Astros left-hander Brett Oberholtzer, who retired the first nine hitters, and was staked to an early 3-0 lead.
But the Astros defense opened the door -- twice -- and the Angels rallied for their season-best ninth consecutive victory, and their 15th in the past 17 games -- with the only two losses at Minute Maid Park last week. It was the eighth consecutive game the Angels scored seven or more runs, matching the franchise record set in June 1979.
"We're the only team to beat them [in this stretch], but we played good baseball in Houston," interim manager Tom Lawless said. "You can't make mistakes against good teams. You can't give them extra outs.
"They're on a roll. They're a good team, there's no doubt about it. If we don't play a clean game, they'll take advantage of it. That's what good teams do."
The wheels started to come off in the fourth, when shortstop Jonathan Villar couldn't handle center fielder Dexter Fowler's routine throw in on a sacrifice fly, turning it into two runs.
Oberholtzer minimized that damage, but gave up two hits to open the fifth. After he retired C.J. Cron on a called third strike, Collin Cowgill sent a drive to right-center that Marisnick took a great route to, but had it go off the outside finger of his glove, letting in one run and putting runners at second and third. Kole Calhoun followed with a two-run single to put the Angels ahead, and get them started on a 12-batter, seven-hit inning.
"I just missed it," Marisnick said. "Ball's got to be caught. I feel like that's a big point in the game, and it gave them some momentum. If anything, I was looking to throw too soon. I put it on the ground. I just rushed it."
Lawless, who worked with Marisnick in Triple-A, said: "He'll make that catch, 99 out of a hundred. He just didn't make it tonight, for whatever reason."
To his credit, Marisnick didn't use the lights, or any other excuse.
Mike Trout followed Calhoun with a triple, and Oberholtzer exited. Reliever Jorge De Leon retired only one batter -- Albert Pujols, on a hard-hit sacrifice fly -- and gave up a two-run homer to David Freese. Four of the seven runs in the inning were charged as unearned to the team. Samuel Deduno, who finally got the Astros out of the inning, gave up a two-run double to Howie Kendrick in the sixth for the final margin.
Oberholtzer went 4 1/3 innings, allowing five hits and no walks while striking out six. Two of the six runs he was charged with were unearned.
"I had some of my better stuff early on," he said.
Second baseman Jose Altuve had two hits to run his total to 202, in his chase for Craig Biggio's 1998 Astros record of 210, before Lawless took him out to rest him after he batted in the sixth.
"That was the perfect time to give him a breather," said Lawless, who had said during his pregame briefing that he would be looking for opportunities to rest Altuve this month. He's played 143 of the Astros' 147 games, and has 15 left to try and catch Biggio, as well as win the AL batting title.
Marisnick had two hits and an RBI, as did Fowler, who had a run-scoring double in the fourth. But the Astros, who had seven hits off Angels starter C.J. Wilson in the first four innings, managed just two against the Angels' bullpen in the final four innings.
"I thought we had good at-bats against him," Marisnick said of Wilson, who went five. "But he battled and kept them in the game."
Told of the Angels' run-scoring streak, Marisnick said: "That lineup's really good, and they're capable of it."
Earl Bloom is a contributor to MLB.com. This story was not subject to the approval of Major League Baseball or its clubs.