Dodgers blanked by Giants as Ryu leaves injured
Lefty allows four runs in first before exiting; NL West lead to one game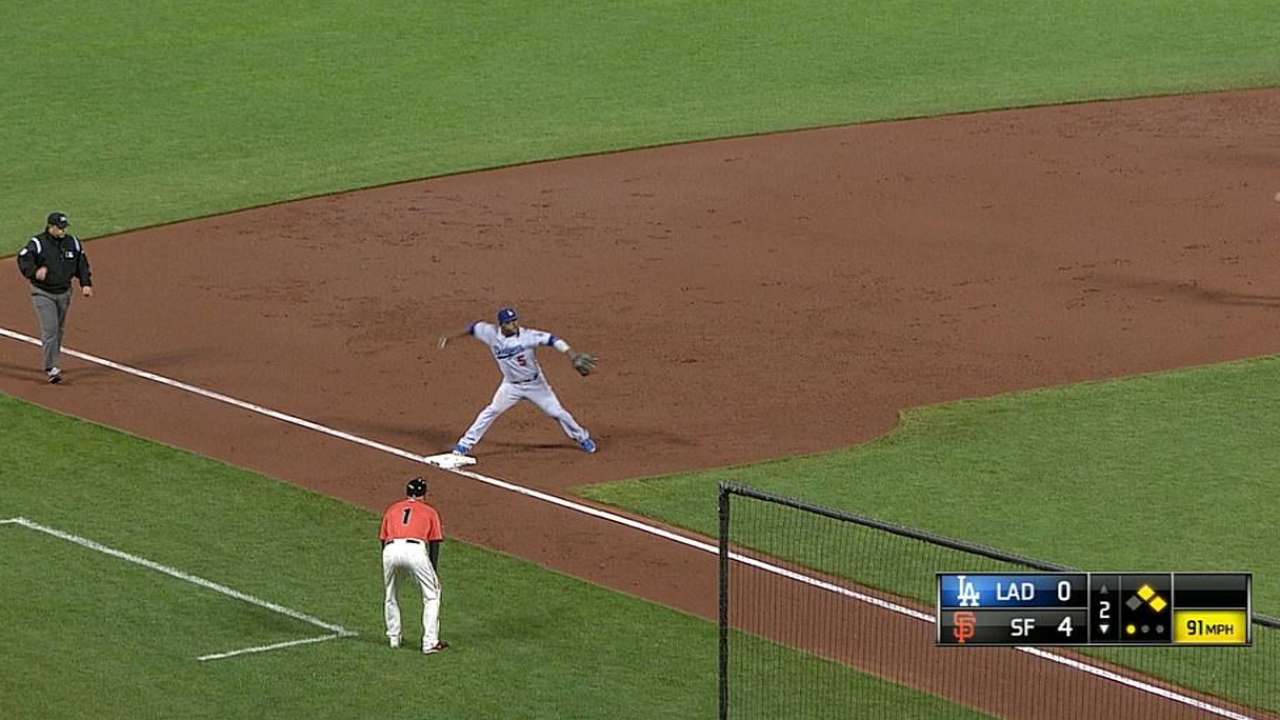 SAN FRANCISCO -- The Dodgers had their starting rotation lined up just the way they wanted for the showdown series with the Giants, a strategy that took one inning to unravel.
Hyun-Jin Ryu was removed with left shoulder irritation after a four-run first inning Friday night and the Dodgers never recovered, the Giants coasting to a 9-0 win, the most one-sided home shutout over the Dodgers in San Francisco history.
In one night, the Dodgers lost the series opener, half of their division lead (now one game) and possibly their No. 3 starter for the third time this season. The Giants are on a 13-3 run after being six games back.
"It's professional baseball," manager Don Mattingly said. "You don't sit here crying about this one. The guys turn the page, nothing you can do about this one."
Mattingly said he didn't know if Ryu would make his next start, in Colorado, but Carlos Frias would if Ryu can't.
Catcher A.J. Ellis said he was "concerned that we got punched in the mouth tonight, and we've got to come back ready to play and even the series up. Now it's like a mini one-game playoff. You're only as good as the next day's starting pitcher."
The Dodgers send Zack Greinke against Tim Hudson on Saturday night.
Ryu entered Friday night's matchup against Madison Bumgarner having won five of his last six decisions. But in a 27-pitch outing, Ryu threw 17 fastballs, only one exceeding 90 mph. He allowed three doubles and two singles, a walk and wild pitch, and the only strikeout victim was Bumgarner, who allowed just three hits for seven innings.
"It's one of the most important games of the season," said Ryu. "I'm very disappointed. For a starting pitcher, to give up four runs in the first inning, I feel very sorry I couldn't prevent it."
Managing like it's a pennant-race game with an expanded roster, Mattingly got the Dodgers' bullpen going after Hanley Ramirez's double led off the second inning. Chris Perez overcame two walks for a scoreless second inning, followed by three innings from Frias, who allowed a two-run homer by Brandon Crawford in the fifth.
Kevin Correia pitched two innings, appearing uncomfortable and stretching repeatedly, especially after he allowed a three-run splash homer to pinch-hitter Travis Ishikawa in the seventh. Yimi Garcia finished up.
Back-to-back one-out doubles by Joe Panik and Buster Posey gave the Giants their first run, Hunter Pence singled in Posey and the Dodgers had a defensive breakdown on Yasiel Puig's throw home with nobody to cut it off, so Pence went to second.
He tagged to third on Pablo Sandoval's fly to deep center, and scored when Joaquin Arias punched a single to right. Arias took second on a wild pitch, Gregor Blanco walked and Crawford doubled inside first, scoring Arias with Blanco stopped at third.
Meanwhile, Mattingly tried to counter Bumgarner by sitting left-handed hitters Carl Crawford and Dee Gordon, but replacements Scott Van Slyke and Justin Turner went 0-for-6 with four strikeouts and a walk. The rest of the lineup didn't have an answer for Giants pitching, either.
"He's always tough against everybody," Mattingly said of Bumgarner. "He's the kind of guy, you just try to stay with him, keep the game close and get his pitch count up, because he can be a little erratic."
Bumgarner struck out nine for 208 on the season, the most by a San Francisco left-hander.
"He's thrown a lot of these games, especially in important games," said Giants manager Bruce Bochy. "He's the guy we want out there. He did all he could, and more, to help us win that game. When you have a series like this, we had the right guy starting it for us. And he got us off to a great start, but the bats did it for us tonight, too."
The Dodgers' version of a rally came in the fifth inning on a leadoff infield single by Juan Uribe, a two-out broken-bat single by Puig and a determined 12-pitch walk by Turner. But with the bases loaded, Adrian Gonzalez flied out.
"We had the bases loaded, and if we get a hit or scratch out a run, we can get back in the game," said Mattingly. "But [Brandon] Crawford hit the two-run homer and you give Bumgarner six runs, it's a tough task catching up."
Ken Gurnick is a reporter for MLB.com. This story was not subject to the approval of Major League Baseball or its clubs.