Belt rejoins Giants, activation from DL imminent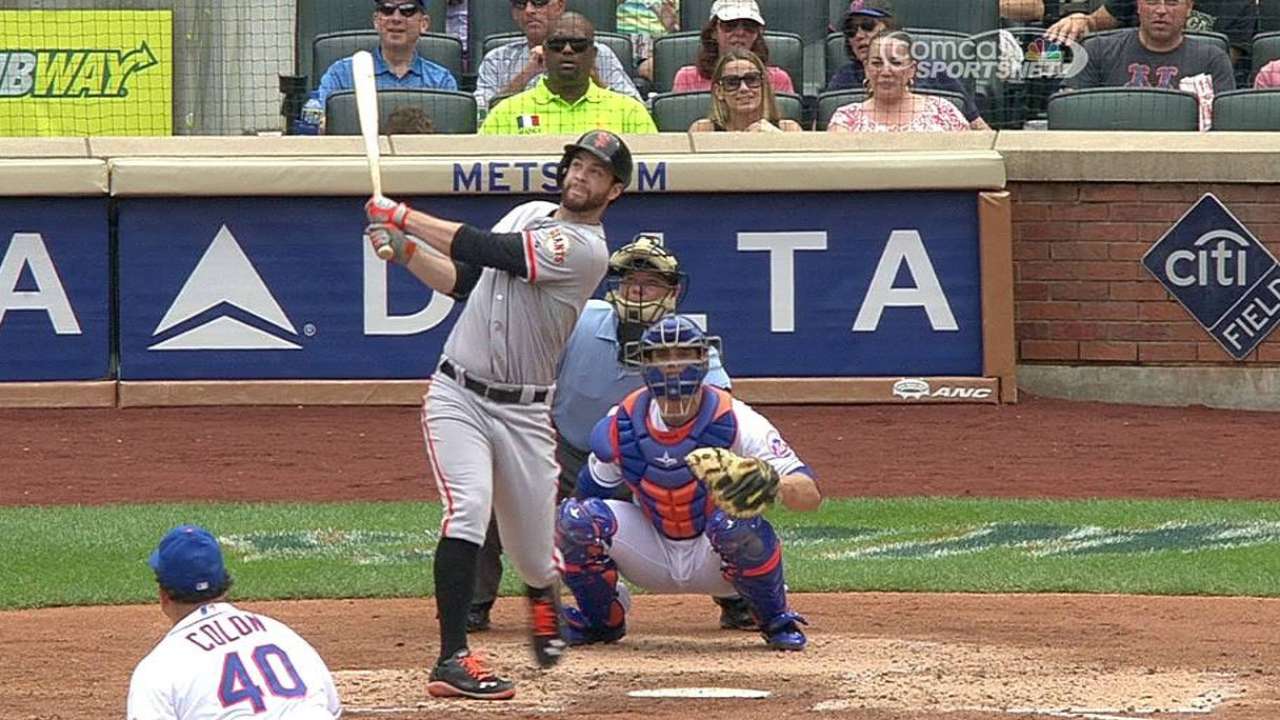 SAN FRANCISCO -- Brandon Belt was back in the Giants' clubhouse Friday afternoon, and the first baseman was back to his usual entertaining ways.
Belt was accidentally struck in the face by a thrown ball during batting practice in Miami on July 19, and missed the next 12 games with a concussion.
He appeared in five games after an early-August return, but he was forced to the bench again with a recurrence of concussion-like symptoms.
The good mood Friday should come as no surprise, since Belt was cleared to resume baseball activities on Thursday, after being put through a full workout by specialist Michael "Micky" Collins in Pittsburgh.
Belt said he recorded the highest vestibular test score Collins' office has ever seen, an accomplishment he happily boasted about Friday. The vestibular test forces the patient to wear a headset and move their head back and forth and up and down, all while trying to decipher numbers and letters on a screen. For Belt, the high score is right up there with the Punt, Pass and Kick score he posted as a kid in Nacogdoches, Tex. -- which he said still stands today.
"It's not going to happen, either," Belt said of it being beat. "Add that trophy to the collection."
He hasn't been re-added to the active roster, but manager Bruce Bochy said a decision on when to activate him would be made after he took live batting practice with the team before Friday night's game.
Belt said he feels he is ready for pinch-hit appearances, but Bochy said action as a defensive replacement would be the extent of Belt's playing time immediately following his looming activation. A return to game action in a few days seems most likely.
"I'm not going full-speed yet; I don't want to show everybody what I got," Belt joked.
The biggest remaining hurdle, Belt said, is regaining his baseball shape. He has had plenty of time to devise an approach to take once he steps back into the batter's box, so he's not worried about that. He does need to up his conditioning, though.
"I'm telling them [team doctors, training staff] how I feel, but I'm letting them make the decisions," Belt said. "They're the experts, I'm not. I want to get out there as fast as I can.
"I had some difficulties with reoccurring symptoms [last time], and I think without that, I can do just fine. You have a lot of time to think when you're not playing, and I've nailed down what I want to do and what I want my approach to be out there."
Belt's already taken a better approach to his return. He said Friday that he had a cold when he came back from the first concussion, so he wrongly attributed some of the symptoms to that sickness, instead of to the concussion, like he should have.
On the season, he's hitting .237 with 11 home runs and 24 RBIs in 51 games.
Ryan Hood is an associate reporter for MLB.com. This story was not subject to the approval of Major League Baseball or its clubs.