Brewers reach out to Marlins, look to move on from incident
Fiers, Roenicke hope slugger will be OK, reiterate beaning was accidental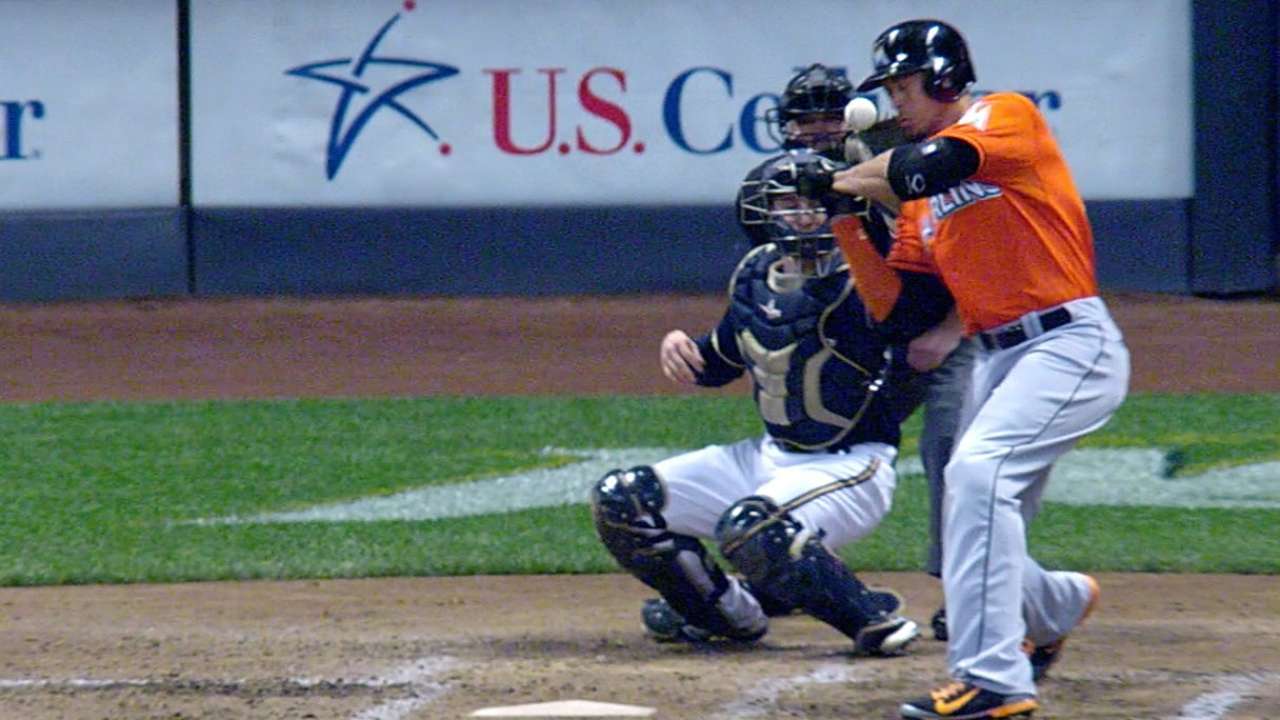 MILWAUKEE -- Brewers manager Ron Roenicke and pitcher Mike Fiers reiterated Friday that the pitch that hit slugger Giancarlo Stanton and caused severe facial injuries to the Marlins star was an accident, and both of them have tried to get in touch with Miami manager Mike Redmond.
"There's a lot of people who know the game of baseball, understand what happened, and know me personally, know that I'm not looking to go throw at people," Fiers said before Friday's game against the Reds. "So it's definitely an accident and we all hope it never happens and stuff like that never happens in this game. But unfortunately it does, and ... just hopefully he gets better and I'm just trying to get ready for my next start, though. There's a lot going on and we've got a couple weeks left here. We need to win games, but as long as he's fine, we've got to look past this."
Stanton, whose 37 homers and 105 RBIs are both tops in the National League, suffered multiple facial fractures, dental damage and a facial laceration requiring stitches after being hit in the face by a pitch from Fiers in the fifth inning of Thursday night's 4-2 Brewers victory at Miller Park.
After Stanton was placed on a gurney and taken from the field on an ambulance cart, Reed Johnson pinch-hit to complete the at-bat and was hit on the hand by Fiers' next pitch, triggering a benches-clearing incident in which both Redmond and third baseman Casey McGehee were ejected.
In the sixth inning, Marlins reliever Anthony DeSclafani hit Brewers outfielder Carlos Gomez and was ejected, along with substitute manager Rob Leary. DeSclafani was suspended Friday for three games, which he will appeal. Fiers was fined an undisclosed amount for his actions which contributed to the benches clearing.
Stanton was hospitalized overnight in Milwaukee, but returned to Miami on Friday. The Marlins said they are hopeful that Stanton would not require surgery, but no timetable has been set for his return. After the game, Redmond said he thought Stanton would be out of the rest of the season.
With the Marlins having battled back into the playoff picture, Roenicke said he understood Redmond's anger over the loss of his best player.
"I hear so many good things about this guy," Roenicke said of Stanton. "I watch him play and he's one of the .. superstars of this game. You want guys like that out there and on your team. And, I understand also why their team is mad about it, because I get that part.
"Whether you think a guy does it on purpose or not, your player's still hurt. So, I understand that part, I understand the way they felt."
Roenicke and Fiers both said they left messages for Redmond, but had not heard back before Friday's game.
"I reached out to them. Left a message, whenever they want to get back, or if they do," said Fiers, who also tweeted an apology to Stanton after the game. "If not, just wanted to reach out, let them know how I feel and just how I feel about the whole situation. So whenever they get back to me is fine."
Roenicke said he also talked with Fiers and to make sure he was mentally prepared to make his next start.
"It's part of baseball. It's the part we wish didn't happen," Roenicke said. "But I think he's got to move forward and try to get his head back into what he's doing and his job."
Jim Hoehn is a contributor to MLB.com. This story was not subject to the approval of Major League Baseball or its clubs.