Duffy excited by successful throwing session
Lefty aiming for return to Royals' rotation on Tuesday against White Sox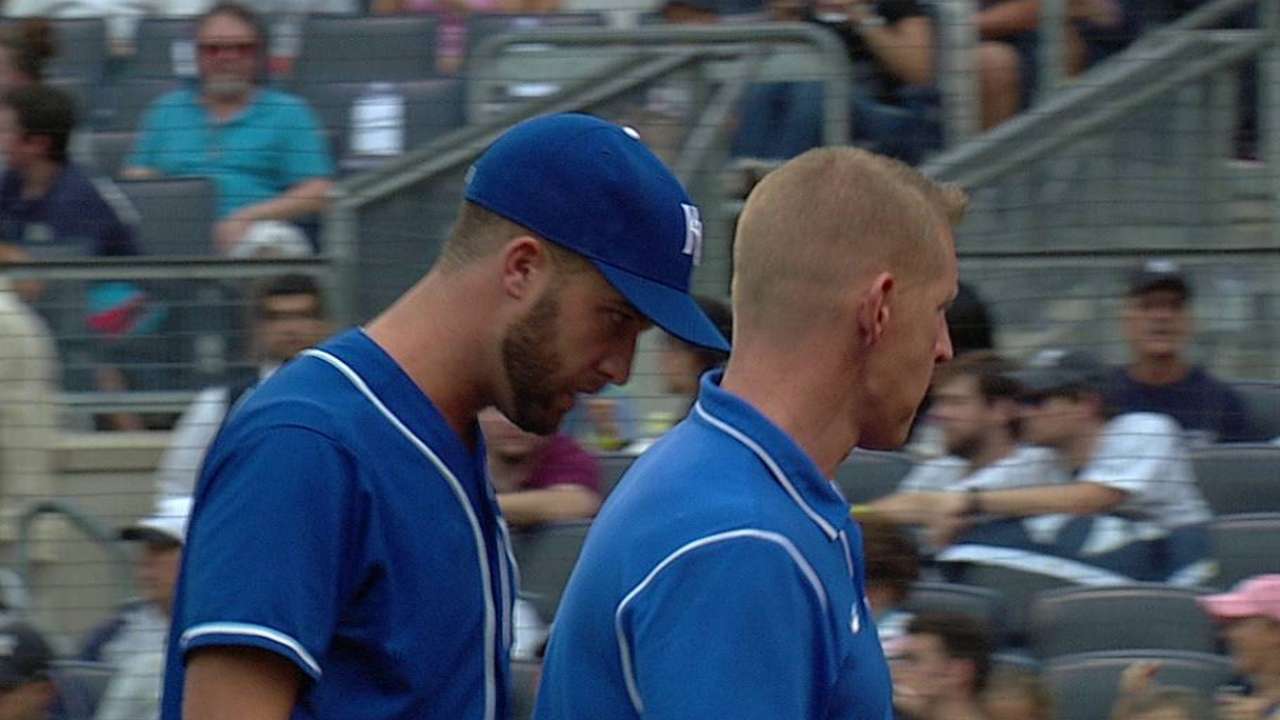 KANSAS CITY -- Royals left-hander Danny Duffy picked up a baseball on Friday, threw it a bunch of times, and feels really good about it.
It's still not known if Duffy will return to the rotation on Tuesday night against the White Sox, but he's making progress.
"I went out there and threw about 75 feet, probably 30 times, and I was a little leery at first -- as anyone would be -- but after we found our slot and let the ball go out in front, I didn't have any ailments," Duffy said. "So I'm pretty pumped about the news today. We're just going to take it one day at a time."
Duffy had been shut down with left shoulder inflammation since walking off the mound after throwing just one pitch against the Yankees last Saturday. He expects to play catch again on Saturday with the goal of being able to start on Tuesday.
If not, right-hander Liam Hendriks is the likely alternative. Hendriks started in Duffy's place on Thursday night and lasted just 2 1/3 innings in a 6-3 loss to Boston.
Duffy is eager to get back into the postseason pursuit.
"This is what I've been waiting for since I signed in June 2007," he said. "I've been wanting to contend for a division championship and beyond that. That means the world to me and to everyone in this clubhouse, and I just want to be a part of it."
So far the signs are good.
"I don't have any pain now," Duffy said. "I'm not worried about anything."
Dick Kaegel is a reporter for MLB.com. This story was not subject to the approval of Major League Baseball or its clubs.