Marlins try to find way to win without invaluable Stanton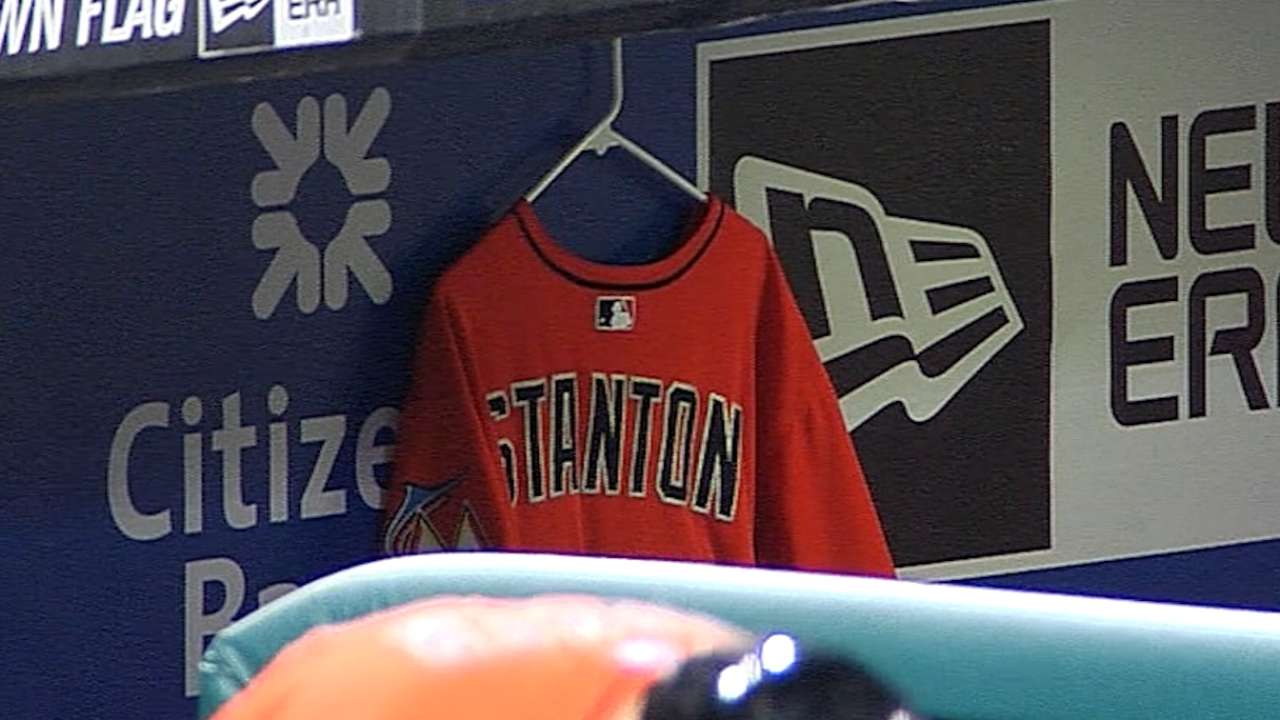 PHILADELPHIA -- Whatever the obstacle, the Marlins have found a way to keep their season afloat. They were able to remain in contention when their ace, Jose Fernandez, underwent season-ending Tommy John surgery in May.
Now, with a little more than two weeks remaining, the resolve of the gritty club is being tested as Miami confronts life without All-Star Giancarlo Stanton. The odds already are stacked against the Marlins in their fading playoff chances, but there remains no quit in the clubhouse.
"A lot of people were saying we weren't supposed to be in this situation," catcher Jarrod Saltalamacchia said. "That already gives us fire, because we always felt like we were supposed to be here.
"We've got a good team. Like I said a few months ago, when you lose a guy like Jose, it hurts. Losing a guy like G is the same thing. He's a guy who makes a difference when he's in the lineup. But we found a way to deal with Jose. Now we have to find a way to deal without G."
Stanton sustained fractures to his face and mouth after being struck by a Mike Fiers fastball on Thursday night in Milwaukee's 4-2 win over Miami.
Can the team finish strong with the strong likelihood Stanton will not return?
One reason the Marlins remained in the mix without Fernandez is because Stanton played in each of his team's first 145 games.
"Obviously, both of those guys are huge parts of this team, and we lean on those guys, big time," third baseman Casey McGehee said. "The tough part about it is we've had to go through it with Jose."
Stanton's production can't be replaced by any one player. Ed Lucas started in right field on Friday night.
"At the same time, we've got to try to figure out a way," McGehee said. "We're not going to replace him. You can't replace him. But we've got to figure out a way to kind of piece it together and still try to win games."
If there was anything for the club to be encouraged about, it was that Stanton was in good spirits on Friday morning, as he traveled back to Miami after spending the night at a Milwaukee hospital.
"He texted me early this morning, and reassured me that he was all right," said reliever A.J. Ramos, Stanton's roommate. "He saw the rest of the game on TV. He said he was proud of all the guys, and that we had his back and everything. Then we just started texting like normal, joking around and stuff. He was in good spirits, which made me feel better about the situation."
Joe Frisaro is a reporter for MLB.com. He writes a blog, called The Fish Pond. Follow him on Twitter @JoeFrisaro. This story was not subject to the approval of Major League Baseball or its clubs.