Rangers remain shorthanded in the outfield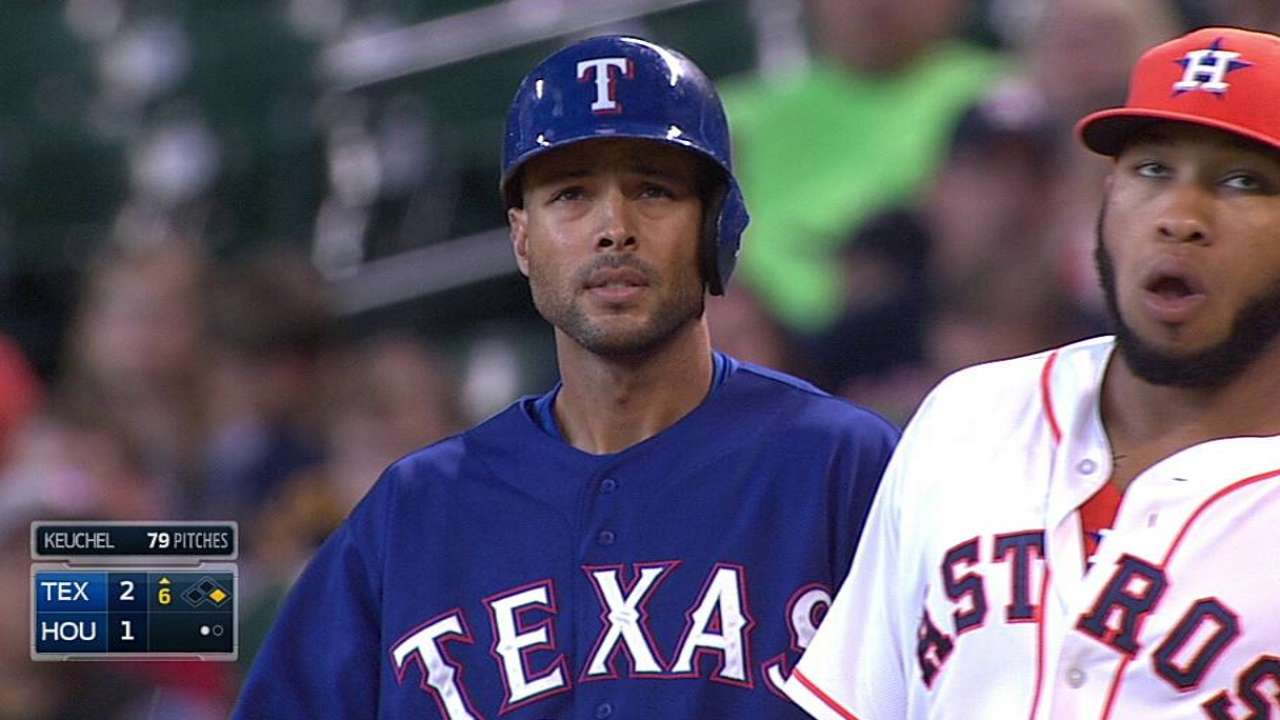 ARLINGTON -- The Rangers went into Friday's game against the Braves without a healthy outfielder on the bench. That's unusual in June, it's almost unprecedented in September when the rosters are expanded.
The Rangers' chances of changing that depend on how soon Alex Rios, Jake Smolinski and Jim Adduci come back from the injuries. Right now, Smolinski is the closest, Adduci remains literally in the dark and Rios may have played his last game of the season.
Rios has been dealing with a badly bruised thumb for most of the second half and has been sidelined for a week because of an infection that developed. Rios had the thumb drained last week and had the sutures removed Friday. It will still be at least a few days before Rios can start swinging a bat again.
"It all has to do on how I feel, if it feels completely healed or not," Rios said. "There is the issue of preventing the infection. It's tough. … It's frustrating. I'm a guy who likes to be on the field every day. Not being able to do that is frustrating."
The Rangers aren't sure if Rios will be able to join them on the final road trip to Anaheim.
"I'd like for him to make the trip and if it feels good, take batting practice," manager Tim Bogar said. "It would be nice to get him out there but we're not going to push him. He needs to get it healthy and make sure it doesn't get infected again."
Adduci has been sidelined since Aug. 28. He suffered a concussion when he banged his head on the warning track at Houston's Minute Maid Park and is not yet completely recovered. He has not resumed baseball activities.
Adduci said the headaches have subsided but he is still dealing with some whiplash. He has also been "resting" his brain, which means no extra stimulation.
"No reading, no Jeopardy!, no television," Adduci said. "I'd go back to my room and it would be completely dark. It was like The Shawshank Redemption, going into the hole. I'm going back into the hole."
Adduci made a terrific running catch in foul territory and then fell over second baseman Rougned Odor, who was sliding to get out of the way. Adduci hit his head on the warning track and then slid into the padded wall in front of the stands.
"It was my fault. … I should have called it earlier," Adduci said. "He did his best to get out of the way, like he's taught. He did it the right way. I just called it too late."
Smolinski hasn't played since fracturing a bone in his left foot. But he is taking batting practice and getting close to running full speed. He is planning to run the bases on Sunday, which is usually the last test before a player is ready. He will be on the next road trip and could be ready to play.
"So far the progression hasn't had any setbacks," Smolinski said. "As that keeps going, I should be able to play."
T.R. Sullivan is a reporter for MLB.com. Read his blog, Postcards from Elysian Fields, and follow him on Twitter @Sullivan_Ranger. This story was not subject to the approval of Major League Baseball or its clubs.