Holland twirls gem as Rangers edge Braves
Chirinos' single in eighth deals blow to NL Wild Card hopefuls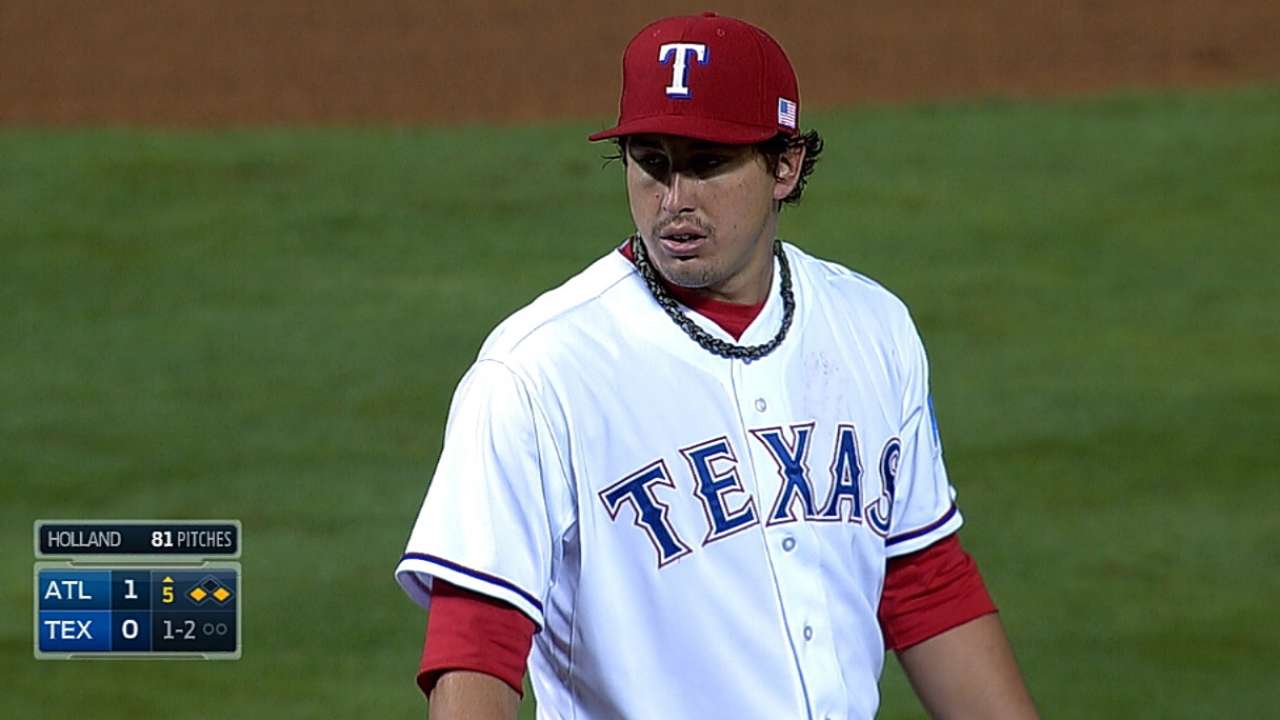 ARLINGTON -- Rangers pitcher Derek Holland had to hang a Notre Dame flag from his locker and wear a Fighting Irish T-shirt with the familiar leprechaun to his postgame news conference. Turns out outfielder Daniel Robertson is a Notre Dame football fan and won a bet when the Irish beat Holland's beloved Michigan Wolverines last week.
That was the only sporting event Holland has lost in the past seven days. On the baseball field, everything continues better than anybody could have hoped for in his long-awaited knee surgery. The left-hander allowed one run over seven innings for the third straight outing and put the Rangers in position to pull one out in the eighth inning for a 2-1 victory over the Braves on Friday night at Globe Life Park.
Rookie right-hander Phil Klein, one of three relievers used in the eighth, retired two of three batters faced to get out of a jam and ended up getting his first Major League victory. Neftali Feliz set down the side in order in the ninth for his ninth save.
"It was fun. The crowd was really into it," Klein said. "I just tried to make my pitches and get out of the jam. Derek threw a great game, I wanted to see if I could get us out of it, have us score and turn it over to Neftali."
He did, and Feliz has been successful on six straight save opportunities. He has also not allowed a run in his last seven appearances.
"Derek threw a very good game," Feliz said. "I just came in, threw all of my pitches and kept the ball down. The more I throw … I'm getting better and better."
The Rangers put the winning run across in the eighth on three straight two-out singles by Adrian Beltre, Ryan Rua and Robinson Chirinos off Braves reliever David Carpenter. Chirinos delivered his game-winning single in his first game after missing 12 days with a stiff neck.
"We were having some pretty good at-bats," Chirinos said. "I just wanted to get a good pitch to hit and hit a line drive. It's good to be back. … Thank God I had a chance to win the game."
Rua was 2-for-4 with a double and a single, and he also drove in the Rangers' first run with a grounder in the sixth inning, He is 9-for-23 with five RBIs in his last seven games and has seven of the Rangers' last 24 RBIs.
"It has been good so far," Rua said. "I'm getting more and more confident with every single game. I haven't seen these pitchers before, so I'm trying to take short quick swings and barrel up the ball."
Holland had to pitch out of some jams as he allowed eight hits while striking out six. The Braves were 1-for-7 with runners in scoring position, and much of that came with Holland getting out of trouble in the middle innings.
"He just got more intensity," Rangers manager Tim Bogar said. "He realized right there that he had to make pitches. That just shows how Derek goes after things every day. We weren't probably going to score a lot of runs off [Braves starter Alex Wood] and he stepped up and did what he had to do."
Holland did not walk a batter for the third straight start and has gone 21 consecutive innings without allowing one. The club record is 29 by Hall of Famer Gaylord Perry in 1977.
Holland is also the second Rangers pitcher to have three straight starts of seven or more innings and no walks. Ferguson Jenkins did so in 1978 while compiling a streak of 28 consecutive innings without a walk.
"That's the thing I'm most happy about is no walks," Holland said. "I'm making my pitches and letting my guys behind me make the plays."
Wood also went seven innings, allowing one run on four hits. He walked two and struck out nine.
T.R. Sullivan is a reporter for MLB.com. Read his blog, Postcards from Elysian Fields, and follow him on Twitter @Sullivan_Ranger. This story was not subject to the approval of Major League Baseball or its clubs.