Crawford gets Minors award, talks promising future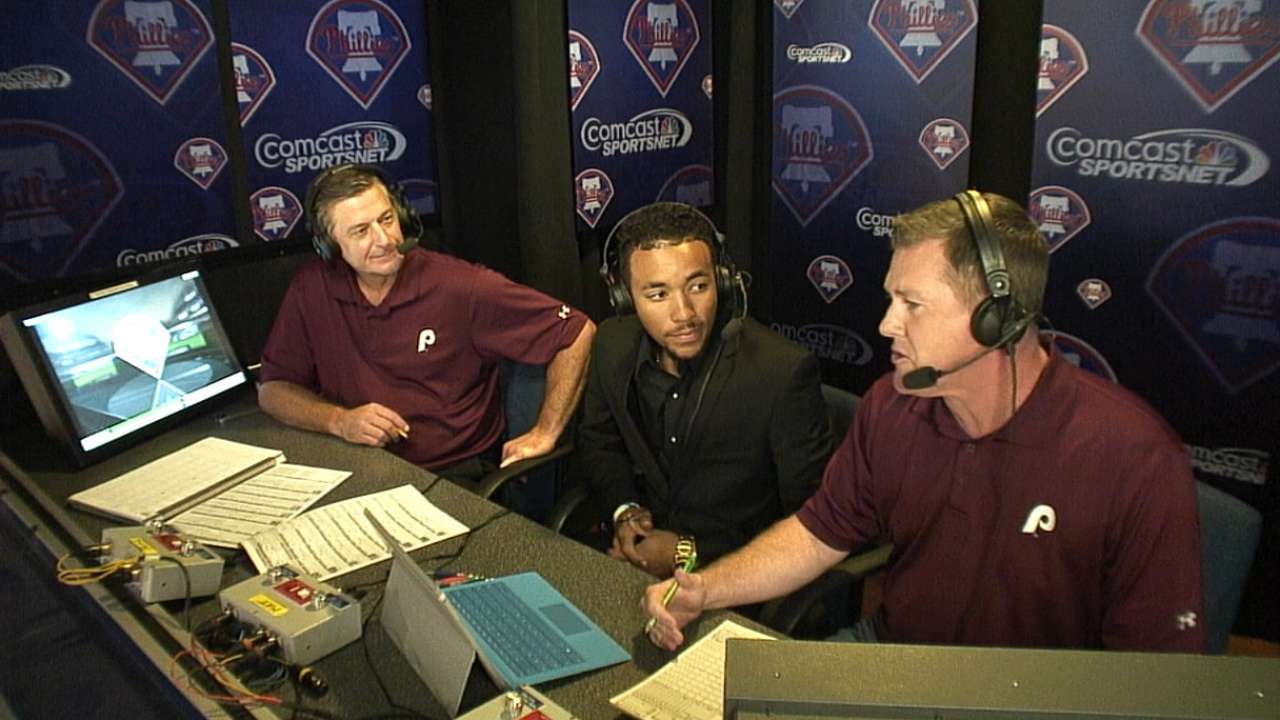 PHILADELPHIA -- J.P. Crawford's plan for 2015 sounds like a simple one: Get bigger. Get better.
The Phillies on Friday presented Crawford, whom they selected in the first round of the 2013 First-Year Player Draft, the Paul Owens Award for the organization's Minor League Player of the Year. Beforehand, he talked about his season with Class A Lakewood and Class A Advanced Clearwater and his future with the Phillies. The 19-year-old shortstop hit a combined .285 with 23 doubles, 11 home runs, 48 RBIs, 69 runs scored, 24 stolen bases and a .781 OPS in 538 plate appearances.
Crawford hit .289 with eight home runs, six doubles, 29 RBIs and a .798 OPS in his final 57 games with Clearwater, where he was one of the youngest players in the league.
"I thought it went really well for my first [full] year," Crawford said. "I think my hitting got a lot better this year."
Crawford hopes to be even better next season. He said he plans to put on more muscle, which he hopes will boost his power. Crawford, who is 6-foot-2, weighed 170 pounds when the Phillies drafted him. He said he weighs 190 pounds today, but wants to weigh 200 pounds when Spring Training opens early next year.
Crawford will participate in instructional league in the fall, but he eventually will return home to Lakewood, Calif., where he will work out with Mets catcher Travis d'Arnaud and Twins outfielder Aaron Hicks.
It is unclear where Crawford will open next season, but given his age, he could start at Clearwater before moving relatively quickly to Double-A Reading. Then again, if he looks good in Spring Training, it would not be a shock to see him open in Reading.
"Wherever they put me, they put me," said Crawford, who participated in this year's All-Star Futures Game. "I don't have an idea. I'll be happy wherever I go and play hard wherever I go."
And as far as a goal to get to the big leagues? It is very possible Crawford could be there by the time he is 21.
Maybe earlier.
"Whenever it's my time, it's my time," he said. "I'm not going to try to rush anything."
There is no need to rush. Not only is Crawford young, but Phillies shortstop Jimmy Rollins is signed through next season. Rollins, who is nursing a strained left hamstring, is seventh out of 25 qualifying shortstops in baseball this season with a .717 OPS.
Todd Zolecki is a reporter for MLB.com. This story was not subject to the approval of Major League Baseball or its clubs.