Teammates eager to welcome back Davis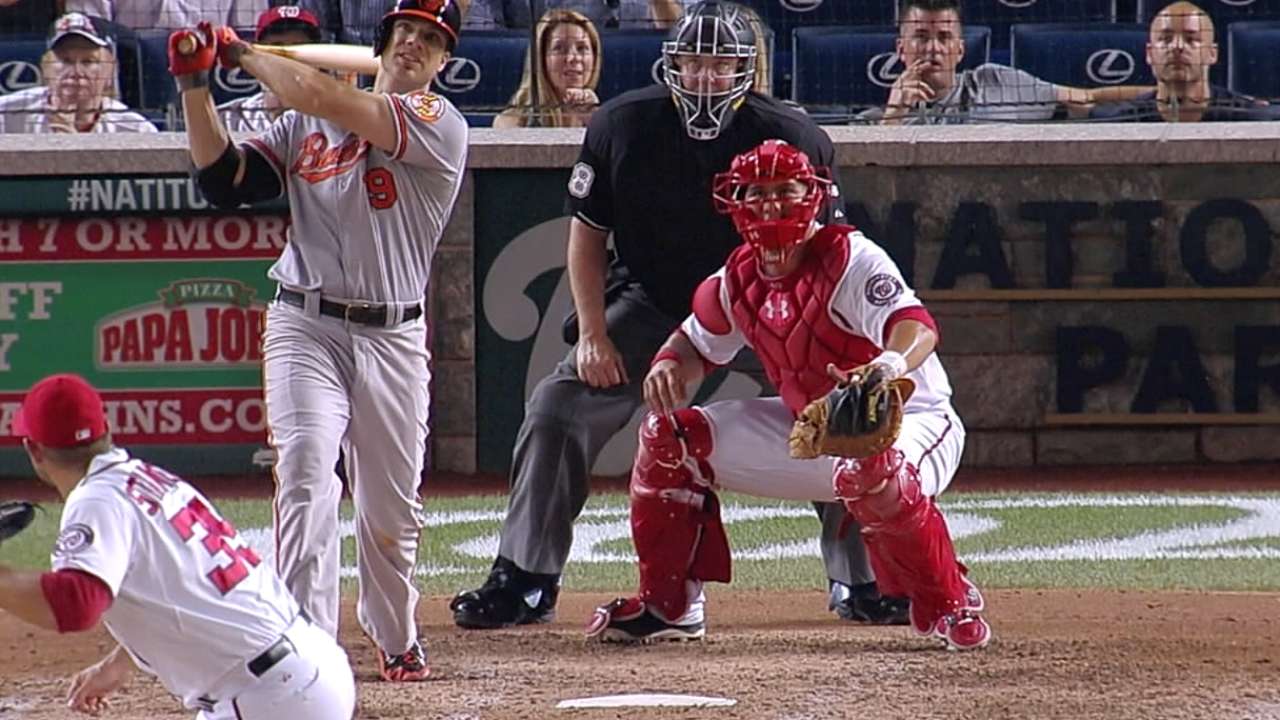 BALTIMORE -- The Orioles' clubhouse was in a state of shock on Friday morning as news quickly spread of first baseman Chris Davis' 25-game suspension after he tested positive an amphetamine, identified by Davis as Adderall.
"I haven't spoken to him personally," outfielder Nick Markakis said of Davis, who is not allowed in the O's clubhouse during his suspension. "I don't know if anybody else has spoken to him. Everybody makes mistakes. You have to be careful when you make your mistakes. Now is not a good time to make a mistake, but these are things you have to deal with, and hopefully we can get far enough along for him to come back and help us out."
Reliever Darren O'Day, who also played with Davis in Texas, said he did speak with the slugging infielder on Thursday night -- when Davis found out about the suspension -- but the topic didn't come up. Davis' absence is the latest hit for an O's club already without catcher Matt Wieters and third baseman Manny Machado, who both sustained season-ending injuries.
"Yeah, it's similar but different," O'Day said of the adversity the O's are hoping to overcome. "You can't really predict injuries. You failed one test. You can't put anything in jeopardy and mess around. Yeah, it's going to be more to overcome, for sure."
O'Day, as the team's player rep, said he was glad that Major League Baseball was enforcing its Joint Drug Prevention and Treatment Program, despite the possible ramifications to Baltimore's playoff aspirations.
"I wish this hadn't happened to Chris, but I like to know that [if] it's happening, at least test the right people," O'Day said. "As for the TUEs [therapeutic use exemption], they've been tough on it, which is great. It should be a rigorous process to these TUEs. It's a long season. You're going to suffer some attrition from the length of the season and the games you have to play, so everybody should have to suffer through it the same way."
Davis said in a statement he issued on Friday morning that he previously had a TUE but does not this season, leading some to wonder what changed and what prompted the slugger -- who had already tested positive once -- to risk another positive test.
"Look at what Adderall is," center fielder Adam Jones said. "It's to get you going, but it's not something that's going to sit there and make you look like the Incredible Hulk. It's just something that's going to get you going for a little bit. It's unfortunate, but we've got to move on and stay focused."
Added Markakis: "He didn't get in trouble for steroids. He got in trouble for amphetamines. Either way, it was wrong. I know he knows that. We have rules to abide by. Those are things we have to do as a baseball player. We have to follow the rules and the guidelines, what they set. They don't set them for just any rhyme and reason. It is to keep the integrity of the game and protect our players, too. It's just a bad situation overall, and I think [Davis] knows that, and we all know that, and it's something we have to deal with."
Davis, who was struggling in the follow-up campaign to his magnificent 53-homer 2013 season, has hit .196 with 26 home runs and 72 RBIs.
"Me personally, I wouldn't question what he did last year," Jones said. "But you put it into the billions of other people, let their opinion matter, we don't care. We care about this clubhouse; we don't care about the opinion outside of it."
Brittany Ghiroli is a reporter for MLB.com. Read her blog, Britt's Bird Watch, and follow her on Facebook and Twitter @britt_ghiroli. This story was not subject to the approval of Major League Baseball or its clubs.