DeSclafani suspended three games for hit-by-pitch
With benches warned after Stanton, Johnson hit, hurler ejected for plunking Gomez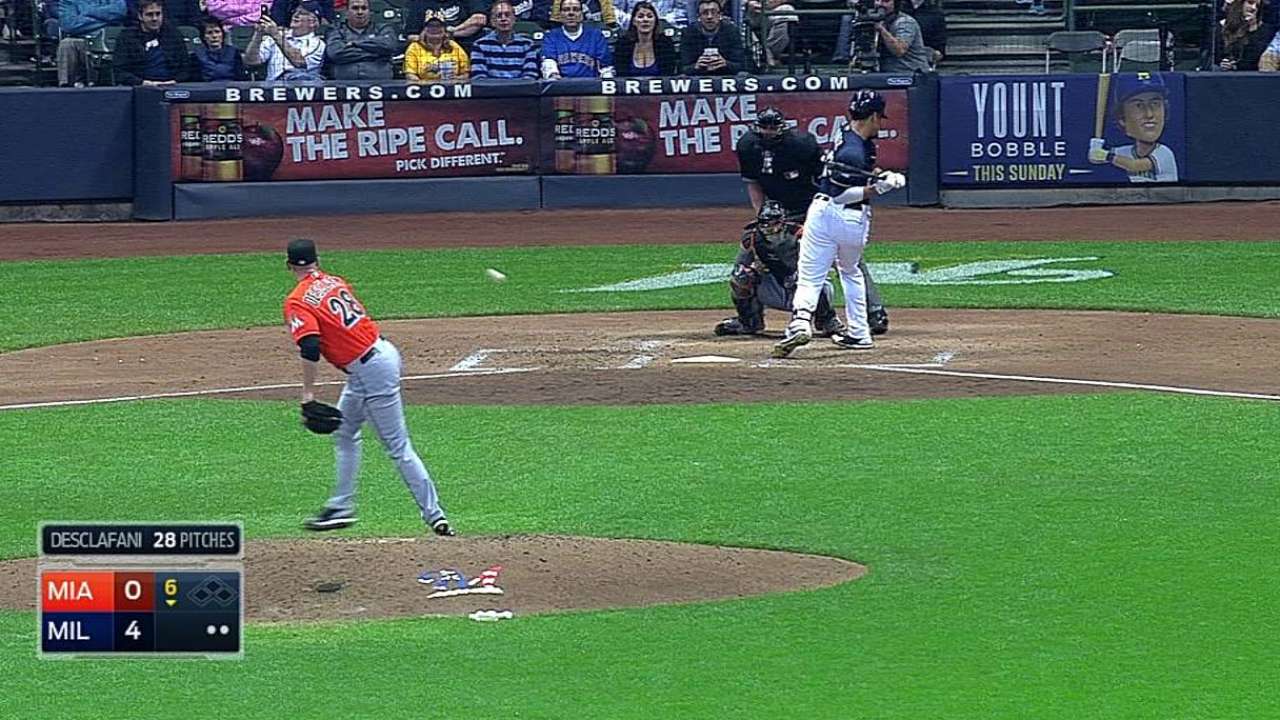 PHILADELPHIA -- Marlins right-hander Anthony DeSclafani was handed a three-game suspension for hitting Milwaukee's Carlos Gomez with a pitch in the sixth inning of Thursday night's 4-2 loss to the Brewers at Miller Park.
The suspension was to begin immediately, but because DeSclanfi is appealing, it will be delayed until the process is complete.
Major League Baseball announced the suspension on Friday afternoon. Additionally, Brewers right-hander Mike Fiers received an undisclosed fine for his actions, which contributed to the benches clearing.
DeSclafani was punished for throwing at Gomez an inning after Miami All-Star Giancarlo Stanton was struck in the face by a Fiers fastball. Stanton sustained facial lacerations and multiple fractures, as well as damage to his teeth and cheek.
Fiers' next pitch clipped pinch-hitter Reed Johnson on the right index finger, but the umpires ruled the Miami veteran swung while trying to turn out of the way.
Casey McGehee and manager Mike Redmond were ejected in the ensuing benches-clearing incident, and DeSclafani and bench coach Rob Leary were thrown out when the righty hit Gomez in the sixth.
"So out of all that, two guys hit, one guy in the hospital, our rookie pitcher gets a three-game suspension," Redmond said. "Doesn't seem right, does it?"
DeSclafani, 24, is 1-2 with a 7.14 ERA in nine big league games, with five starts. The right-hander was Double-A Jacksonville's Opening Day starter, and he made his MLB debut on May 14, getting the start after Jose Fernandez was lost for the season due to Tommy John surgery. The rookie has spent most of the season at Double-A and Triple-A New Orleans.
Joe Frisaro is a reporter for MLB.com. He writes a blog, called The Fish Pond. Follow him on Twitter @JoeFrisaro. This story was not subject to the approval of Major League Baseball or its clubs.