Rainout gives McAllister another starting opportunity
Righty slated to take mound for series opener against Astros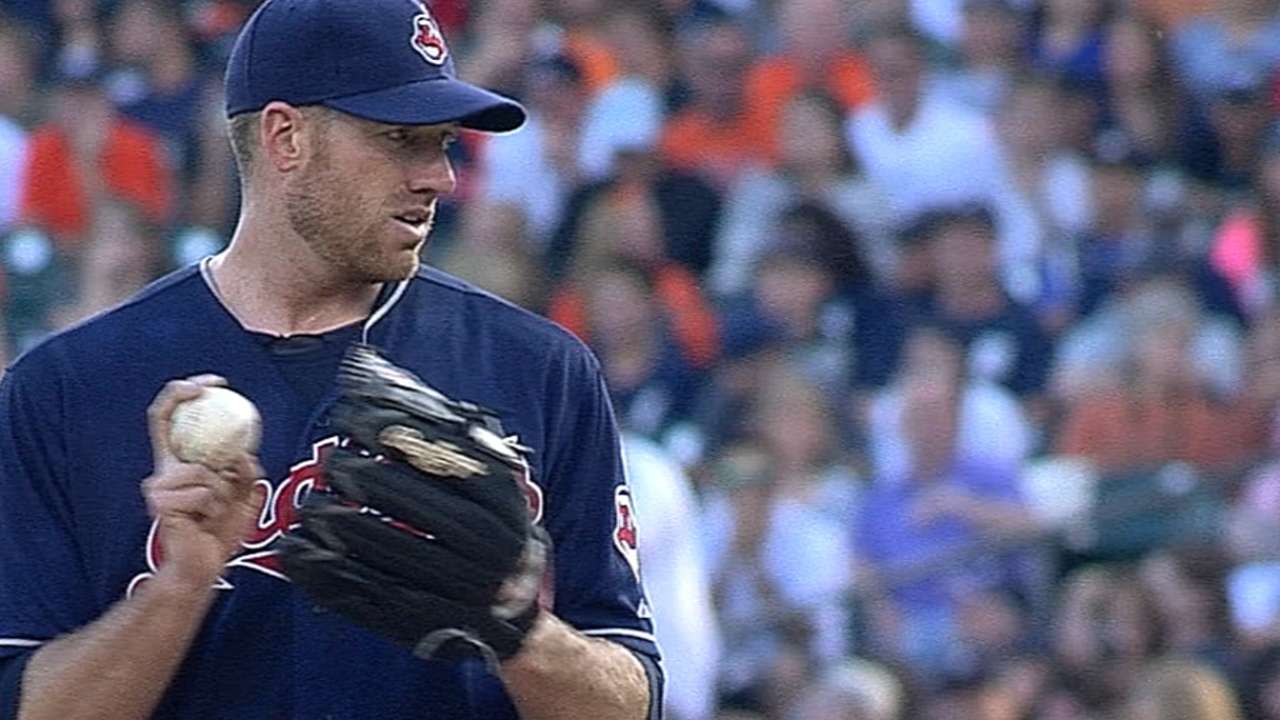 DETROIT -- A rainout earlier this week made it possible for the Indians to pull off a doubleheader sweep of the Twins on Thursday in Cleveland. The postponement also threw a wrinkle into the Tribe's regularly scheduled rotation.
In need of a starter for Monday, the Indians will hand the ball to right-hander Zach McAllister in the opener of a four-game road series against the Astros. Cleveland had a choice of going with a sixth starter for one of Thursday's games, but it felt waiting until Monday was the best course of action.
"With the rainout, we knew we were going to [need a starter]," Indians manager Terry Francona said." So Zach will start Monday."
After McAllister goes on Monday, rotation leader Corey Kluber will get the nod for Tuesday's game to stay on his regular five-day routine. Kluber and T.J. House pitched the first and second games, respectively, on Thursday against the Twins. Cleveland has not yet determined which pitchers will start the final two games in Houston.
Francona noted that House, who has a 2.14 ERA in his past seven starts, will remain on his regular side-throwing program to potentially be ready for one of the last two games in Houston. Francona said he and pitching coach Mickey Callaway want to see how Carlos Carrasco (Friday), Danny Salazar (Saturday) and Trevor Bauer (Sunday) do in their next starts.
"We also want to see how our other starters feel," Francona said, "so we can make a better decision on not only T.J., but helping the other guys, too. Kluber's feeling really good and wants to stay on his day. So as long as he feels good physically, that's a given. So, we've already started looking at it."
McAllister, 26, has been in the bullpen this month since being recalled from Triple-A Columbus after rosters expanded on Sept. 1. The big righty opened the season in the big league rotation and went 3-0 with a 2.28 ERA in four starts before running into trouble. In his past 10 starts with Cleveland, which have come between trips back and forth between the Majors and Minors, McAllister has gone 0-6 with a 7.89 ERA, 1.71 WHIP and .880 opponents' OPS.
This season, McAllister has gone 3-6 with a 5.97 ERA in 16 games. In 2013, the right-hander went 9-9 with a 3.75 ERA in 24 starts for Cleveland.
Quote to note
"Knowing you're going to get the ball, that it's going to be handed to you every five days, it just gives you that confidence to go out there and stay on your routine and keep working on things that you want to get better at. For me, it's getting the comfortability with being around here and being in there every five days. It's helped me out."
--Rookie left-hander House
Smoke signals
• All-Star left fielder Michael Brantley was slotted into the starting lineup as the Indians' designated hitter for Friday's game in Detroit, marking the second time in the past three games that he was used as the DH. Francona said he wanted to give Brantley some rest, noting that the outfielder has been playing through some minor leg issues in the second half.
"He's played just about every game," Francona said. "He played 18 [innings in Thursday's doubleheader] with one of them as DH. His bat is so important for us, he's so good, that it's hard to give him a day off. ... I just thought, 'Hey man, after the 18 innings yesterday, let's give him a chance to [rest a little]."
• Carlos Santana belted one home run in each game of Thursday's twin bill with Minnesota, marking only the third time in the past 20 seasons that a Major League player has hit a homer to put his team ahead for good in both games of a doubleheader. Kansas City's Eric Hosmer (Aug. 16, 2013) and Boston's Trot Nixon (Oct. 5, 2001) also accomplished the unique feat. The last Cleveland player to do so was Max Alvis on June 17, 1964.
• House has logged at least seven innings with no walks and no more than one earned run allowed in three straight starts, equaling the longest such streak (done 23 times) by a Major League pitcher in the past 100 seasons. Dating back to 1914, House is the first rookie lefty to have at least three such outings in a single season.
Jordan Bastian is a reporter for MLB.com. Read his blog, Major League Bastian, and follow him on Twitter @MLBastian. This story was not subject to the approval of Major League Baseball or its clubs.