Aviles relieved to be back in action after concussion
Friday marks utility man's second start since sustaining injury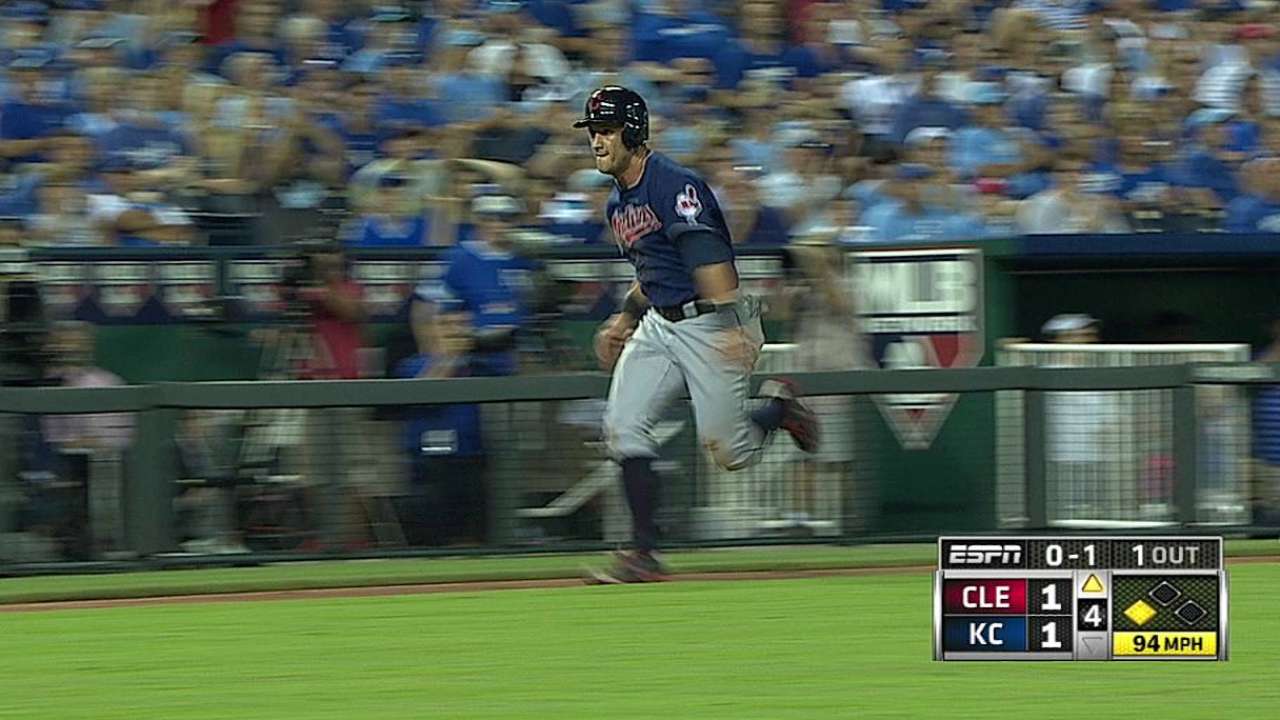 DETROIT -- It was the best strikeout of Mike Aviles' season. The veteran utility man was not pleased with the end result, but he was happy to be back in the batter's box for the Indians and officially over the concussion that kept him off the field for nearly two weeks.
Aviles returned to the Tribe with a pinch-hit appearance in the eighth inning of the first game of Thursday's doubleheader against the Twins. Aviles went down swinging, but he got his legs under him and had manager Terry Francona convinced that he was fine to start Game 2 on Thursday and again on Friday in Detroit.
"Well, you won't ever say it's always good to get a punchout," Aviles said with a laugh on Friday. "But yeah, it was definitely good to get in there and just get back into it and feel the way the game's going. ... It definitely felt like everything was a little quicker, but luckily I was able to get that first one in and kind of get everything down and feel OK."
In the second game on Thursday, Aviles went 1-for-3 with a base hit and a stolen base for the Indians in a 2-0 victory. He was involved in a handful of defensive plays at third base, and he made one error in the eighth before being pulled for a pinch-hitter in the bottom of the inning.
Francona was happy to see Aviles back in the fold for the Indians.
"It was good," Francona said. "He took some pretty healthy swings. In the second game, base hit up the middle and he just missed the home run, but he moved around really well. He stole a base. He made an error. He had all kinds of stuff going on."
The 33-year-old Aviles -- hitting .245 with 13 stolen bases, 17 extra-base hits and 35 runs through 99 games entering Friday -- hit his head on a diving attempt in the first inning of a game against the Tigers on Sept. 1. He initially passed a concussion test, but he began experiencing concussion symptoms in the days that followed, prompting the team to put him through Major League Baseball's testing protocol.
"It didn't kick in until the next day when I woke up," Aviles said. "I woke up and I felt like I was in a fog. At that point, I'm like, 'I don't feel right. Something's off here. All I want to do is sleep.'... The first three days, I slept. I've never slept so much in three days like I did.
"There's no tape job. There's no pill. There's no recovery drink where you can say, 'All right, you're done. you're back to normal. It's just one of those that's frustrating, because it takes time and everyone knows me. I'm not the most patient person."
Jordan Bastian is a reporter for MLB.com. Read his blog, Major League Bastian, and follow him on Twitter @MLBastian. This story was not subject to the approval of Major League Baseball or its clubs.