d'Arnaud's double helps Mets snap Nats' Citi streak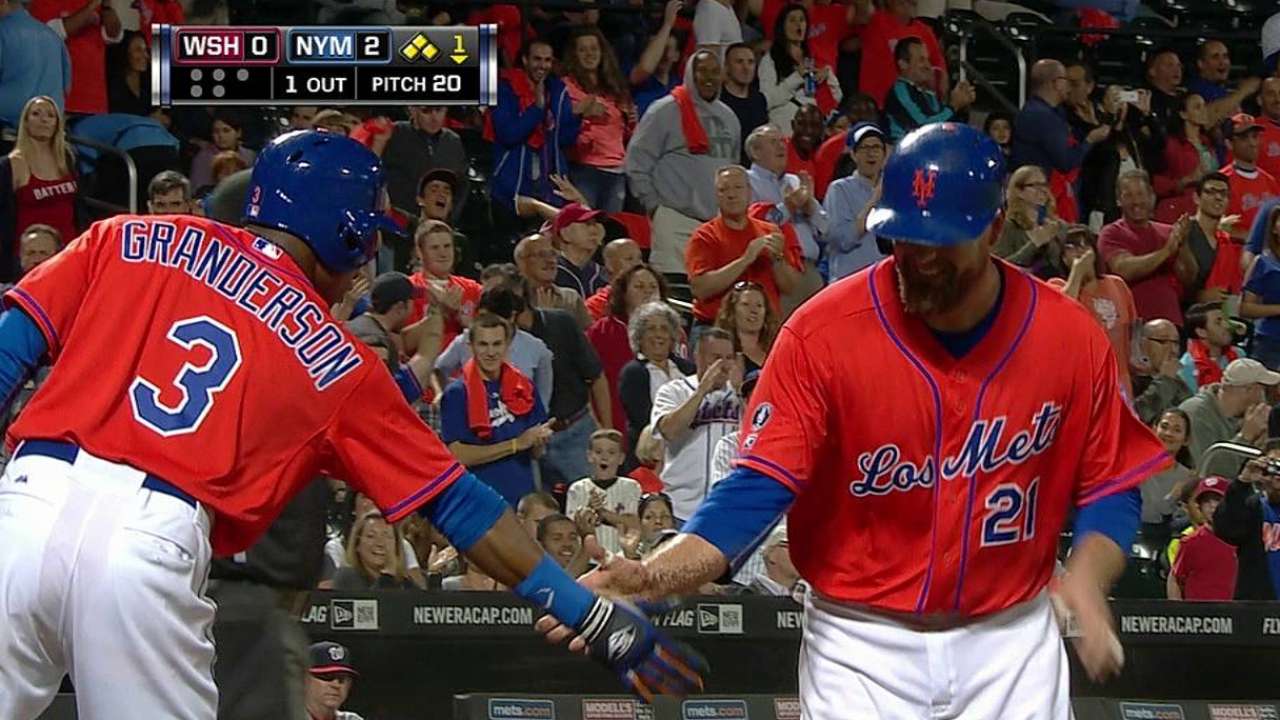 NEW YORK -- On Friday, for the first time in more than 14 months -- for the first time since Travis d'Arnaud, Jacob deGrom, Eric Campbell, Vic Black and Dilson Herrera made it to the Major Leagues -- the Mets beat the Nationals at Citi Field.
The 4-3 win didn't come easily. The Mets blew an early three-run lead, made two errors, saw starter Dillon Gee exit in the sixth, finished 1-for-11 with runners in scoring position, and watched Jenrry Mejia work into and out of a ninth-inning jam.
At the end of the night, though, it was Mejia making his celebratory gyrations, the Mets victors over the National League East leaders for the first time in eight tries this season at home and the first time in 13 tries since June 29, 2013.
This also served as Mejia's first opportunity at a home save against Washington since becoming the closer in May, and when he got Ian Desmond to foul a slider into d'Arnaud's mitt to end the game, his enthusiasm manifested itself in a performance more elaborate than usual: casting an imaginary fishing rod, reeling in his imaginary prize and finishing with his trademark back-breaker move.
He was pretty excited.
"I wasn't thinking about it. I just go out there -- adrenaline," Mejia said. "I just do it because it comes naturally."
It was, perhaps, a bit cathartic, representative of a release of built-up frustration resulting from a prolonged period of futility against the Nationals. Washington, after all, is the class of the NL East, and given the core group that looks to carry the club deep into October, it will be near the top for years to come. When the Mets are competitive again, it will likely be the Nationals they will have to overcome.
"We've played them good -- they're just really tough," manager Terry Collins said. "There's been a lot of nights where we've had them late in the game and they've come back and done some big damage against us, but it was a good win for us tonight for sure."
Added Gee: "I've faced them so many times in my career, it's like I'm just trying to get different ways to try to get them out. It's definitely tough. They're a good team. I felt like early on it was like every ball they hit was finding a hole or against the shift or … It was just a weird night."
As he did the last time the Mets beat the Nats in Queens, Gee went down in the books as the winning pitcher. This time he allowed three runs in 5 1/3 innings, and Carlos Torres bailed him out of a two-on, one-out jam in the sixth by inducing a double play off the bat of Asdrubal Cabrera.
The first two Washington runs came in the third inning, on RBI singles from Adam LaRoche and Wilson Ramos. Anthony Rendon's line-drive homer to left in the fifth accounted for the third run.
Two hits drove in all four Mets runs. d'Arnaud was credited with the first two on his bases-loaded double to left. Lucas Duda scored the third, chugging home from first and scoring when his back foot collided with catcher Ramos' glove and knocking the ball loose -- an error on Ramos, and no third RBI for d'Arnaud.
Juan Lagares put the Mets on top for good in the fifth when his double plated Eric Young Jr. from first Young was off with the pitch in an attempt to steal second, and when he saw the ball head down toward the corner, he just kept running.
"I was already going full speed by my second or third step," Young said. "Juan made it real easy for me to keep going."
Young finished 2-for-4 with two runs scored, and in three consecutive starts -- a rare spurt of playing time during his up-and-down season -- he's 7-for-11.
"He's got this opportunity, and he's certainly made the most of it," Collins said. "It's been a tough year for him. When you're around him, he never lets it get to him. He always has a smile on his face and came to work and did his job, and now he's getting a chance to play, showing everyone what he can do."
It's just one win -- one mid-September win for a sub-.500 team -- but given the smiles in the clubhouse, it might have meant a little more.
"It's huge -- division rivals, pretty much had our number all year," Young said. "Hopefully, we can take the momentum from tonight and carry it on."
Tim Healey is an associate reporter for MLB.com. This story was not subject to the approval of Major League Baseball or its clubs.