MLB.com Columnist
Bill Ladson
Nats' Citi Field winning streak snapped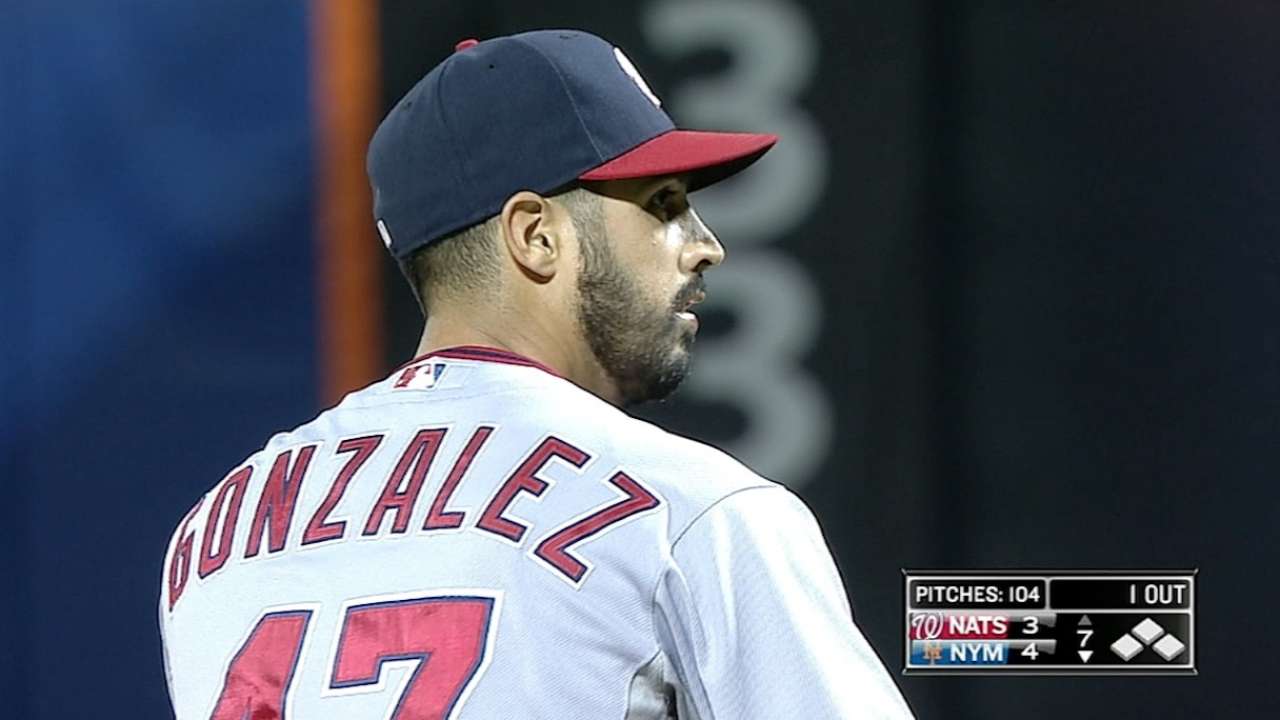 NEW YORK -- The Nationals' 12-game winning streak at Citi Field came to an end when they were edged by the Mets, 4-3, on Friday night. The last time the Nationals lost in Flushing prior to Friday was on June 29, 2013, when the Mets won, 5-1.
"It's really nice. We've played them good, they're just really tough," Mets manager Terry Collins said. "There have been a lot of nights where we've had them late in the game and they've come back and done some big damage against us, but it was a good win for us tonight, for sure."
Even though the Nationals lost, their magic number to win the National League East title went down to eight after the Rangers downed the Braves, 2-1.
The score was tied at 3 in the fifth inning when New York scored the go-ahead run against left-hander Gio Gonzalez. After leading off with a single, Eric Young Jr. scored all the way from first on a double by Juan Lagares.
Gonzalez ended up pitching 6 2/3 innings, allowing four runs (three earned) on six hits and striking out seven. But he wasn't happy when manager Matt Williams took him out of the game with two outs in the seventh, and he expressed his displeasure by slamming the ball in Williams' hand.
Gonzalez wanted to face Lagares, but Williams felt the better matchup was between right-hander Aaron Barrett and Lagares.
Television broadcasts showed Williams and Gonzalez having a heated discussion in the dugout.
"I wanted to explain to him, it's not my objective to take him out [of] there. … I want to leave him in and finish that inning and give him a chance to get off the hook, but it's a good matchup for Barrett, too," Williams said. "And [Gonzalez] is upset, and I understand that. I also want to do the best job I can to help us try to win a game, too. So we had a talk about it. He understands, and I understand. That's how far as it goes."
Gonzalez was calm when he spoke to the media after the game. As a competitor, he wanted to stay in the game.
"Matt did his best to defuse as much as possible. It's part of the sport. It's high intensity, trying to keep the game close," Gonzalez said. "He has been part of it; it's part of baseball. You want to keep pitching, you want to keep going out there. … [Williams] has every right, and there are two sides to every story, too. He is doing his job as a manager to make sure I'm doing all right. I'm just being a player, just wanting to go out there and keep pitching. It's not bigger than it is."
Gonzalez got off to a rough start, allowing three runs in the first inning. With the bases loaded, Travis d'Arnaud doubled to left field, scoring Young and Lagares. Left fielder Bryce Harper made a perfect throw to catcher Wilson Ramos to nail Lucas Duda, but Duda kicked the ball out of Ramos' glove and was safe on the play.
Gonzalez settled down after that inning and allowed one more run in 5 2/3 innings.
"Second inning, it was a clean start, and I just tried to pound the strike zone, keep going after them," he said. "Throwing the changeup for strikes. I'm trying to work fast and get us back in the dugout as soon as possible to get [our] guys to swing the bat."
Washington tied the score against right-hander Dillon Gee. In the top of the third, Adam LaRoche continued his hot hitting by singling to left-center, scoring Anthony Rendon. LaRoche then scored on a single by Ramos.
Three innings later, Rendon tied the score with his 20th home run of the season, becoming the third member of the Nationals to hit at least that many this season, and he finished a triple shy of the cycle.
"[Rendon] has been unbelievable. He has been our most valuable player from start to finish," Span said. "He has been in the lineup pretty much every day, giving us everything we need. He is scoring runs. We need him to steal a bag, he steals a bag, driving in runs. He is doing it all. He has a world of talent, that kid."
But the Nationals fell short after Mets right-hander Jenrry Mejia picked up his 26th save of the season.
Bill Ladson is a reporter for MLB.com and writes an MLBlog, All Nats All the Time. He also can be found on Twitter @WashingNats. This story was not subject to the approval of Major League Baseball or its clubs.