MLB.com Columnist
Tracy Ringolsby
Orioles face yet another challenge with loss of Davis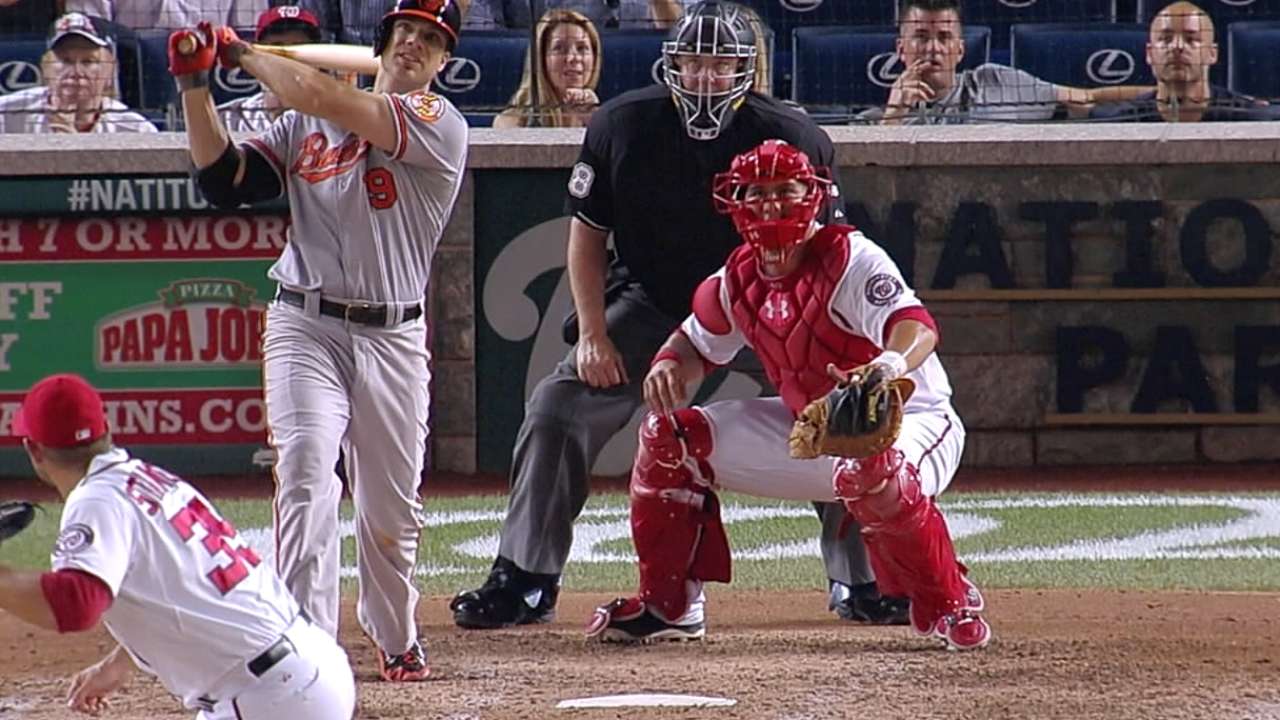 Orioles catcher Matt Wieters' season consisted of 26 games before he had to give in to an aching right elbow and undergo Tommy John surgery in June. Third baseman Manny Machado was limited to 82 games because of injuries before he finally called it a year and underwent knee surgery in late August.
As if those losses weren't enough of a challenge, now the O's are faced with slugging first baseman Chris Davis suspended from playing the final 17 games of the regular season and as many as eight in the postseason, should Baltimore advance as far as the American League Championship Series.
It shouldn't keep the Orioles from getting to the postseason, though. They went into Friday's doubleheader with the Yankees leading the AL East by 10 games. But how far will they go in October without Wieters, Machado and now Davis?
Davis' suspension, which began Friday, was for testing positive for the use of what he admitted was Adderall. Presuming no weather-caused game cancellations late in the season, eight games will remain on his suspension when the postseason begins. That means he'd be out of the AL Division Series, a best-of-five series, and for part of the AL Championship Series, a best-of-seven series. The O's would be permitted to put him on their ALCS roster and play one man short until he is eligible to return.
If the Orioles were to sweep the ALDS and the ALCS, Davis would still have a game remaining on his suspension, which means even his World Series status could be in doubt.
What's more, Davis cannot be around the team during the suspension ends, which means he would have to work out on his own. Although when Manny Ramirez was suspended while he was with the Dodgers, he was allowed to play at Triple-A in the final days before returning, so Davis could possibly go to Florida to work out if he were to rejoin the O's in the postseason.
Davis said all the right things on Friday for the wrong thing that he did, but that doesn't offset the damage the Orioles face in their quest for their first World Series championship since 1983.
"We're going to try and deal with it and move on," manager Buck Showalter said. "Timing is never good, but it's one of those challenges. It's why we have [the drug policy] in place, and we're really supportive of it. These are things everybody knew beforehand."
No doubt about that.
Davis said in his statement that he had an exemption to use Adderall a year ago, but said he doesn't have one this year.
"I apologize to my teammates, coaches, the Orioles organization and especially the fans," said Davis. But it couldn't have caught him totally off-guard. Baseball does provide a warning. The Joint Drug Prevention and Treatment Program does not call for a suspension for amphetamines until a second positive test.
Davis, who led the Major Leagues with 53 home runs and 138 RBIs while hitting .286 and finishing third in the AL Most Valuable Player Award voting a year ago, hit .196 this season with a Major League-leading 173 strikeouts, but he does have 26 home runs and 72 RBIs.
Davis is second on the team in home runs to Nelson Cruz, who himself was suspended for 50 games, for his involvement with Biogenesis, while with the Rangers last year, returning only for a Game 163 against Tampa Bay to decide whether the Rangers or Rays would claim the second AL Wild Card berth. Cruz leads the O's this season with 101 RBIs. Davis is third, behind Adam Jones, who went into Friday with 85.
Cruz and Jones can add to those numbers in the next couple of weeks. And they can enjoy helping the Orioles to the postseason for only the fourth time since 1983. Davis, however, won't be able to be a part of any of that, and he might not be able join them until sometime in the playoffs.
It is the price that a player pays for violating the drug provisions in the Basic Agreement. There is no wiggle room.
"At this point, it's not up me to me to gauge what's fair and not fair," Showalter said. "You take what's coming your way and you deal with it."
It can be difficult to overcome. The Rangers can attest to that. Had they not lost Cruz for 50 games last season, they can argue that they would have clinched a Wild Card spot and never been forced to face the Rays in that tiebreaker game, which they lost.
But it doesn't ensure doom.
The Giants proved that in their run to the 2012 World Series title. Melky Cabrera, who was the All-Star Game MVP that year, was leading the Majors with 159 hits and had 11 home runs and 60 RBIs on Aug. 15 when he was handed a 50-game suspension.
The Giants were 64-53 at the time, tied for the National League West lead. They lost that first game without Cabrera, but then won 30 of their final 44 games. While Cabrera's suspension ended in the midst of the postseason, the Giants declined to activate him for the World Series.
The Giants swept the Tigers in four games.
Cabrera was given a championship ring for his contributions prior to the suspension. But they never revisited talks about a contract that had begun at the All-Star break, allowing him to become a free agent.
The Orioles have fared well despite the challenges thrown at them earlier this season with the losses of Wieters and Machado.
Now they are being asked to move forward without Davis.
Tracy Ringolsby is a columnist for MLB.com. Read his blog, Write 'em Cowboy. This story was not subject to the approval of Major League Baseball or its clubs.