MLB.com Columnist
Jim Callis
Pipeline Inbox: What will the All-Star team look like in five years?
Jim Callis responds to fans' questions about baseball's top future stars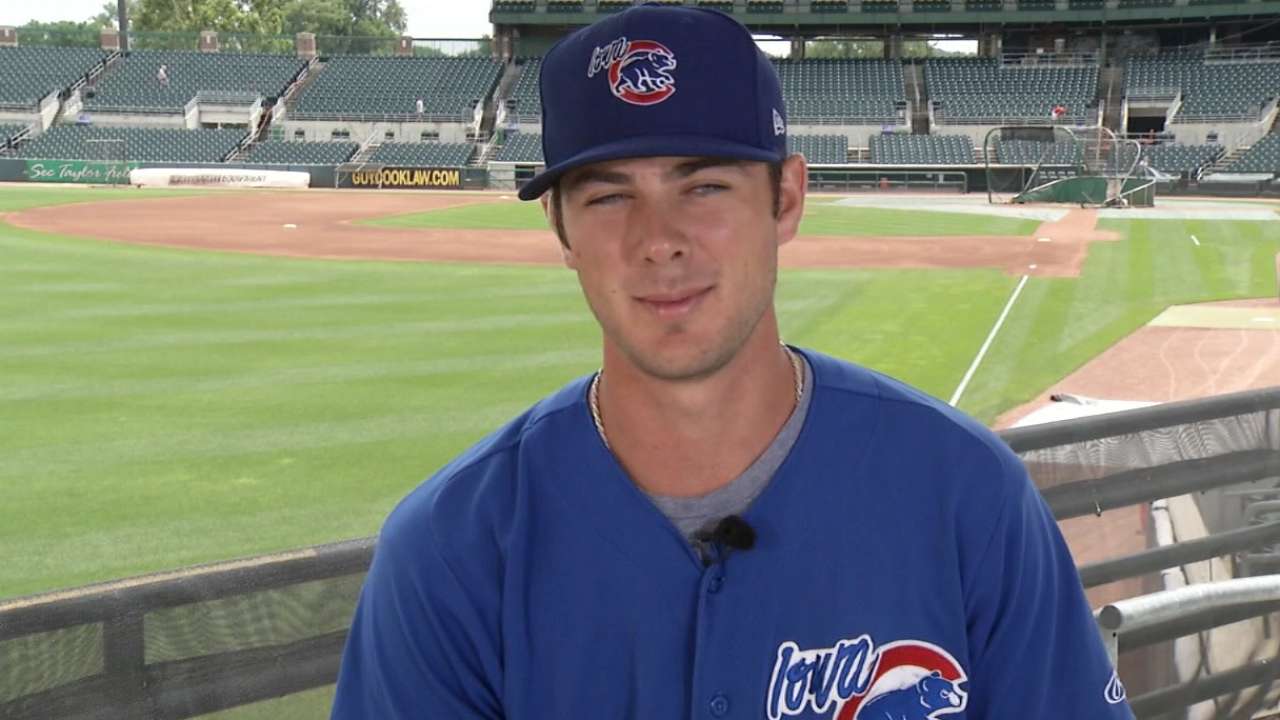 While looking at the playoff standings this morning, it struck me that if the Mariners edge the Tigers for the final American League berth, the Junior Circuit will send a team to the World Series that hasn't been there in a long time. Seattle has never played in the Fall Classic, while it has been 12 years since the Angels' last appearance and more than two decades for the Orioles (1983), Royals ('85) and Athletics ('90).
Among the seven National League teams with realistic hopes, the Giants won it all in 2010 and '12 and the Cardinals did so in '11 and also reached the '13 World Series. The Nationals/Expos never have made it that far, and it has been a while for the Pirates (1979), Brewers ('83), Dodgers ('88) and Braves ('99).
What do you think the All-Star team will look like in five years?
-- Kenneth C., Albion, Ill.
One thing that should stay the same from 2014-19 is that Mike Trout will remain the best player in baseball. He'll be all of 27 years old then, and if that's truly the beginning of his prime, it's scary to think of how good a better version of Trout could be.
Here's your Major League All-Star team for five years into the future, with current teams and 2019 ages in parentheses:
C -- Mike Zunino, Mariners (28)
1B -- Paul Goldschmidt, Diamondbacks (31)
2B -- Mookie Betts, Red Sox (26)
3B -- Kris Bryant, Cubs (27)
SS -- Francisco Lindor, Indians (25)
OF -- Byron Buxton, Twins (25)
OF -- Giancarlo Stanton, Marlins (29)
OF -- Mike Trout, Angels (27)
P -- Clayton Kershaw, Dodgers (31)
We'll have to check back in five years and see how my prognostications look. I wanted to pick under-30 guys, but I couldn't avoid Goldschmidt or Kershaw. And I tried to not go too crazy with prospects.
Are the Cubs making a mistake by not bringing up Kris Bryant in September? Should I be worried by any Javier Baez /Arismendy Alcantara issues?
-- Andy S., Phoenix
From a talent standpoint, Bryant should be playing third base for the Cubs right now after leading the Minor Leagues with 43 homers, 78 extra-base hits, 325 total bases, a .661 slugging percentage and a 1.098 OPS in his first full pro season. From a business standpoint, however, it makes sense to delay his big league debut until 2015.
If Chicago waits a couple weeks to call Bryant up next April, he won't be able to become a free agent until after the 2021 season, rather than after '20. And if the Cubs wait a few months, they can delay his arbitration eligibility as well. Unless they plan on contending in 2015 -- which appears to be a long shot, though they should be more respectable -- there's no point in losing a year of team control when they don't have to.
As for Baez and Alcantara, I assume Andy means that they both may be best suited for second base. I wouldn't worry about that, because it's hard to remember a team with more talented position players than lineup spots. If that does happen to Chicago, that's a great problem to have.
Baez should be capable of playing second base, shortstop, third base and the outfield corners. Alcantara can play second, short and all three outfield spots. The Cubs likely will pursue hitting-for-pitching trades this offseason and they have a lot of attractive chips to offer, but even if they stand pat, there should be room in their lineup for both Baez and Alcantara.
Looking at the Astros' and Diamondbacks' third-base situations, how will Colin Moran vs. Rio Ruiz and Jake Lamb vs. Brandon Drury play out?
-- Shawn S., Lawrence, Kan.
Houston's hot-corner battle is a closer call than Arizona's. Though the Astros considered taking Moran with the No. 1 overall pick in the 2013 First-Year Player Draft before acquiring him from the Marlins in the Jarred Cosart trade this summer, they also paid Ruiz $1.85 million as a fourth-round pick in 2012.
Moran is 19 months older, so he'll probably get to Houston first, but Ruiz has more upside. While both should hit for average, Ruiz has more power, has demonstrated more on-base ability and is more athletic. Neither projects as more than an average defender at third base.
Lamb and Drury both have solid power, but Lamb gets the edge because he's a slightly better hitter and a clearly better defender. Lamb has struggled in his first exposure to the big leagues, and Arizona may play Aaron Hill at the hot corner in the future to get both Didi Gregorius and Chris Owings in its lineup.
Is Indians first baseman Bobby Bradley going to get love in prospect circles? Or is it just too early to tell if his hit tool will carry him?
-- Dale C., Windsor, Ontario
Bradley currently sits 20th on MLBPipeline.com's Indians Top 20 Prospects list, and I suspect he'll move up significantly when we rejigger the rankings during the offseason. Though Rookie-ball stats don't mean much, he won the Arizona League Triple Crown with a .361 average, eight homers and 50 RBIs, and he also topped the circuit in runs (39), extra-base hits (25), total bases (101), on-base percentage (.426) and slugging (.652).
More important, Bradley's offensive tools are legitimate. Signed for $912,500 as a third-round pick out of the 2014 Draft, the 6-foot-1, 225-pounder has a sweet lefty swing, plenty of bat speed and a mature approach. When I was working on our Draft coverage this spring, I talked to an area scout who raved about him.
"I hear scouts wonder about the body or the profile, but he could hit .290-.300 with 30 homers, and there aren't many of those guys around," the scout said. "He has as good a chance to be a plus bat as anyone in the country for me. He has a good feel to hit, a good swing. He doesn't go out of the zone much and uses the whole field.
"Right now, he's more of a line-drive hitter, but he has raw power. When he wants to hit the ball out of the park, he can do it. He reminds me of Pedro Alvarez, and he's got a chance to be a better hitter than Alvarez. Big league bats are hard to find, so you've got to take these guys higher than the rest of their profile."
Jim Callis is a reporter for MLB.com and writes a blog, Callis' Corner. Follow @jimcallisMLB on Twitter. This story was not subject to the approval of Major League Baseball or its clubs.