Buck: Others must step up in Davis' absence
Showalter's O's have overcome injuries; must now get past slugger's suspension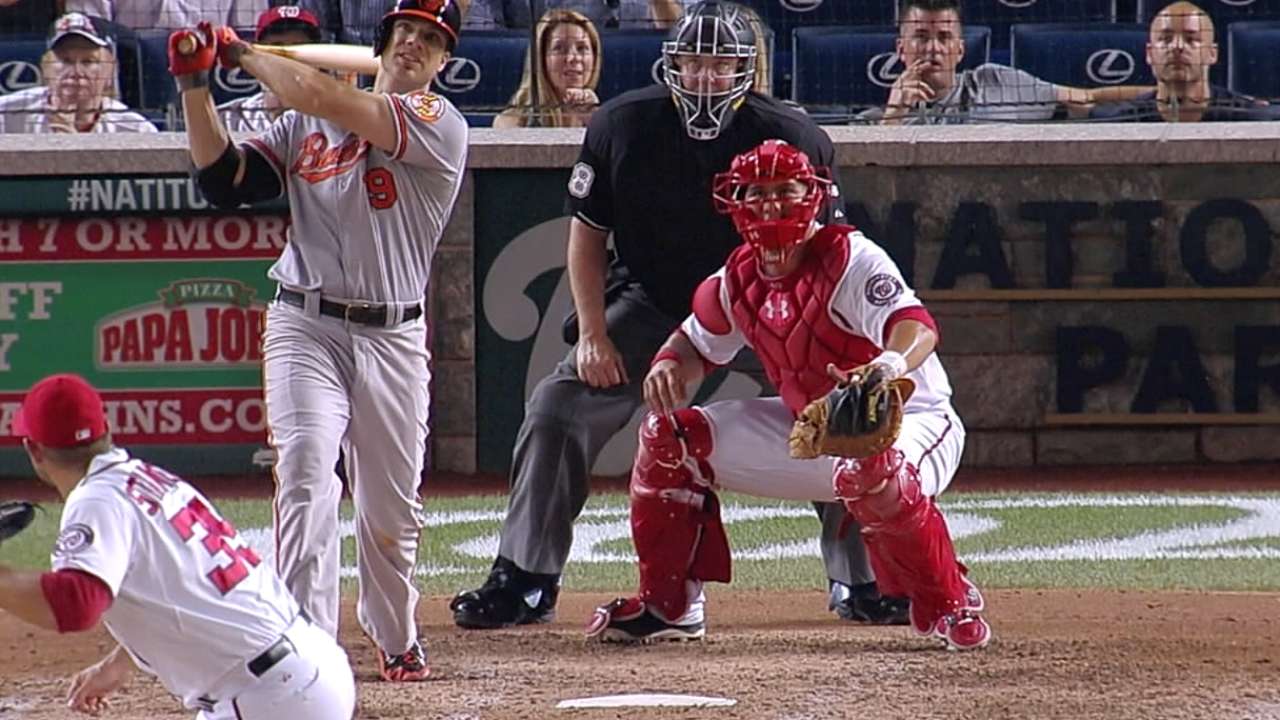 BALTIMORE -- Having already lost Matt Wieters and Manny Machado for the season, the Orioles will now also have to head down the stretch without first baseman Chris Davis, who was suspended Friday for 25 games for testing positive for an amphetamine. But how much of a blow is it for first-place Baltimore, which entered Friday with a 10-game lead despite Davis' down offensive year?
Defensively, the Orioles will miss Davis, who had been playing mostly third base recently with Machado out. Kelly Johnson, who was acquired in a late August trade with the Red Sox, started at third in Game 1 of Friday's doubleheader vs. the Yankees, and the versatile veteran figures to get the majority of playing time -- along with a postseason roster spot -- with Davis' suspension. The O's also have Ryan Flaherty, though manager Buck Showalter said the team is still debating bringing up an extra infielder.
"We still have a chance to achieve what we set out to achieve," Showalter said. "There are some people that are going to get some playing time that weren't expecting it."
Steve Pearce will be counted on heavily as well, as the infielder/outfielder is having a career year (.287 average, 16 homers and 39 RBIs) and has already been thrust into an everyday role at first with Davis' switch to third. Pearce has a team-leading 5.0 WAR (wins above replacement), and he hit fifth -- Davis' predominant spot -- for the sixth time this season during Friday's first game. Davis, who had 53 homers and 138 RBIs last year, ends the regular season with 26 homers and 72 RBIs, but he had just a .196 batting average and 173 strikeouts, equating to a 1.8 WAR.
Still, without Davis' power threat, Pearce adds protection behind Nelson Cruz. And Showalter had Alejandro De Aza, who was acquired in a deal with the White Sox on Aug. 30, in Pearce's typical second spot during Friday's opener -- a move that could now become the norm.
Showalter has juggled his lineup all season, and the Orioles will need guys like Johnson, De Aza and Pearce to contribute at a high level if they're going to go deep into October. While Davis won't be eligible until he serves out his suspension, MLB has decided he can still be placed on the American League Championship Series roster under the ban. Meaning if the O's get there, Davis can return in-series.
"We asked that same question where Matt was concerned, where Manny was concerned, where J.J. [Hardy has] been concerned, where some pitchers we've had go down. I've got a lot of confidence in our guys," Showalter said. "We're always looking at the what-ifs. Chris has had some physical issues, [and] we've been able to plug some people in that did a nice job for us. So we'll see."
Brittany Ghiroli is a reporter for MLB.com. Read her blog, Britt's Bird Watch, and follow her on Facebook and Twitter @britt_ghiroli. This story was not subject to the approval of Major League Baseball or its clubs.