Crew keeps pace on Overbay's walk-off single
Milwaukee 1 1/2 back of second Wild Card, four back in Central race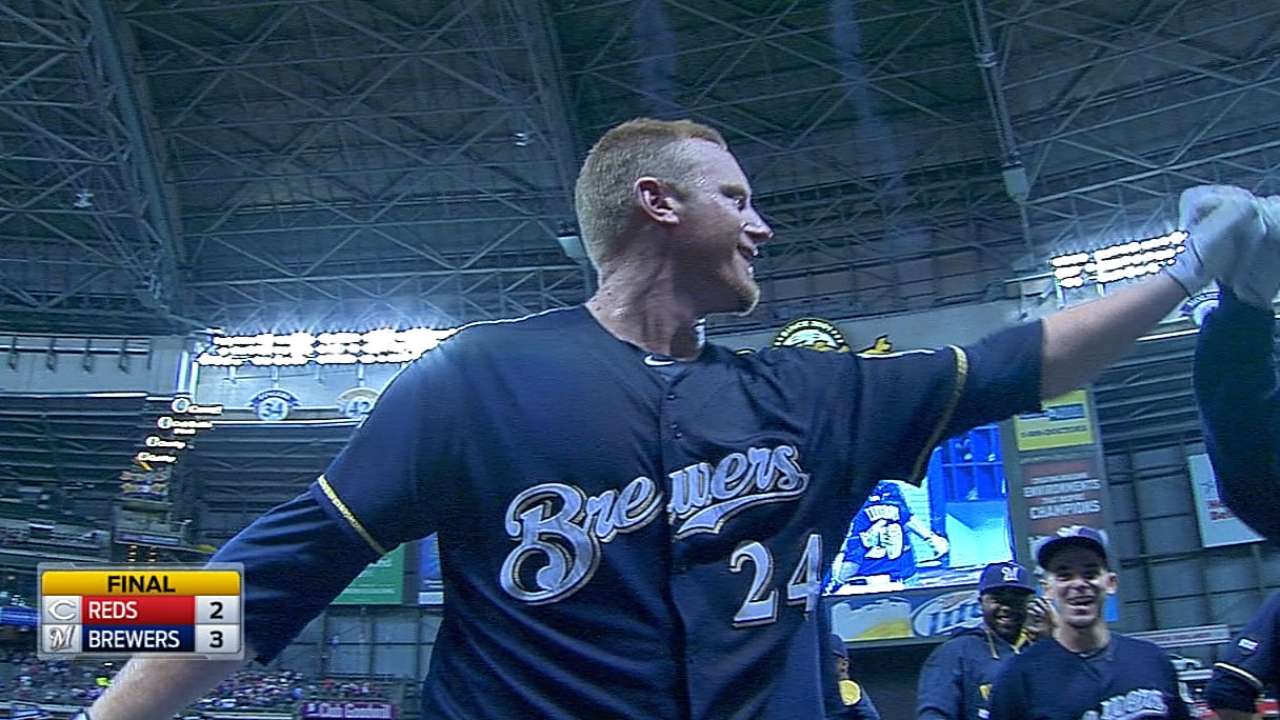 MILWAUKEE -- Both managers wanted Lyle Overbay at the plate with the bases loaded in the ninth inning, but Brewers skipper Ron Roenicke got the result he wanted.
Overbay delivered a walk-off single following a pair of intentional walks to give the Brewers a 3-2 victory over Cincinnati on Friday night, keeping Milwaukee a game and a half out of the second National League Wild Card spot and four games back in the NL Central.
"He's done a really good job hitting with people on base, so you feel good with him up there, especially with the bases loaded," Roenicke said. " If they're going to try to pick the corners, he's going to be patient and get a walk. He got the pitch where he wanted it and that was good to see. We needed one of those wins."
Milwaukee won its third straight to remain 1 1/2 games behind Pittsburgh for the second Wild Card spot. The Pirates defeated the Cubs, 7-3. The Brewers moved 1 1/2 games in front of Atlanta, however, as the Braves lost to Texas, 2-1.
Reds right-hander Jumbo Diaz came on to start the ninth and Jonathan Lucroy doubled off the glove of center fielder Billy Hamilton, who crashed into the wall on the attempt. Lucroy moved to third on Aramis Ramirez's groundout to short. Ryan Braun was then walked intentionally and Logan Schafer ran for Lucroy. Gerardo Parra was walked intentionally to load the bases.
Overbay then lined the first pitch into the gap in left-center, notching his fourth career walk-off hit and first since 2010.
"I wanted to make sure I didn't miss it," Overbay said. "Just because the at-bat before I was a little tentative and they were pounding me down and away. I felt like they were going to do that too again, just to try to get the ground ball, get the force at home. I was like, 'Just make sure you get it up in the air.' I think he missed over the middle a little bit more than he did. It was down a little bit, but it was more middle, so I was able to get underneath a little bit."
Reds manager Bryan Price said he thought they had a better chance of doubling up the 37-year-old Overbay than either of the two hitters in front of him.
"Overbay is an accomplished, seasoned hitter, as well," Price said. "But we had to pick our poison there. I thought we had a better chance there. He doesn't run as well as Parra. I was going for the double play there. He did his job. He got a good first pitch to hit out over the plate and he hit it hard. And they beat us."
The Brewers managed just two runs on two hits in six innings off rookie fill-in starter Daniel Corcino, a September callup who had allowed three runs in 2 2/3 innings in two relief appearances. Corcino, who spent most of the season at Double-A Pensacola, replaced Mat Latos, who was scratched because of a bone bruise in his right elbow.
Kyle Lohse, 1-5 in his previous seven starts, pitched five scoreless innings after allowing a solo homer in the first, before the Reds scored the tying run in the seventh.
Jay Bruce singled to open and Brandon Phillips walked. Chris Heisey failed on two bunt attempts, but then advanced both runners with a flyout to deep center. Brayan Pena's sacrifice fly scored Bruce to make it 2-2.
Corcino retired the first nine batters before the Brewers pushed across two runs in the fourth to erase a 1-0 deficit.
Carlos Gomez reached on a swinging strikeout and wild pitch. Pena's throw eluded Todd Frazier, with Gomez advancing to second on the error. Gomez took third on Scooter Gennett's groundout and scored on Lucroy's single.
Lucroy advanced on another wild pitch and scored on Braun's single up the middle, narrowly sliding home ahead of the throw from Hamilton.
Kristopher Negron, who had one hit in his previous 16 at-bats, staked the Reds to a 1-0 lead with one out in the first, driving a 1-0 pitch over the wall in center for his fifth home run.
"It feels good. It feels like we're playing a lot better right now and it's when we need to be," said Lohse. "Getting it done. We've just to come back in here tomorrow and do the same thing."
Jim Hoehn is a contributor to MLB.com. This story was not subject to the approval of Major League Baseball or its clubs.