All tests negative; Headley cleared to play
Yankees infielder was struck in face by a fastball in ninth inning Thursday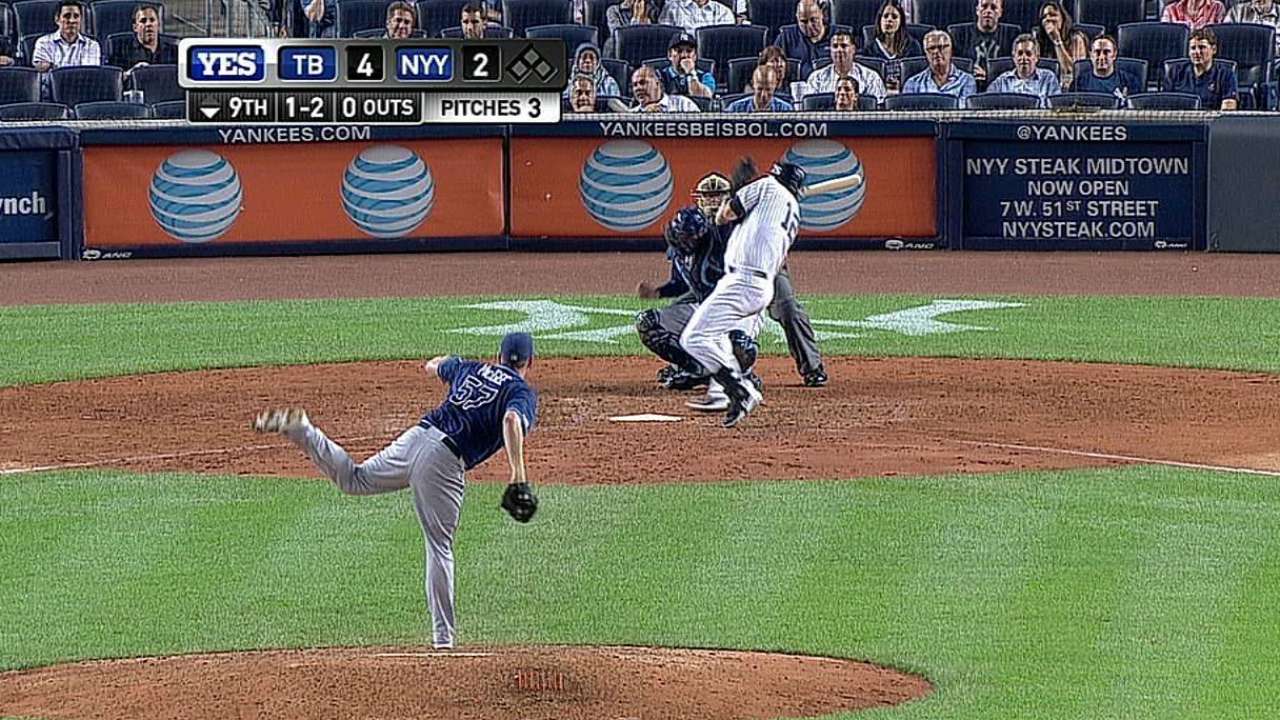 BALTIMORE -- Chase Headley said that he saw the pitch coming in, a split-second flicker that left him little time to react. With two stitches in his chin, the Yankees infielder later watched a replay of the hit-by-pitch, and that might have been the most frightening part of the incident.
"Sometimes it puts things in perspective, to really appreciate what you have," Headley said. "Make sure that you really enjoy everything that you're doing with your family when you're playing because it can go in an instant. That's just a reminder of it."
Headley was talking not only about himself, having been struck up and in by a 96-mph Jake McGee fastball in Thursday's 5-4 win over the Rays at Yankee Stadium, but also Marlins star Giancarlo Stanton, who sustained more significant injuries when he was also hit by a pitch minutes earlier in Miami.
"Your heart goes out to anybody that gets hit in the face," Headley said. "Obviously with Stanton, he got it much worse than I did. It's unfortunate, but it's part of the game. Those things happen. I don't think there was any intent by any means, but it's scary when it does happen."
Headley said that he tried to move his head back from McGee's pitch, but there was not enough time. X-rays taken on Thursday showed no facial fractures, but significant swelling is noticeable.
"I feel like I have about five pounds of gauze packed in my mouth," Headley said. "I was just extremely lucky. Talking to the doctors, to be hit direct with that hard of a fastball, there's really no reason that I should be as good as I am. I'm fortunate, blessed. I'm sore, but it could have been much worse."
Yankees captain Derek Jeter was also hit on the left elbow by a pitch from the Rays' Brad Boxberger on Thursday and was not in the lineup for Game 1 of Friday's day-night doubleheader at Camden Yards, but he returned for the nightcap and went 0-for-4.
"He never complained about it, but he wouldn't complain about it," Yankees manager Joe Girardi said of Jeter. "He wants to be out there for the guys, and he's going to play through things. That's what he's going to do."
Headley was seen in New York on Friday by a neurologist, who found no concussion symptoms and cleared the veteran to resume playing.
After riding a train to Baltimore, Headley said that he planned to go through a workout on Saturday morning, but Girardi said that he is not sure if Headley will be in the lineup against the Orioles.
"It shows me a lot about him, getting here for the second game -- his character and what he's all about," Girardi said. "Obviously he went through a lot when you think about 10 o'clock last night. Obviously some nervousness about, 'Is my jaw broken?' That would have been miserable. We'll have to wait and see."
Bryan Hoch is a reporter for MLB.com. Follow him on Twitter @bryanhoch and read his MLBlog, Bombers Beat. This story was not subject to the approval of Major League Baseball or its clubs.