Tigers take division lead behind J.D.'s huge night
Slugger homers, drives in four runs to back brilliant Price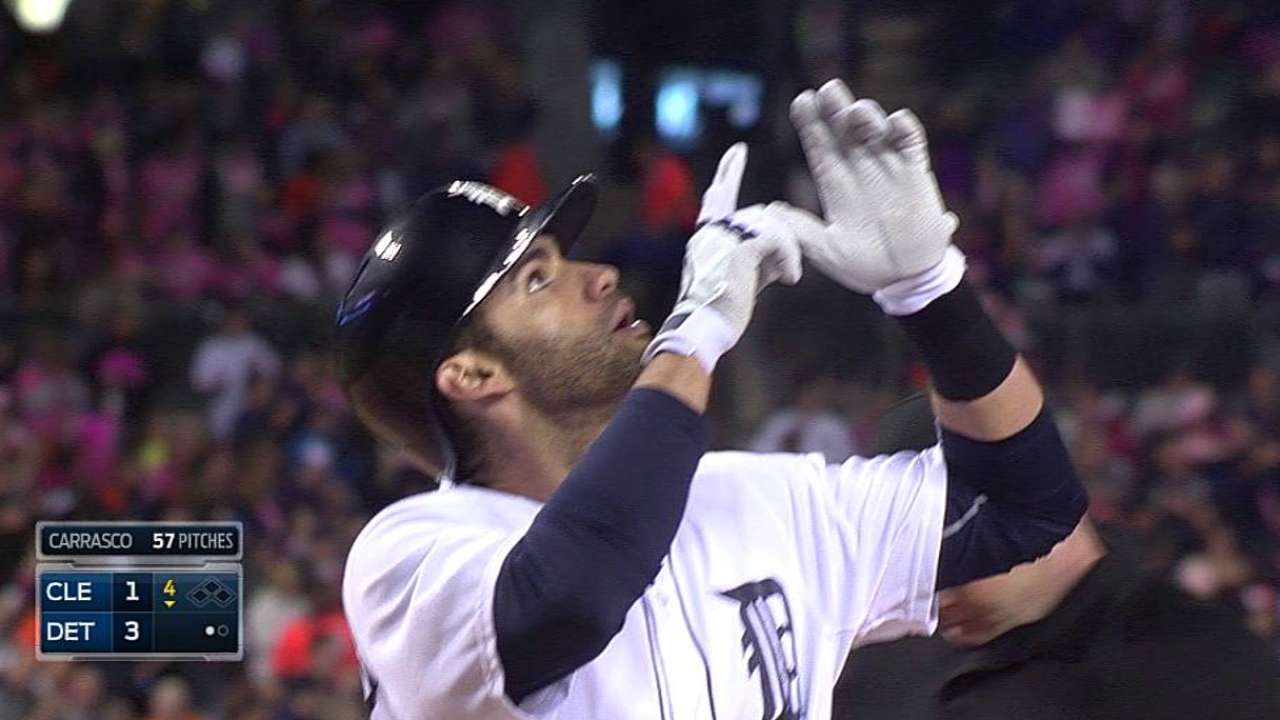 DETROIT -- The Tigers missed their chance to take first place from the Royals in the American League Central head-to-head two days ago. They didn't have to wait a week for another chance.
Thanks to 7 2/3 innings of one-run ball from David Price and another big J.D. Martinez home run against the Indians, they didn't let their opportunity pass Friday night. With a 7-2 Tigers win and another Red Sox victory in Kansas City, Detroit sits alone atop the division for the first time since Aug. 10.
They held the lead for a month last time before falling back. They now need to hold it for just over two weeks. For many, though, the key to holding it is to not think about the Royals for a week until they touch down in Kansas City.
To some extent, this has the potential of a trap series for them. The intense atmosphere of the Royals series left with the Royals. Even with the Indians on the fringe of contention, they could easily get overlooked in the midst of a division race with Kansas City and a Wild Card scrum with Oakland and Seattle.
"We don't think like that, to be honest with you," Martinez said. "You just want to go out there and play hard every day, whether we're playing Minnesota or Kansas City. Obviously, the games mean a little bit more playing Kansas City because the winner of that takes a game. But we really don't think in that sense."
For manager Brad Ausmus, it's more like a continuation.
"The last four games, I think there's been a higher energy level," Ausmus said.
If anyone should put plenty into playing Cleveland, it's Martinez, whose transformation from Spring Training castoff to unlikely offensive hero has come at the expense of the Indians' pitching staff. A week and a half after his late-inning heroics denied Carlos Carrasco a win, his pounce on a Carrasco fastball sent the Indians' starter to defeat.
The Tigers put 10 runners on base against Carrasco in the Sept. 2 contest, but plated only one of them. Four of the nine runners to reach against Carrasco in the rematch came around to score.
Nick Castellanos' leadoff single in the third turned into a run when Ian Kinsler got enough of a 96-mph fastball on an 0-2 pitch to line an RBI double into right. The big rally, however, came an inning later after Miguel Cabrera's infield single and Carrasco's throwing error.
Martinez has become known for the notebook he keeps on opposing pitchers. He had two singles off Carrasco their previous meeting by swinging early in the count, before Carrasco could get ahead of him.
"That's one thing I learned from watching great hitters hit," Martinez said. "A lot of hitters, they're ready to hit from pitch one. When I'm at my best, I'm ready to hit from pitch one. When I go up there and I'm passive, I'm not as successful. When I fall behind, my swing changes. I'm still trying to swing hard with two strikes, but I'm trying to get more contact with it.
"If I'm ready to hit early, if I get fooled, then whatever. I've still got two more strikes."
After watching a first-pitch slider miss on Friday, that was his plan again. Carrasco's ensuing fastball was a pitch he could drive.
"I threw a sinker inside, and it stayed right over the middle," Carrasco said.
Martinez's 21st home run was his sixth against Cleveland, whose Triple-A team he tagged for three home runs just before his callup in April.
"He started the season in Triple-A, and now he's hitting fifth for them," Indians manager Terry Francona said. "Having him makes getting through Miggy and Victor [Martinez] a whole lot harder, and that's huge for them."
Carrasco (7-5) had given up three earned runs over his previous six starts combined. His total Friday rose to four when Kinsler singled and scored in a four-run seventh inning that included a J.D. Martinez RBI triple off C.C. Lee, tying his season high with four RBIs.
Price (14-11) had been alternating stellar starts with disastrous stretches for his last four outings. Three consecutive second-inning hits from the bottom third of the Indians' order put him at risk for the latter, starting with a solo homer from ex-Tiger and longtime nemesis Ryan Raburn to open the scoring.
A Lonnie Chisenhall single and Mike Aviles double put two more runners in scoring position and brought the top of the order back to the plate. Price recovered to induce an inning-ending groundout from Michael Bourn, then benefited from an Alex Avila throw to second to erase Jose Ramirez following a leadoff single in the third.
Price retired 11 of 12 from there, including seven in a row from the fourth inning through the sixth. Avila helped him out with a leaping catch against the screen behind home plate in the fifth.
Jason Beck is a reporter for MLB.com. Read Beck's Blog and follow him on Twitter @beckjason. This story was not subject to the approval of Major League Baseball or its clubs.