Indians fall to Tigers, can't gain ground in race
Raburn homers, but Cleveland drops to 4 1/2 back in AL Central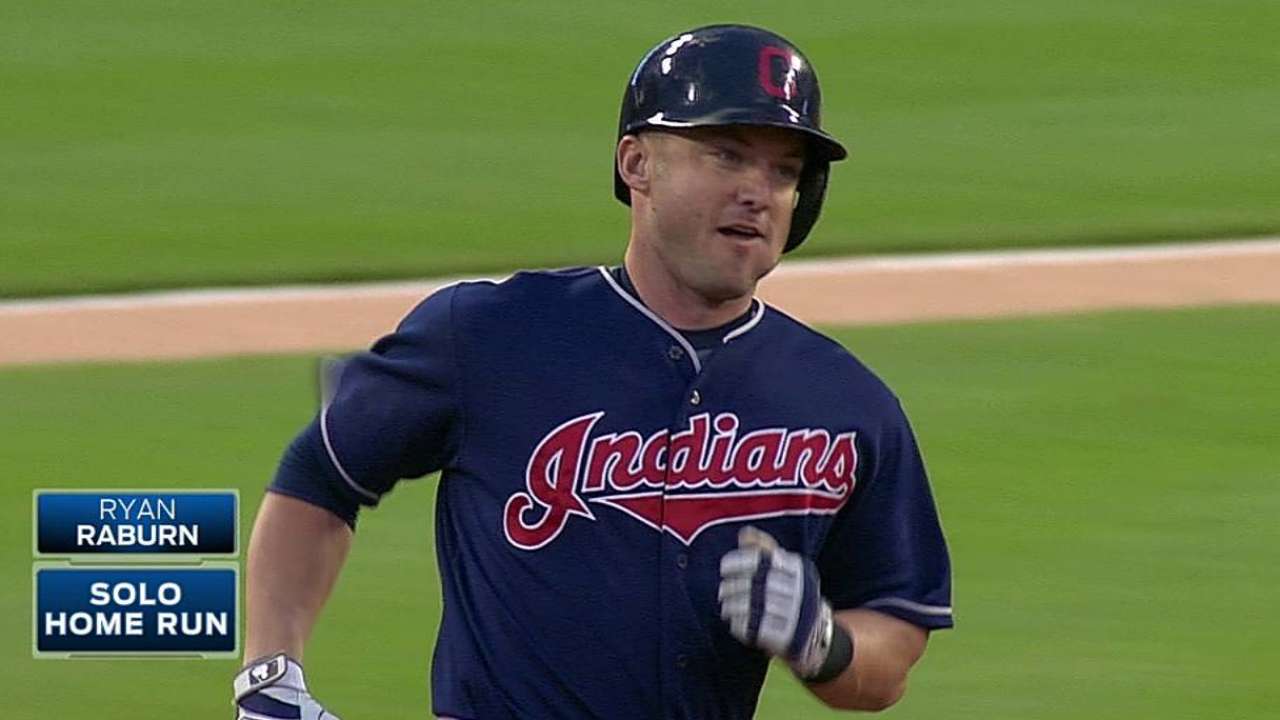 DETROIT -- Every game and series represents a must-win situation now for the Indians. Cleveland has spent nearly the entire season only a few rungs below the postseason threshold, creating consistent hope that a surge up the standings could be around the corner.
The longer the wait, the more necessary such a streak becomes for the Indians. The wait continued after a 7-2 loss to the Tigers in the opener of a critical three-game weekend set at Comerica Park. Detroit lefty David Price handled the Tribe just fine and Carlos Carrasco flinched just enough to send Cleveland on its way to a discouraging defeat.
"It's tough. Any time you lose, it's tough," Indians right fielder Ryan Raburn said. "They're a good team. We faced one of the better pitchers in the league, and he showed why he is."
This was an opportunity for the Indians to gain ground on the team directly ahead of them in both the American League Central and AL Wild Card races. Rather than cut into the deficit, Cleveland slipped 4 1/2 games behind first-place Detroit in the division and now sits four games behind the Royals for the AL's second Wild Card seed.
Cleveland's goal now is to quickly move on and make sure the current 10-game trek through Detroit, Houston and Minnesota does not write the final chapter of its season.
"We need to continue to win," Carrasco said. "I hope [Danny] Salazar can come in [Saturday], he can see everything we did today and attack."
Thanks to Raburn -- a former Tiger and the recipient of plenty of boos when he returns to the Motor City -- the Indians struck first on Friday night. In the second inning, Raburn lifted the first pitch he received from Price deep to left field for a solo home run, marking his fourth shot of the year and giving Cleveland a 1-0 lead.
The early offense proved to be a tease, as Price retired 17 of the final 21 batters he faced to help the Tigers to the victory. The lefty struck out seven, scattered eight hits and walked none in 7 2/3 innings for Detroit.
"It was a little bit of luck," Raburn said of his home run. "He goes right after guys and he's going to make you put it in play. ... That's why I was trying to be aggressive. You don't want a guy with that kind of stuff getting ahead of you."
The Indians managed one other run, as pinch-hitter Jason Giambi walked and scored from first on Lonnie Chisenhall's double with two outs in the ninth inning.
Carrasco, who had gone 4-0 with a pristine 0.70 ERA in his past six starts, faced his first setback in the third inning, when Nick Castellanos singled up the middle and later scored on a double down the right-field line from Ian Kinsler. Following that game-tying breakthrough, it was old foe J.D. Martinez's time to torment the Tribe again.
In the fourth inning, Martinez pulled an 0-1 pitch from Carrasco to left-center field for a two-run home run -- his 21st -- to put Cleveland in a 3-1 hole. After Carrasco bowed out of the contest, Martinez delivered a two-run triple to pad Detroit's lead, giving the Tigers outfielder a .327 average, .727 slugging percentage and 18 RBIs in 14 games against the Indians this year.
"He continues to be a really good pitcher," Indians manager Terry Francona said of Carrasco. "Against their lineup, when you make a mistake, they can make you pay for it. J.D. Martinez, he threw him a real good breaking ball to start the at-bat, and then tried to come in off the plate ... and it caught way too much of the plate. That was obviously a big blow."
Carrasco saw his impressive winning streak snapped after being charged with four runs on seven hits in 6 1/3 innings. That represented more runs that the righty had allowed combined over his previous 38 2/3 frames in his past six starts. In fact, Carrasco's run of six straight outings with no more than one earned run allowed was the longest such run by an Indians pitcher since 1968 (Sam McDowell).
Carrasco ended with five strikeouts and two walks, exiting after giving up a one-out single to Kinsler in the seventh inning. The Indians turned to reliever C.C. Lee, who walked one and allowed two hits, including Martinez's triple. Detroit finished with four runs in the inning to spread things open and seal the loss for the Tribe.
It was an unfortunate formula for the Tribe, especially with Price on the mound.
"He's certainly one of the better pitchers in the game," Francona said. "He's been that way for a long time."
Jordan Bastian is a reporter for MLB.com. Read his blog, Major League Bastian, and follow him on Twitter @MLBastian. This story was not subject to the approval of Major League Baseball or its clubs.