MLB.com Columnist
Roger Schlueter
MLB Notebook: Sale in rare AL company
White Sox pitcher reaching great heights of past Junior Circuit left-handers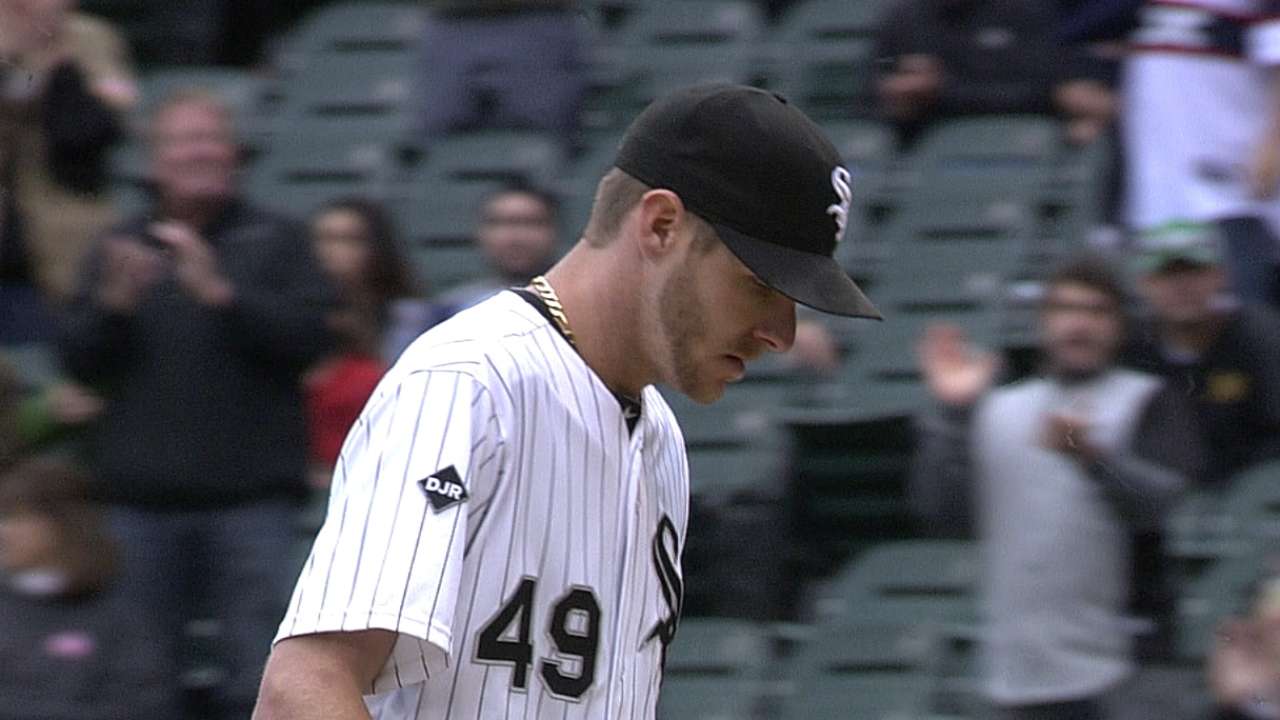 In 1914, Red Sox southpaw Dutch Leonard engaged the American League to the tune of a 0.96 ERA (or 1.00, depending on what source is used), allowed batters to reach via a hit at a rate of 5.57 per nine innings pitched and fanned 20.9 percent of all batters he faced. All three marks led the AL -- quite an accomplishment for a hurler who was pitching in his age-22 season. Since Leonard's spectacle, the list of other AL southpaws to be in an age-25 or younger season, post an ERA below 2.00 and lead the league in ERA, hits per nine and strikeout percentage can be counted using the digits of a single left hand: Hal Newhouser in 1945, Newhouser in '46 and Vida Blue in 1971. Fortunately, there's a finger left for White Sox southpaw Chris Sale, who could find his 2014 campaign a necessary addition.
Sale demonstrated the full range of his dominance on Thursday with eight innings, two hits, no runs and nine strikeouts. With the effort, Sale improved to 12-3, lowered his ERA to 1.99 and polished some other pretty historic numbers. A deeper sense of Sale's season as it currently stands, relative to AL left-handers since 1901:
• The ERA -- 1.99 -- would be the 36th lowest, and the lowest since Ron Guidry posted a 1.74 ERA in 1978. Guidry's mark is the only sub-2.00 ERA for a southpaw in the AL since the introduction of the designated hitter.
• Sale's 196 ERA+ would be the sixth highest, and the highest since Randy Johnson's 197 in 1997.
• Sale's 6.40 hits per nine would tie him with Babe Ruth (1916) for the 19th lowest, and would be the lowest since Johan Santana's 6.16 in 2004.
• Sale's 0.920 WHIP would be the fourth lowest, with the three lower marks being Dave McNally's 0.842 in 1968, Leonard's 0.886 in 1914 and Doc White's 0.903 in 1906.
• Sale's 30.28 strikeout percentage would be the third highest, behind Johnson's 34.24 percent in 1997 and the Big Unit's 33.95 in '95.
Sale's latest effort -- coming in the White Sox 1-0 win against the Athletics -- gives the 2014 season a pair of qualifying left-handers with sub-2.00 ERAs. With Sale and Clayton Kershaw (1.67) being under the mark, a few ways to think about this:
• The 1971 season was the last to feature a pair of left-handers under 2.00, when the Athletics' Blue posted a 1.82 and the White Sox Wilbur Wood owned a 1.91.
• From 1972-2013, only four southpaws posted a sub-2.00 mark: Steve Carlton in 1972 (1.97), Guidry in 1978 (1.74), John Tudor in 1985 (1.93) and Kershaw in 2013 (1.83).
• Sale owns a 196 ERA+ and Kershaw has a 213; no season prior to 2014 has seen two lefties put up numbers this high.
• Getting back to the ERAs, there is one other season in which a Dodgers left-hander and a White Sox left-hander owned sub-2.00 marks. In 1966, Sandy Koufax authored a 1.73 and Gary Peters posted a 1.98 for the Pale Hose.
Before this White Sox victory -- one that saw Scott Kazmir emerge as the tough-luck loser after he allowed a Marcus Semien homer in the sixth -- Chicago had last hosted the Athletics and exited with a 1-0 victory on June 13, 1994, when Jason Bere and Roberto Hernandez combined to beat Bobby Witt, with the lone run coming from a Tim Raines single to drive in Lance Johnson. Some other trivia related to this game in 2014:
• The White Sox had last won a 1-0 game with the only run coming from a home run on April 1, 2013. They had last done this against the Athletics on Sept. 17, 1991.
• Semien is the first White Sox No. 9 hitter to homer in a 1-0 win since pitcher Early Wynn on May 1, 1959. That day, Wynn threw a one-hit shutout, fanned 14, walked seven and homered in the eighth inning. Semien is the second No. 9 hitter to homer in a 1-0 win in 2014, after Minnesota's Eduardo Escobar on May 5; before this season, it hadn't happened since 2009, when Brewers pitcher Yovani Gallardo turned the trick.
Johnny be good
Cincinnati's Johnny Cueto allowed three hits in eight scoreless innings and picked up his 18th win as the Reds defeated the Cardinals, 1-0. The right-hander tied Kershaw for the league lead in wins, closed to within three strikeouts of the National League leader (Stephen Strasburg, who has 223) and lowered his ERA to 2.15. With regard to hopes for a Triple Crown, the last item is most likely going to be an issue, as Cueto's 2.15 is almost a half-run behind Kershaw's 1.67. The last season to see a hurler finish a year with a 2.15 ERA or lower and have that ERA fail to lead the league was 1985, when Dwight Gooden's 1.53 towered above John Tudor's 1.93 and Orel Hershiser's 2.03. Cueto is allowing 6.24 hits per nine, and has fanned 25.1 percent of the batters he has faced.
NL Right-handers to finish a year with K% of 25.0 and hits/9 below 6.30
| Pitcher | Year | K% | Hits/9 | ERA |
| --- | --- | --- | --- | --- |
| J.R. Richard | 1978 | 26.6 | 6.28 | 3.11 |
| Mike Scott | 1986 | 28.7 | 5.95 | 2.22 |
| Nolan Ryan | 1986 | 26.6 | 6.02 | 3.34 |
| Hideo Nomo | 1995 | 30.3 | 5.83 | 2.54 |
| Pedro Martinez | 1997 | 32.2 | 5.89 | 1.90 |
| Jose Fernandez | 2013 | 27.5 | 5.79 | 2.19 |
Both Cueto and Cardinals right-hander Lance Lynn finished their days with three hits allowed in eight innings. This is the third game this season to see both starters go at least eight and finish with three or fewer hits allowed. Oddly, the Reds and Cards and these two pitchers were each involved in one of the previous two. On April 27, Cueto and the Braves' Julio Teheran did this; on June 13, Lynn and the Nationals' Jordan Zimmermann did it.
This game marked the second time this season that the Reds defeated the Cardinals, 1-0, at home, with the first coming on April 2. The last season to see this happen twice was 1945, when the Reds had 1-0 victories while hosting St. Louis on April 28 and June 19.
Kluber's Ks
In the first game of the Indians-Twins doubleheader, Corey Kluber fanned seven and allowed two runs in 8 1/3 innings for his 15th victory of the year. Kluber has fanned 230 batters -- the most for the Tribe since Gaylord Perry struck out 238 in 1973. Kluber's 230 have come while facing 859 batters, for a K percentage of 26.78; no Cleveland pitcher has qualified for the ERA title and finished the season with a mark this high since Sam McDowell (27.92 percent) in 1966.
Roger Schlueter is senior researcher for MLB Productions. This story was not subject to the approval of Major League Baseball or its clubs.