MLB.com Columnist
Anthony Castrovince
Kluber takes place among game's elite
Right-hander's rise helps put Indians in good position for now and the future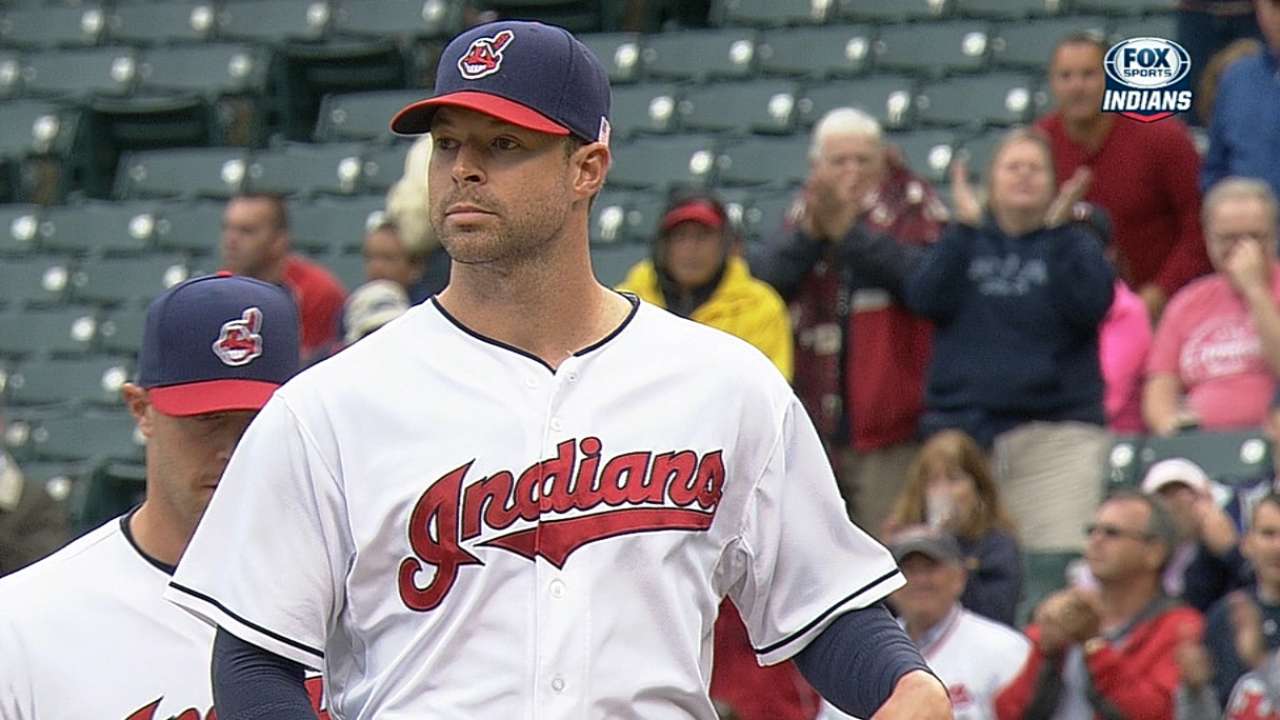 CLEVELAND -- The small but appreciative Progressive Field crowd stood and applauded for Corey Kluber as he came off the mound Thursday afternoon, a common sight in his nearly American League Cy Young Award-worthy season.
Equally common, of course, was the lack of reaction from Kluber himself. Head down, eyes unflinching, mind still processing all that was and will be, Kluber didn't acknowledge a single soul. If you didn't know him better -- and the truth is that his matter-of-fact manner dictates that we don't know him well at all -- you'd assume he's either hard of hearing or hard-hearted, though he insists that's not the case.
"That's just me being locked in," Kluber explained. "It's just a habit."
Kluber is entitled to his habits, no matter how much seemingly unrequited love they engender. He is, after all, putting a final flourish on his season of ascent, and the Tribe has its barely breathing postseason hopes to thank for his efforts.
When Kluber nearly went the distance in Game 1 of a doubleheader against the Twins on Thursday -- the latest "Most Important Day of the Season" for the Indians, immediately replaced the following morning -- he set the stage for a sweep of the low-rung division rivals, a sweep that allows Cleveland to enter the weekend in Detroit with a difficult but not impossible deficit of four games in the Central (three if its ninth-inning lead in a suspended game holds) and 3 1/2 in the AL Wild Card standings.
"Until we're eliminated," Kluber said, "we've got a chance."
Impenetrable truth, that.
In the 8-2 win, Kluber fell two outs shy of a second consecutive complete game, and he turned in his fifth start of the season in which he worked eight innings or more. What separated this start from many of the rest, however, was the rare bit of run support Kluber received from a Tribe offense that has struggled not just down the stretch but almost every time he takes the mound.
This actually might be the most impressive attribute of Kluber's breakout campaign. It's not necessarily the fact that he's gone 15-9 with a 2.45 ERA, struck out 230 in 212 2/3 innings and now turned in a Major League-best 29 straight consecutive starts allowing four earned runs or fewer. It might be that Kluber has seen 13 of the 31 games he's started decided by two runs or less -- and seven more decided by three runs -- and always kept his composure.
"I think that's been vastly overlooked," Terry Francona said. "It seems like every game he pitches, he doesn't have that wiggle room where you can make a mistake. And he just continues to go out and grind through it. His innings have been -- when I say stressful, I don't mean so much physically -- but it seems like every inning there's no margin for error."
The Indians, as an organization, don't have much margin for error, either, which is why an unexpected success story like Kluber's is so vital to their survival in the standings.
Don't get me wrong. They liked Kluber when they acquired him from the Padres in the three-team trade that sent Jake Westbrook to the Cardinals in 2010. After all, he had a 10-strikeouts-per-nine mark in Double-A at the time of the trade, and that's an eye-catching rate at any level.
What Cleveland could not have imagined, however, was that Kluber would almost totally revamp his arsenal and become the every-fifth-day force he now is. The two pitches he uses most frequently are a two-seam fastball and a cutter. Combined, they account for more than three-quarters of Kluber's repertoire. But he didn't throw either pitch until 2011. In 2012, Kluber was given a late-season opportunity at the big league level, nearly decapitated Derek Jeter one night and generally had his ups and downs. Last season, Kluber showed flashes of brilliance, flirting with consistency. This year, he's been the total package.
And the benefit of Kluber's late bloom is that he's under the Indians' contractual control through 2018, at which point he'll be 33 years old.
"I just think he's been so amazingly consistent and at such a high level that he's established himself as one of the better pitchers in the game," Francona said. "Just knowing him like we do, I don't see that going anywhere, except getting better."
While Justin Masterson's free-agent year went awry, Kluber became the backbone of a burgeoning starting staff on a team that has demonstrated the benefits of patience with young pitchers.
It's probably a bit presumptuous to start labeling Kluber, Carlos Carrasco, Trevor Bauer and Danny Salazar as the "Big Four," as Peter Gammons recently did. Carrasco, after all, is only seven starts into his return to the rotation, however brilliant (0.70 ERA, .179 opponents' average) those seven starts have been. Bauer is still learning how to attack hitters early in counts and early in games. And Salazar, with an adjusted ERA below that of league average, is still unformed enough in his routine that he blamed his last outing, when he was roughed up for six runs over 4 2/3 innings against the Angels, on the matinee start time.
Still, these are relatively fresh arms here in the pennant push because of Francona's famously aggressive use of the bullpen (the Indians are on track to break their own AL record for games in relief). And even if their efforts fall short, their Major League-best 2.14 starters' ERA dating back to Aug. 9 (with fifth starter T.J. House another factor in that feat) at least sets up the Tribe for a more hopeful future.
That begins with Kluber. Odds are he will not be your 2014 AL Cy Young Award winner, because King Felix Hernandez is on track to have him beat, ever so slightly, in innings and ERA, as well as, to the extent that such a thing matters, prestige.
Clearly, though, Kluber has taken his place among the elite arms in the game. And he's cemented that status recently with some slight mechanical adjustments that have fended off all recent worries about fatigue in what is, essentially, his first full season (he missed some time last year with a finger injury).
"My direction was just off, I was getting too closed," Kluber said. "When it's not a major overhaul and just a little tweak, it's pretty easy to get it back to where you want it."
The Indians aren't quite where they want to be, but that they are relevant at all is a big credit to Kluber. His has been a season worthy of applause, whether he acknowledges it or not.
Anthony Castrovince is a reporter for MLB.com. Read his columns and follow him on Twitter at @Castrovince. This story was not subject to the approval of Major League Baseball or its clubs.