MLB.com Columnist
Bernie Pleskoff
Hard-hitting Franco brings Phils plenty of promise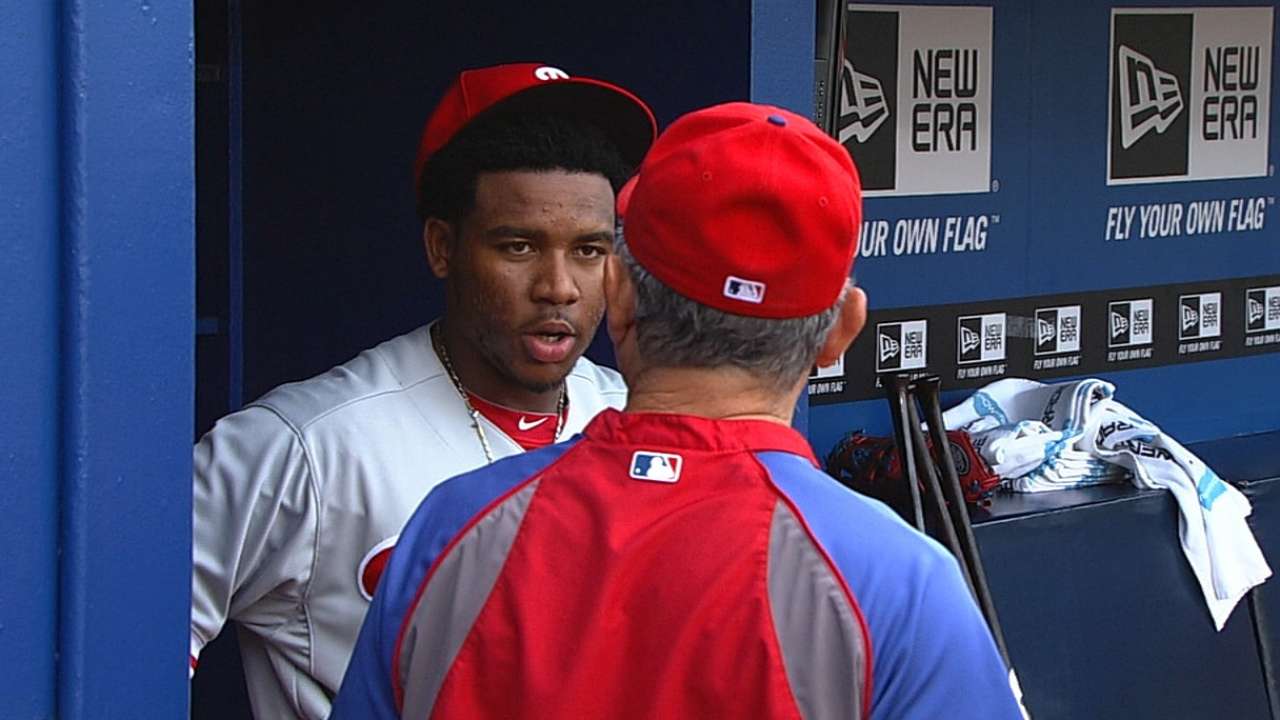 Right-handed-hitting Phillies third-base prospect Maikel Franco is listed at 6-foot-1 and 180 pounds. He looks solid and much bigger than that. Regardless, the man has power to spare. Once Franco refines a few issues, he will be a very welcome source of power at Citizens Bank Park.
Franco was signed as an international free agent from the Dominican Republic in 2010. Now, with parts of five seasons in Philadelphia's Minor League system, he has earned a look on the Major League club after receiving a September callup. Franco is ranked No. 3 on the Phils' Top 20 Prospect list.
I first saw Franco this past spring, when he was an invitee to the Phillies' Major League camp. He had an opportunity to compete with Cody Asche for the third-base job. It wasn't much of a contest, as Franco hit only .184 in 38 at-bats. Instead of going north with the club, Franco was assigned to Triple-A Lehigh Valley, where he had a good season prior to his September invitation to Philadelphia. He hit .257 with 16 homers and 78 RBIs and struck out 81 times in 556 plate appearances. That's significantly low for a player with Franco's power potential. On the flip side, he wasn't very patient at the plate, accepting only 30 free passes.
I was fortunate to get another look at Franco in this year's SiriusXM All-Star Futures Game in Minneapolis. He entered the game as a substitute at third base and went hitless in two at-bats.
Franco reminds me of White Sox outfielder Dayan Viciedo. Both are big and strong and have the same game-changing power potential. Franco is making strides in cutting down his swing -- using his big, strong lower half in his mechanics and relying upon very quick hands through the ball to generate power and loft. Franco's bat speed is special, and so is his power. The ball makes that certain sound when it hits the sweet spot of his bat.
After batting a combined .320 with 31 homers and 103 RBIs in 581 plate appearances for Class A Advanced Clearwater (.299/16/52) and Double-A Reading (.339/15/51) in 2013, Franco won the Phils' Minor League Player of the Year Award. The right-handed slugger hit both lefties and righties well, but he really punished right-handers. Last season, Franco hit .327 against them in 404 plate appearances.
Franco takes some time to get to the ball at the plate. He shifts his weight well, but he keeps his hands back. Franco's bat speed makes up for the ground he has to cover to meet the ball. His excellent hand-eye coordination helps his consistent rhythm and flow as a hitter.
Franco knows the strike zone and swings freely at anything he feels will be a strike. The contact is real, but he should probably be a bit more selective for pitches he can drive more easily. Still, Franco doesn't get fooled very often. Like most young hitters, he could use some work on breaking balls. Franco recognizes them well, but he has to let them go more often. Franco can clobber fastball mistakes that get too much of the plate. That's his greatest asset.
Franco is adequate as a defensive third baseman. He has good footwork and a strong and accurate arm. The Phillies have used Franco sparingly at first base, and that position might be an option at some point. For now, however, he projects as a third baseman with power.
Franco has little speed and could clog the bases. Much will depend upon the jumps he gets, but his lack of speed has to be taken into account. Franco won't be stealing bases, and he might not be able to easily go from first to third.
Franco's speed is not my greatest concern. I think he will continue to develop from a gap/doubles hitter to more of a homer threat. I am concerned about his lower body getting bigger. With his frame, Franco cannot afford to add weight, as that could be an unwanted burden that stalls his progress.
Bernie Pleskoff has served as a professional scout for the Houston Astros and Seattle Mariners. Follow @BerniePleskoff on Twitter. This story was not subject to the approval of Major League Baseball or its clubs.