MLB.com Columnist
Bernie Pleskoff
Mets have high hopes for catching prospect Plawecki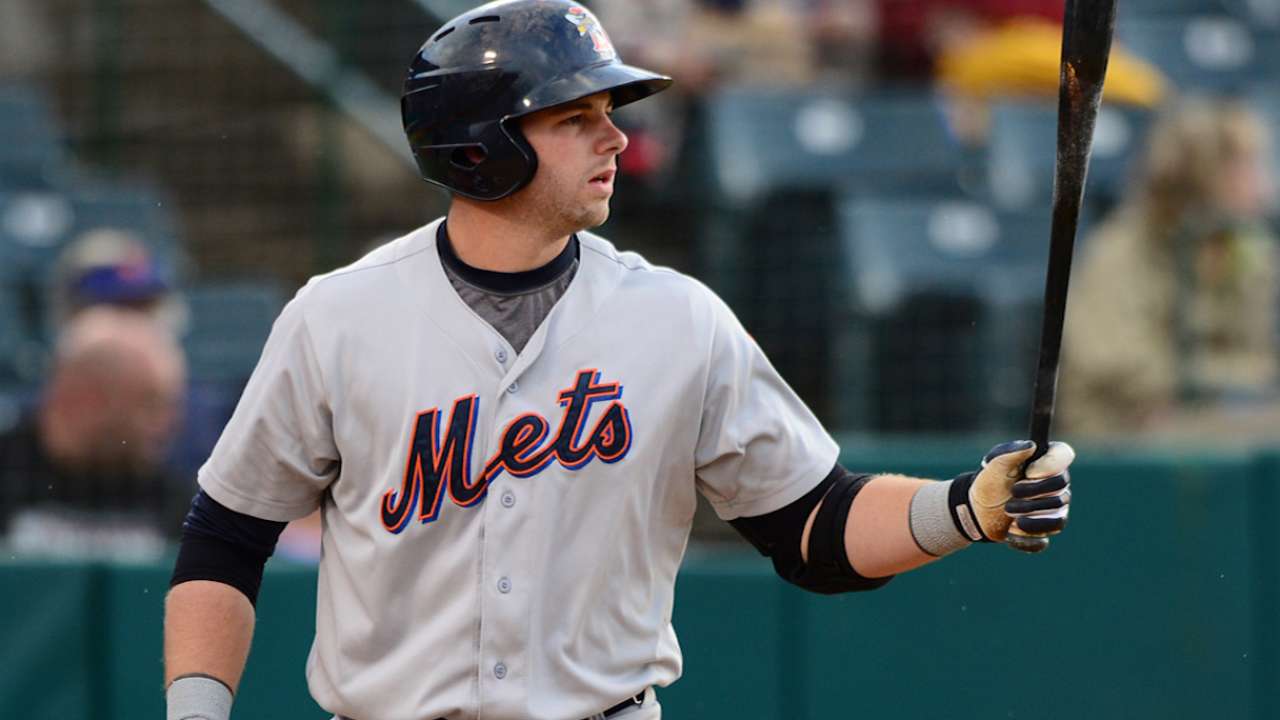 The New York Mets are a club fortunate to have two young catchers with solid Major League tools. With Travis d'Arnaud assuming the everyday backstop role for the parent club, right-handed-hitting Kevin Plawecki is continuing his development in the Mets' pipeline as a promising offensive and defensive catcher.
For me, Plawecki projects as a dependable everyday catcher with a bat that will provide a solid batting average to go along with consistent defense. In the event d'Arnaud is shifted to first base, the Mets have a very viable catching option in Plawecki.
Plawecki was a standout receiver at Westfield High School in Indiana, and he earned four varsity letters in baseball. He then attended Purdue University, where he was the recipient of countless awards and trophies, including being named the Big Ten Player of the Year in 2012. As one of the country's top catchers, Plawecki was also a finalist for the Johnny Bench Award.
The Mets selected Plawecki with a supplemental first-round pick (35th overall) in the 2012 First-Year Player Draft. Plawecki has had three very good seasons in their organization and currently ranks No. 2 on the Mets' Top 20 Prospect list.
This past July, I got to see Plawecki start for the U.S. team in the 2014 SiriusXM All-Star Futures Game at Target Field in Minneapolis. Plawecki went to the plate twice and collected an RBI in the game.
Plawecki is an extremely well-disciplined hitter. His pitch recognition and patience at the plate have become cornerstones of his offensive game. Plawecki makes consistent solid contact, having provided low strikeout totals in his three Minor League seasons while making things happen at the plate. Plawecki's hand-eye coordination and his overall reaction time at the plate are factors that allow him to time pitches and barrel the ball.
At 6-foot-2 and 225 pounds, Plawecki hasn't shown much homer power in his career so far. However, that can be explained when one sees his rather flat swing plane with little or no uppercut. The result is an array of line drives that he sprays from foul pole to foul pole. Plawecki has had a history as a doubles hitter, with the ability to hit the gaps by using powerful legs and his entire lower body in his approach. I think there is more growth and home run power to come in his 23-year-old frame.
Plawecki is such a disciplined hitter that he is a player I would trust at the plate with a runner trying to steal. I think his contact rate and his ability to hit line drives project him to be an ideal hit-and-run candidate.
Plawecki has flown through the Mets' system. He was promoted to Triple-A Las Vegas from Double-A Binghamton in June after hitting .326 in 249 plate appearances for the Mets' Eastern League club.
Plawecki also got a taste of playing first base in his first two seasons in the Minors. Perhaps having d'Arnaud in the organization provided some motivation for the Mets to test the versatility of Plawecki by playing him at first. This year, however, the team concentrated on him catching, as he continued to hone his defensive skills and further refine his hitting.
Defensively, Plawecki is an improving shepherd to his pitchers, calling a good game and knowing the repertoire of each. He doesn't have the strongest arm, but he is accurate, and his footwork is solid. Plawecki is mobile and moves well. His transfer of the ball from his glove to his hand is average. Plawecki's success throwing out potential basestealers will be very dependent upon the delivery speed and mechanics of his pitcher. There will be little time to waste for the pitcher/catcher battery on steal attempts.
Plawecki doesn't have much usable foot speed to speak of. I don't see him as a basestealer. I do, however, see Plawecki being able to move along well enough on the bases to contribute adequate first-to-third and second-to-home running ability.
When all is said and done, it is his consistent and refined line-drive hitting ability that will help carry Plawecki to his future in big league baseball.
Bernie Pleskoff has served as a professional scout for the Houston Astros and Seattle Mariners. Follow @BerniePleskoff on Twitter. This story was not subject to the approval of Major League Baseball or its clubs.