Webster's solid start keeps Sox tough on Royals
Rookie logs six quality frames, while Betts sparks key 3-run third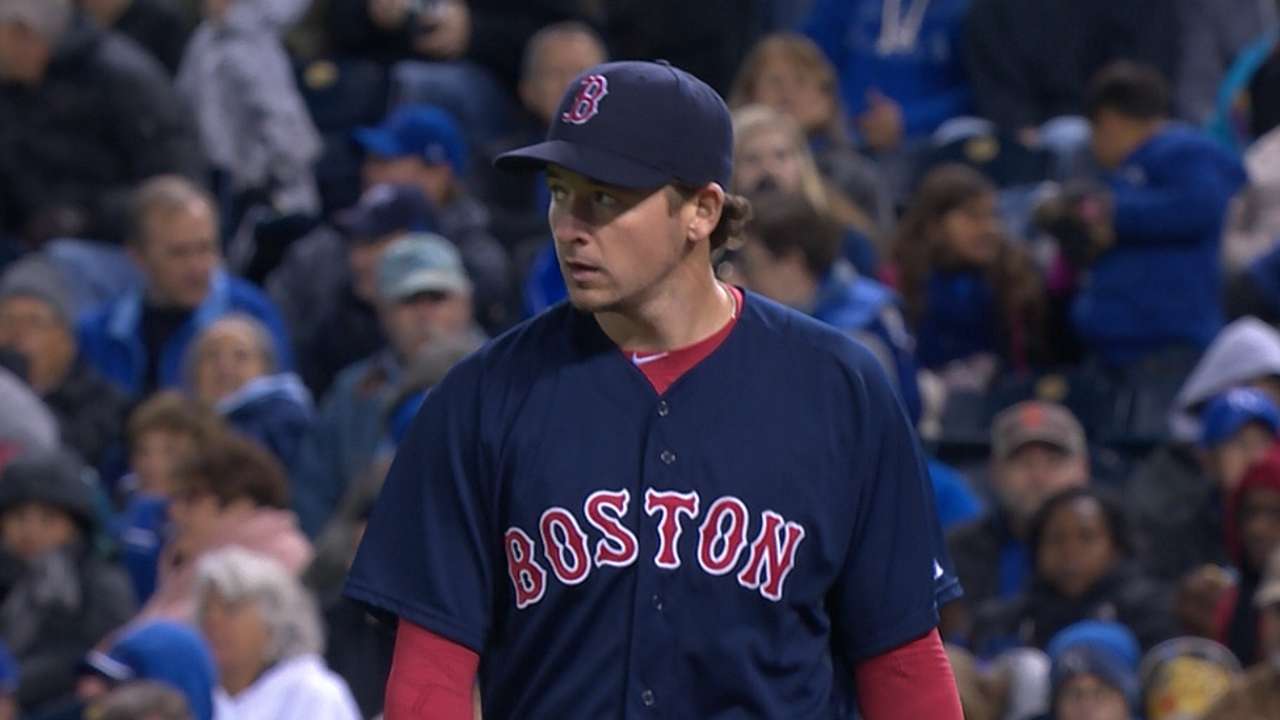 KANSAS CITY -- The antidote for Allen Webster's control issues, at least on Friday night, was simply an aggressive Royals lineup.
Webster entered Boston's 4-2 win with at least two walks issued in all eight of his previous starts this season, along with a 6.47 ERA. But Kansas City managed just one free pass off Webster, who logged six innings for the first time in three weeks.
"I'm really happy I did it ... next start, go for zero walks," Webster said.
The Red Sox, now 5-0 in the season series after taking the first two in a four-game set at Kauffman Stadium, dropped the Royals into second place in the America League Central. Webster has one other career MLB start where he walked just one hitter -- his debut on April 21, 2013, also against the Royals.
"We know this is an aggressive swinging team, and if you pitch to quality locations early in the count, chances are it can work in your favor," Red Sox manager John Farrell said.
After making three errors in the Sox's 6-3 win on Thursday, KC received more shoddy play on defense -- leading to a pair of runs in a three-run third inning on Friday.
The first Boston run was the only clean one. Jemile Weeks doubled with one out and Mookie Betts drove him in for a 1-0 lead. Three batters later, Yoenis Cespedes hit a chopper to third base and Mike Moustakas' throw sailed over the head of first baseman Eric Hosmer, scoring Betts from second. Daniel Nava scored on a wild pitch by Royals starter Yordano Ventura, putting Boston ahead, 3-0.
"We made a couple of defensive miscues that ended up costing him some runs, but I thought [Ventura] threw good," Royals manager Ned Yost said.
Webster breezed through three innings, allowing just one hit and zero walks, an encouraging sign considering he surrendered at least one walk in each of his first 15 big league starts.
But Webster began the fourth with a walk to Alex Gordon, his only free pass of the night. Then, he fell behind 2-0 to Hosmer, who launched a towering two-run shot to right field on a changeup, cutting the Royals' deficit to 3-2. It was the only hit Webster allowed on the changeup, while both of his strikeouts came on the change.
"He had a pretty good changeup against some left-handers to slow them down, with the one exception of the changeup that stayed up to Hosmer," Farrell said.
Weeks, filling in at second base for injured Dustin Pedroia, started another rally in the fifth inning by stroking his second double of the game, and third in this series. Weeks came around to score on a single by Nava and the Red Sox seized a 4-2 lead.
"We picked him up here recently, just because of some injury situations and he's stepped in, and he's certainly contributed," Farrell said of Weeks.
After a rough fourth, Webster logged 1-2-3 fifth and sixth innings, using just 15 pitches. Farrell brought in Tommy Layne to face the left-handed Moustakas to start the seventh frame, with Webster at only 83 pitches.
Webster dropped into just two three-ball counts all night, and went ahead 0-2 or 1-2 to nine of the 21 batters he faced.
"He was efficient, he was powerful, and it was encouraging to see not only the number of strikes, but the overall command of the strike zone," Farrell said.
Koji Uehara pitched a flawless eighth inning. The right-handed reliever had not been on the mound since Sept. 4 when the Yankees clocked a pair of home runs off him.
"It was good to see Koji get back on the mound for us and attack the strike zone which he's done for a long period of time, but just to get him back in the flow of things was a positive here tonight," Farrell said.
Jackson Alexander is an associate reporter for MLB.com. This story was not subject to the approval of Major League Baseball or its clubs.