Royals drop struggle with Sox to fall out of first
Hosmer's two-run shot follows key three-run 3rd aided by KC error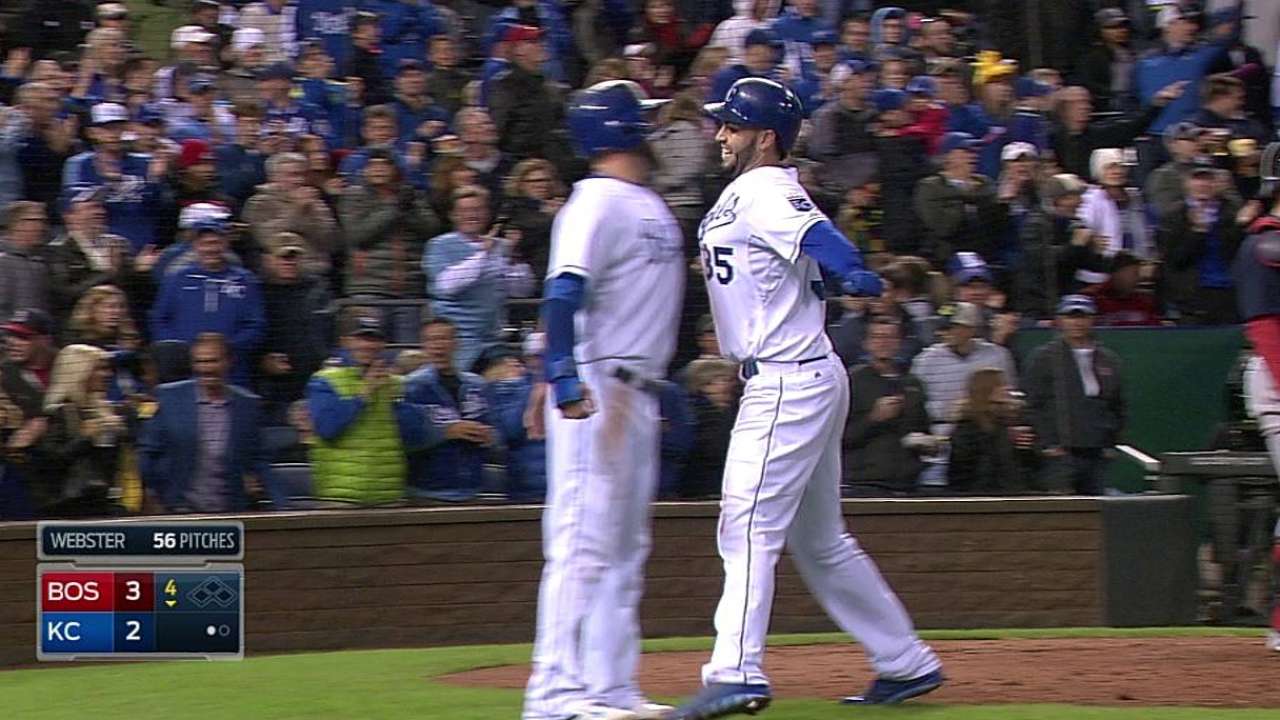 KANSAS CITY -- Thump. That sound you heard was the Royals tumbling into second place.
After 32 days in the American League Central penthouse, the Royals were evicted via a 4-2 loss to the Boston Red Sox on Friday night at chilly Kauffman Stadium. Detroit moved ahead of Kansas City with a win at Cleveland.
The Royals have lost five of their last seven games. That cost them the first-place status they achieved on Aug. 11 and maintained, although the Tigers did pull even twice during that period.
Now the Tigers hold a one-half game lead and the Royals will have to start paying attention to those Wild Card standings again.
There was no doubt about how manager Ned Yost wanted his Royals to react to this setback.
"I want them to toughen up and get back into first place," Yost said. "I want them to look at it and say, 'Let's go. We've got to get ourselves back into first place.'"
The cold front that crept through the Kansas City area the last two days dropped the game-time temperature to 52 degrees, no doubt holding the crowd to a modest 19,191.
The Red Sox jumped ahead of Royals starter Yordano Ventura, 3-0, with a third-inning burst. It began with Jemile Weeks' double and Mookie Betts' RBI single. Then two more runs materialized from a hit batter, an infield single, an error and a wild pitch.
Yost has been looking for that one spark, perhaps just one hit, that could pull his Royals out of the hitting doldrums.
The skipper thought that maybe he got it with Eric Hosmer's two-run homer off rookie right-hander Allen Webster in the fourth inning. Alex Gordon was on base with a walk.
It was, indeed, such a rare event that it just might have ignited a spark somehow.
The Royals got an inside-the-park home run by Lorenzo Cain on Monday at Detroit, but this was their first over-the-wall drive since Gordon connected on Sept. 3.
"I was hoping, Hoz hit the big homer and now we're back in the game, 3-2," Yost said. "And we didn't get another baserunner the whole night so obviously that didn't work."
That was a slight exaggeration. Before that inning ended Mike Moustakas and Cain had two-out singles, but Webster got the third out as Alcides Escobar flied out.
And that out was just the first of 16 consecutive outs with which Webster and the Red Sox bullpen finished the game.
Meantime, the Red Sox picked up a fourth run just to make it a bit easier. Not that the Royals did anything to make them sweat.
"We know this is an aggressive swinging team, and if you pitch to quality locations early in the count, chances are it can work in your favor," Boston manager John Farrell said. "It's also very much a momentum team, so when they start to bunch their hits together it's important to be able to go to some offspeed when you've got that ability in the pitch mix."
Inability to bunch those hits left the Royals somewhat baffled.
"We're just not playing the way we're capable of. But that's going to happen throughout a season," Gordon said. "You're not going to play your best baseball all of the time. You've just got to be a man and accept it, and come here tomorrow with a new attitude."
Gordon's walk represented the only time that the top four in the batting order reached base. Collectively, they were 0-for-15. Gordon himself is just 3-for-34 in September.
"We're just missing that big hit and we've got to find a way to get guys on base, move some guys over and just figure out a way to get it done," Hosmer said.
Could it be the Royals are experiencing the tightness of being in a pennant race?
"I'm not sensing any tightness, but obviously we're not swinging the bats well and we're not playing our characteristically spectacular defense," Yost said. "But I don't sense it's tightness."
Yost hinted that there might be some changes in the batting order for Saturday night's game.
"The coaches and I met today for about 45 minutes and talked about different things," he said. "We're still mulling it over day by day. ... You really want to stay away from it and let it work itself out, but we're kind of running out of time."
There are just 15 games (and one suspended game) to go.
"Our goal now is to get back into first place," Yost said.
Why not?
"[It's] just one game," Gordon said. "Detroit was out of first place for a while and got back in it so why can't we?"
Dick Kaegel is a reporter for MLB.com. This story was not subject to the approval of Major League Baseball or its clubs.