Postseason Picture for Friday, Sept. 12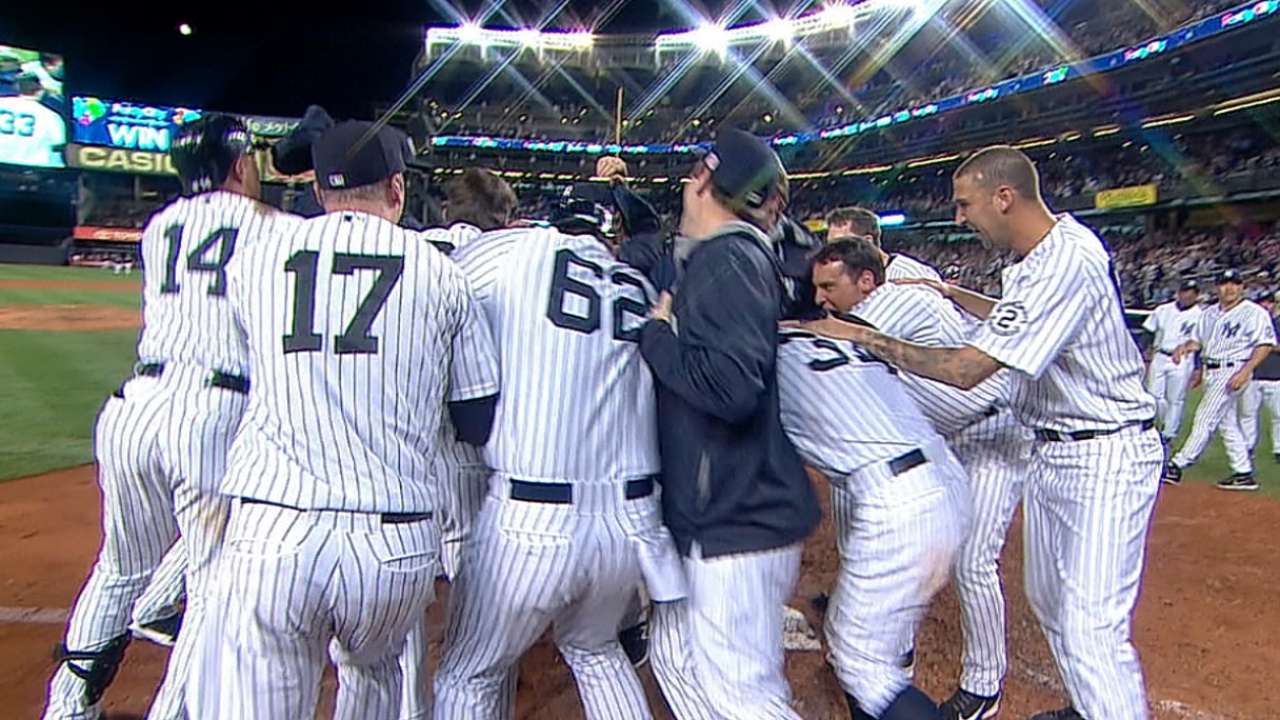 With Thursday's victory at home against the D-backs, the surging Giants charged to within two games of the Dodgers in the National League West on the verge of their weekend showdown. The Cardinals, with their third loss in a row, cracked open the door in the NL Central, and it was a disappointing night for the other "Show Me State" outfit. The Royals, subdued by the Red Sox, watched their lead in the American League Central shrink to a half-game over the idle Tigers.
The Nationals in the NL East and Angels in the AL West continued to pad their leads as the Pulse of the Postseason beat a little faster heading down the stretch. The Nats dispatched the Mets and the Angels won their ninth in a row in Texas. One of the game's biggest stars, the Marlins' Giancarlo Stanton, left the field in Milwaukee in an ambulance after getting hit in the face by a Mike Fiers pitch. The early report was that Stanton suffered a laceration. He was undergoing X-rays and a CT scan as the Brewers prevailed.
IF THE POSTSEASON STARTED TODAY ...
American League
Wild Card: Tigers at A's
Division Series: Wild Card at Angels | Royals at Orioles
National League
Wild Card: Pirates at Giants
Division Series: Wild Card at Nationals | Cardinals at Dodgers
The Pirates and Brewers each gained a game on the Cards in the division race and kept within hailing distance of the Giants in the NL Wild Card chase. The Pirates, behind Francisco Liriano's 12 strikeouts, shut down the Phillies, 4-1, closing to within 2 1/2 games of the Redbirds in the Central and remaining in control of the second Wild Card by 1 1/2 games over the Brewers and two games over the Braves. Milwaukee is four behind St. Louis in the Central. Miami fell 5 1/2 games behind the Bucs in the Wild Card hunt.
The Indians had a highly productive day, sweeping a doubleheader from the Twins, 8-2 and 2-0, to join the Blue Jays at 3 1/2 games behind the Tigers for the second AL Wild Card. Cleveland is four behind the Royals in the AL Central. Carlos Santana homered in each game, giving him 27, in support of the strong work of Corey Kluber and T.J. House.
"Right now, we've got to try to win every night," said Kluber, who went 8 1/3 innings to move to 15-9. "We can't worry about the other teams, because that takes away from our focus. Until we're eliminated, we've got a chance."
House and the bullpen combined for a four-hitter in the nightcap.
On the wings of Chris Young's walk-off, three-run homer against the Rays' Jake McGee, the Yanks edged to within four games of the second AL Wild Card. Young had broken up Alex Cobb's no-hit bid in the eighth inning with a double.
Cobb's flirtation with history not enough vs. Yanks: Alex Cobb dominated the Yankees while flirting with a no-... http://t.co/E5bkqzyzW1

- Bill Chastain (@wwchastain) September 12, 2014
Jake Peavy continued to deliver solid work for the Giants in their 6-2 decision over the D-backs, with smoking-hot Buster Posey (three hits, RBI), Angel Pagan (two hits, two runs scored) and Hunter Pence (two RBIs) driving the attack. Peavy struck out eight and allowed one run in 5 2/3 innings before turning it over to manager Bruce Bochy's reliable bullpen.
In another matinee attraction, the Cardinals were blanked, 1-0, by Johnny Cueto, who would be a favorite for the NL Cy Young Award in any league not graced by Clayton Kershaw. Outdueling Lance Lynn, Cueto moved to 18-8 and sliced his ERA to 2.15 with one inning of assistance from closer Aroldis Chapman. Ramon Santiago drove in Brandon Phillips with the lone run on a sinking line drive to center field in the eighth that the Cards' Jon Jay couldn't hold. Reds right fielder Jay Bruce robbed Matt Adams of a homer in the seventh.
Giving new meaning to bullpen depth, the Angels used eight pitchers to finish a sweep of the Rangers, 7-3, reducing their magic number to seven and moving 10 up on Oakland and 11 1/2 ahead of Seattle. Erick Aybar's two-run homer was the catalyst for the Angels.
The A's lead the idle Tigers by one game in the Wild Card chase.
Stanton was ruled to have swung at the pitch by Fiers in the fifth inning. Reed Johnson, pinch-hitting for Stanton, was hit in the hand by Fiers' next pitch. A bench-clearing skirmish resulted in Marlins manager Mike Redmond and third baseman Casey McGehee getting ejected.
Mike Fiers fought back tears when talking about Stanton. Hopes to reach out to Stanton & Marlins to express well wishes.

- Adam McCalvy (@AdamMcCalvy) September 12, 2014
TODAY'S KEY GAMES TO WATCH (all times ET)
Cubs (Wada, 4-2) at Pirates (Cole, 8-5), 7:05 p.m. Preview
At Wrigley Field in his most recent start, Gerrit Cole struck out eight Cubs across six-plus innings and launched his first career homer.
Marlins (Alvarez, 10-6) at Phillies (Hamels, 8-7), 7:05 p.m. Preview
Henderson Alvarez, having missed a start with an oblique ailment, is 4-1 in his five previous outings.
Indians (Carrasco, 7-4) at Tigers (Price, 13-11), 7:08 p.m. Preview
AL Central showdown with playoff implications for both teams. David Price was acquired to win games like this.
Braves (Wood, 10-10) at Rangers (Holland, 1-0), 8:08 p.m. Preview
Both lefties are sizzling: Alex Wood 1.95 ERA past eight starts, Derek Holland seven scoreless in season debut.
Red Sox (Webster, 3-3) at Royals Ventura (12-9), 8:10 p.m. Preview
Yordano Ventura has yielded three earned runs in past 18 2/3 innings, Allen Webster 15 in past 13 2/3.
Reds (Latos, 5-5) at Brewers (Lohse, 12-9), 8:10 p.m. Preview
Brewers need to rediscover that momentum they gathered in the first half to make a run at the postseason.
Rockies (De La Rosa, 13-10) at Cardinals (Wainwright, 17-9) Preview
Cards look to their ace, Adam Wainwright, to fend off Pirates and Brewers in NL Central race.
Athletics (Hammel, 10-10) at Mariners (Paxton, 5-2), 10:10 p.m. Preview
A battle for AL Wild Card survival brews in Seattle with the Angels running away in AL West.
Dodgers (Ryu, 14-6) at Giants (Bumgarner, 17-9), 10:15 p.m. Preview
The NL West lead is at stake this weekend as two superb lefties duel in the first of three showdown games.
MAGIC NUMBERS
To calculate a team's magic number, take the number of games it has remaining and add one. Then subtract the difference in the number of losses between that team and its closest pursuer.
AL East: Orioles 8 over Blue Jays, Yankees.
AL Central: Royals 17 over Tigers.
AL West: Angels 7 over A's.
AL Wild Card 1: A's 16 over Tigers.
AL Wild Card 2: Tigers 17 over Mariners.
NL East: Nationals 9 over Braves.
NL Central: Cardinals 14 over Pirates.
NL West: Dodgers 15 over Giants.
NL Wild Card 1: Giants 13 over Pirates.
NL Wild Card 2: Pirates 15 over Brewers.
TIEBREAKER SCENARIOS
A tiebreaker game will be played to determine a division winner, even if the tied clubs are assured of participating in the postseason. If a division championship tiebreaker is necessary, the head-to-head record between the clubs will determine home-field advantage. If the head-to-head record is tied, then division record will be the next tiebreaker.
If two clubs are tied for the two Wild Card berths, home-field advantage will be determined by the head-to-head record between the clubs. If the head-to-head record is tied, then division record will be the next tiebreaker.
Lyle Spencer is a columnist for MLB.com. This story was not subject to the approval of Major League Baseball or its clubs.