MLB.com Columnist
Richard Justice
Awful accident quickly escalates
Everyone hoping for full recovery for Stanton, but no way Brewers' Fiers hit him intentionally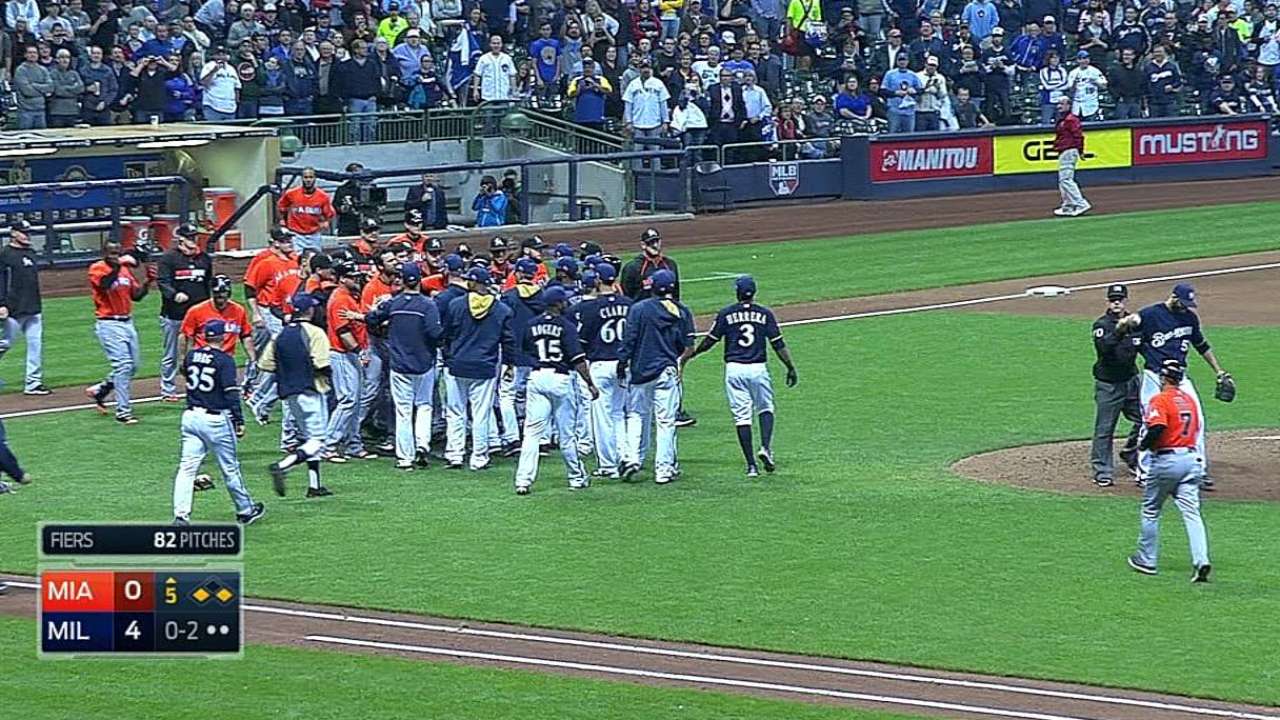 Let's hope and pray that Marlins outfielder Giancarlo Stanton fully recovers, that there's no long-term damage, physically or emotionally. In the end, that's all that really matters.
Let's also keep Brewers pitcher Mike Fiers in our thoughts. He, too, has to be suffering. He, too, may have to deal with lingering effects of what happened at Miller Park on Thursday night. In a word, it was horrifying.
First things first. There's absolutely no way Fiers intentionally threw the 88-mph fastball that hit Stanton in the face in the top of the fifth inning and left him dazed and bleeding at home plate, removed from the field by stretcher and transported to a hospital for tests.
It was as awful a moment as you will see in a baseball game. It's one of those awful sights that will hang in your heart and mind. Again, let's hope Stanton makes a full recovery. Again, nothing else matters. Even with things spinning out of control after that, Stanton's health is what's important.
Now to what happened after that. Things got ugly. Neither club covered itself in glory. With both clubs desperately fighting to stay in playoff contention, emotions were understandably raw.
OK, back to Fiers. He did NOT intentionally hit Stanton with a pitch in that situation. Fiers does not have that reputation. He was absolutely distraught after the game and tweeted an apology that included: "I am deeply sorry about what happened tonight. I can't imagine what you and your family are going through. ... I feel horrible and hope for a speedy recovery."
@Giancarlo818 I am deeply sorry about what happened tonight. I can't imagine what you and your family are going through. (Continue)...

- Mike Fiers (@Fiers64) September 12, 2014
@Giancarlo818 my thoughts and prayers are with you at this time. I feel horrible and hope for a speedy recovery.

- Mike Fiers (@Fiers64) September 12, 2014
Strategically, hitting someone made no sense since Fiers was attempting to protect a four-run lead with runners on first and third and two outs.
Why would Fiers plunk a guy and load the bases? The Brewers have been in a freefall. They need victories desperately. Even if Fiers had a score to settle with Stanton -- and he apparently didn't -- he wouldn't have settled it there.
Even if Fiers was throwing inside, or even if he was trying to back Stanton off the plate, there's no way in the world he was throwing the ball in the area of his face. He simply wouldn't, and the Marlins probably believe this, as well.
This was one pitch that got away from Fiers, and then that's when things got crazy. In a day or two, the Marlins might look back and think they lost control of their emotions, that they made a bad situation worse.
To repeat: It's that time of the year when a season seems to be riding on every inning, every game, every pitch. When Miami saw its young superstar go down, the club was understandably terrified and angered.
When the umpires called the play a swing-and-miss rather than a hit-by-pitch, things got worse. And when Fiers' next pitch nailed pinch-hitter Reed Johnson in the hand, and when the umpires again ruled it a swing-and-miss, the Marlins lost it.
Whether it was the two calls that did it or whether it was the terrible sight of Stanton getting hit did it is beside the point.
First, Milwaukee manager Ron Roenicke should not have allowed Fiers to stay in the game after he'd hit Stanton. Fiers had to be fighting to hold his composure, had to be rattled by what he'd seen. That another pitch promptly got away from him was about the most understandable thing that happened.
Miami manager Mike Redmond got mad and was ejected. So was his third baseman, Casey McGehee, a former Brewer. Both benches cleared, and as players milled around on the field, Fiers looked like the loneliest man on the planet.
An inning later, the Marlins got their revenge when reliever Anthony DeSclafani plunked Brewers outfielder Carlos Gomez with a pitch. Because both benches had been warned, DeSclafani and Miami bench coach Rob Leary were automatically ejected from the game.
From there, things calmed down. Neither team had the heart for more. Stanton clearly was on everyone's thoughts as Milwaukee finished a 4-2 victory.
It may be a few days or more before the full impact of Stanton's injury is known. At least for now, it appears his splendid season is over. Stanton leads the National League in home runs, walks and on-base-plus-slugging. He may end up in a tight race with Dodgers ace Clayton Kersaw for the NL Most Valuable Player Award.
But that's just the beginning of what Stanton means to the sport. At 24, he's an amazing package of power, speed and charisma, and he could be one of the faces of baseball for the next decade.
Stanton has flown over every hurdle in his brief career, and here's hoping he clears this one by miles, as well. He has made the entire sport better and more interesting. Here's to a fast and complete recovery.
Richard Justice is a columnist for MLB.com. Read his blog, Justice4U. This story was not subject to the approval of Major League Baseball or its clubs.