Rash of players hit by pitches
15 offical HBPs in 11 games, not including most serious incident involving Marlins' Stanton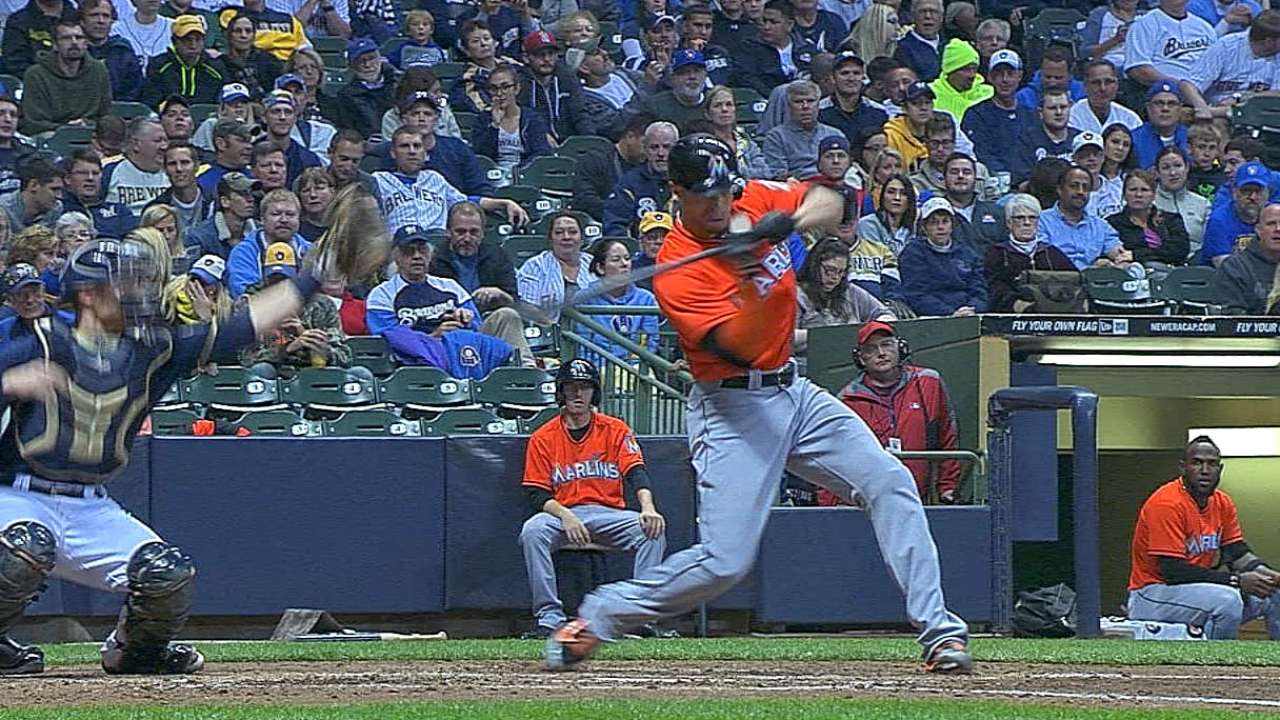 A wave of hit-by-pitches swept the Major Leagues on Thursday, with 15 official hit batsmen in the 11 games played, along with two hitters being struck by pitches at which they were ruled to have swung.
The most serious was when Giancarlo Stanton was hit in the face by Mike Fiers during the Marlins' game against the Brewers. Stanton immediately fell to the ground , where he was attended to by medical personnel. He was placed on a gurney and taken from the field on an ambulance cart.
The umpires ruled Stanton had swung at the pitch, so pinch-hitter Reed Johnson was sent in to resume the at-bat -- and was hit by Fiers' next offering. When home-plate umpire Jeff Kellogg ruled that Johnson had also swung, resulting in an inning-ending strikeout, both benches cleared. Marlins manager Mike Redmond and third baseman Casey McGehee were both ultimately ejected.
An inning later, so was Miami reliever Anthony DeSclafani, after he hit Milwaukee's Carlos Gomez in the elbow.
Stanton wasn't the only player to be hit in the face Thursday -- the Yankees' Chase Headley took a 96-mph fastball on the chin from Rays reliever Jake McGee in the ninth inning of New York's 5-4 walk-off win. Headley was eventually able to stand and walk off the field with the help of Yankees staff, after which he was replaced by a pinch-runner.
Derek Jeter was also hit in the eighth inning, when he took a pitch off the elbow from Brad Boxberger. He was in immediate pain but was able to remain in the game.
Hit-by-pitches resulted in multiple ejections in the Mets' game against the Nationals, as well. Mets starter Bartolo Colon and skipper Terry Collins were both run by home-plate umpire John Tumpane after Colon hit his second batter of the game, Jayson Werth, in the fourth inning. Colon had hit Ian Desmond in the first.
In the eighth inning, New York's Daniel Murphy was also hit in the right forearm by reliever Matt Thornton and had to leave the game, but no one was ejected.
Like Murphy, Pirates left fielder Starling Marte had to leave his game against the Phillies with discomfort in his left arm after being hit near the elbow in the second inning.
Around the league, Arizona's Cliff Pennington, St. Louis' Jon Jay, Minnesota's Brian Dozier, Boston's Yoenis Cespedes, Kansas City's Josh Willingham, Texas' Tomas Telis and the Angels' Mike Trout (twice) were all hit by pitches.
The only games without a hit batsman were the White Sox-A's and the first game of the Indians-Twins doubleheader.
David Adler is an associate reporter for MLB.com. This story was not subject to the approval of Major League Baseball or its clubs.