Baseball honors 9/11 victims, heroes
Thirteen years after terrorist attacks, ceremonies at both New York stadiums and around the country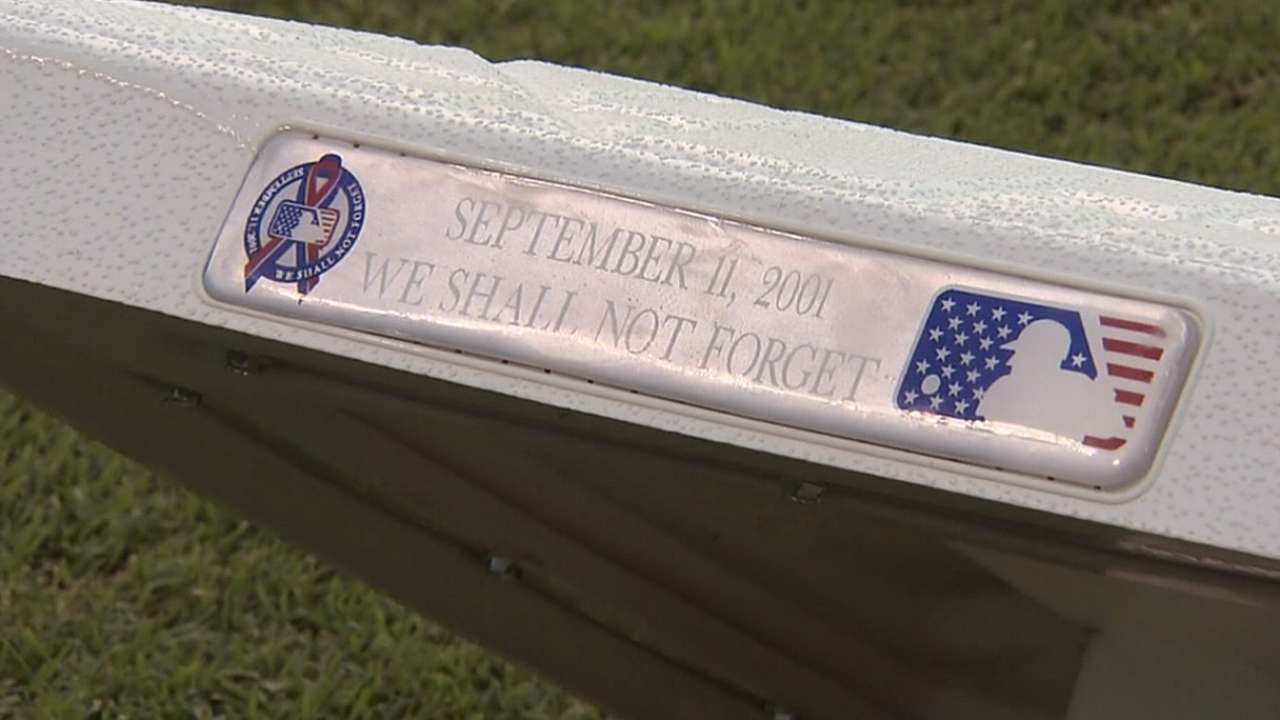 In the aftermath of the tragic events of Sept. 11, 2001, Americans vowed to never forget what had happened in New York City, at the Pentagon, and in a field in Pennsylvania.
Thirteen years later, Major League Baseball still hasn't forgotten, and on Thursday, throughout the offices and clubhouses and on the fields of the American and National Leagues, the actions and words of the people associated with the game proved that yet again.
The night before the Sept. 11 remembrance, for example, MLB Commissioner Bud Selig was in Seattle visiting Safeco Field and watching the Mariners play the Astros. He said he remembered what had occurred "all too well."
"We had an owner's meeting in Milwaukee," Selig said. "That morning was sorrowful. It was stunning. Two things come to mind. I debated long and hard when to come back. I did talk to [then NFL commissioner] Paul Tagliabue quite a bit. We came back the following Monday and I was nervous. Oh, man, was I nervous. I drove home, had a little dinner and went upstairs and had the television set on.
"I take seriously the whole social institution. This was so important. I turned on the Cardinal-Brewer game and there was Jack Buck reading a poem that he had written. When he read it, he got an emotional standing ovation. And I cried. I don't mind telling you that, because I was that nervous. One of the things in the midst of that was, 'Should we be here tonight?' And the crowd roared."
Selig recalled that Buck sent him the piece of cardboard on which he'd written the poem and that Selig has it in his office, and he also mentioned the emotional scene at Yankee Stadium in Game 3 of the World Series, with President George W. Bush on hand and a grieving city rooting on its team while a grieving nation watched.
"It was so emotional," Selig said. "I kept saying to myself, 'In our own little way -- and little way, I want to be careful there -- I hope we helped the nation to recover from an unspeakable tragedy.' "
Fittingly, both New York teams were in action on Thursday, and, as always, a day of remembrance was the common theme.
At Citi Field, the Mets wore batting-practice caps honoring first responders and several players took time to sign autographs for a group of about 100 fans from Tuesday's Children, a non-profit organization that helps the families of those who lost their lives in the terrorist attacks 13 years ago.
"A lot of people say, 'Well, it was 13 years ago, why are you still around? What are you still doing?' " Tuesday's Children vice chairman Fred Strobel said. "The reality is, this morning I was opening up the New York Stock Exchange with two young ladies, one was 14 and one was 13. One was 10 months when their father died, and one was 2 years old when their father died. There's a lot of support that's needed, and we're there to do that for them."
Former Mets closer John Franco, who was a member of the 2001 team that gave a lot of time to the affected community after that horrible day, also was on hand for the Mets-Nationals game and received a "Keep the Promise" award from Tuesday's Children this week.
"It's because we promised to be there for these families, these kids, and John is one of the people who does that," Strobel said. "He's there whenever we need him."
A large group of Tuesday's Children took the field with the Mets before the honorary first pitch, which was thrown by Jefferson Crowther, whose son, Welles, died while saving lives in one of the falling World Trade Center towers. The Mets were honored by Tuesday's Children in a brief ceremony for their continuing support.
"It's humbling," said Franco, who caught Crowther's pitch. "When we started out to do this, it wasn't meant to get any awards. It wasn't meant to get all the accolades, the press clippings or anything. It was meant to help out. I'm a New Yorker. The one thing about New York is when there's devastation, when there's problems, the true New Yorkers come together and help each other."
More New Yorkers were doing just that in the Bronx, where the Yankees played the Rays.
The Yankees played a video of highlights from late in the team's 2001 season, when baseball returned to provide people with a bit of an escape from the sorrow in their lives.
"You wake up today, you have a lot of memories about that day, that year, 2001, that you'll never forget," Yankees general manager Brian Cashman said. "It's more of a day to reflect and appreciate everything around you that's good."
The Yankees placed a wreath of flowers by the Sept. 11 monument in Monument Park and the national anthem was played by the Quantico Marine Corps Band.
"It's important that we never forget how it's affected the way we live today, all the sorrow so many people in New York have went through, outside of New York as well, obviously," Yankees manager Joe Girardi said.
"It's just changed our lives. I think it's important that we're here, that we honor those who lost their lives, whether they were in the building or rescue workers, and we never forget."
For Tampa Bay manager Joe Maddon, Sept. 11 will always bring back the memory of his friend, Neil Levin, who was killed in the attacks. Maddon said he revisited these emotions while looking down at the World Trade Center site from the airplane while flying in on Monday.
"The biggest thing ... the most important thing is we don't forget," Maddon said. "You can talk about it, you can talk about the friends that have been lost, you can talk about what precipitated it, how did it happen ... whatever you do, just don't forget about it.
"And understand that moving forward you obviously want to prevent that from ever happening again. And beyond that, to support the people who were really impacted by this."
In Chicago, White Sox manager Robin Ventura was remembering the day as he experienced it -- as a Mets third baseman.
"We were in the middle of it for most of that time and for baseball, as a player, you didn't realize how important it was to get back and play," Ventura said Thursday. "Not necessarily for yourself but for everybody else.
"You went through a period of time where you didn't know if it was OK to smile or laugh or do anything like that. To be able to go back and play and people come to the game, that was their outlet. It wasn't necessary for you to have an outlet. I'm proud of the way the Mets handled it when I played there and of the things that we did."
A's manager Bob Melvin, whose club was in Chicago to play the White Sox, was the bench coach of the Arizona Diamondbacks when they arrived in New York to play the Yankees in the World Series in 2001.
"We went in shortly thereafter and went down to Ground Zero and spoke to the first responders and saw firsthand what was going on," Melvin said. "It's a day I'll never forget."
It wasn't forgotten in Kansas City, either.
There, prior to the Royals-Red Sox game at Kauffman Stadium on Thursday night, Royals players James Shields, Mike Moustakas and Josh Willingham helped honor first responders in a ceremony at home plate. That preceded a moment of silence for the victims of the attacks, a presentation of the colors by Whiteman Air Force Base, a performance of the national anthem by the "President's Own" U.S. Marine Band brass quintet, and a flyover by seven planes.
The Royals also honored and presented a donation to the Wounded Warrior Project, and manager Ned Yost and a group of Royals players met with members of the Wounded Warriors and their families.
Meanwhile, retired and decorated Staff Sgt. Herbie Ochoa was presented with a mortgage-free home in Kansas City provided by the Military Warriors Support Foundation, and the Buck O'Neil Legacy Seat was occupied by Army veteran Jerry Plantz of nearby Lee's Summit, Mo. Plantz read his poem "I Hold the Flag Today" at the first candlelight ceremony for the victims of United Airlines Flight 93, which crashed near Shanksville, Pa., on Sept. 11.
In Cleveland, prior to the Indians' doubleheader against the Twins at Progressive Field, Major George Polarek, the director of the Salvation Army's Sept. 11 World Trade Center relief efforts, threw out the ceremonial first pitch.
Polarek was on Long Island in New York on the day of the attacks. On Sept. 12, 2001, he led the Salvation Army's efforts at Ground Zero, and his work was recognized by then-New York mayor Rudy Giuliani.
"Nine-eleven is an opportunity to be reminded of the character of the American citizen, the common person who wants to volunteer or contribute," Polarek said.
"They are the means by which the needs after disasters are all fulfilled, because of the American people and how they consider these things to be important."
Doug Miller is a reporter for MLB.com. Follow him on Twitter @DougMillerMLB. This story was not subject to the approval of Major League Baseball or its clubs.