Marlins can't recover after Stanton hit
Slugger suffers significant injuries; Redmond, coach, two players ejected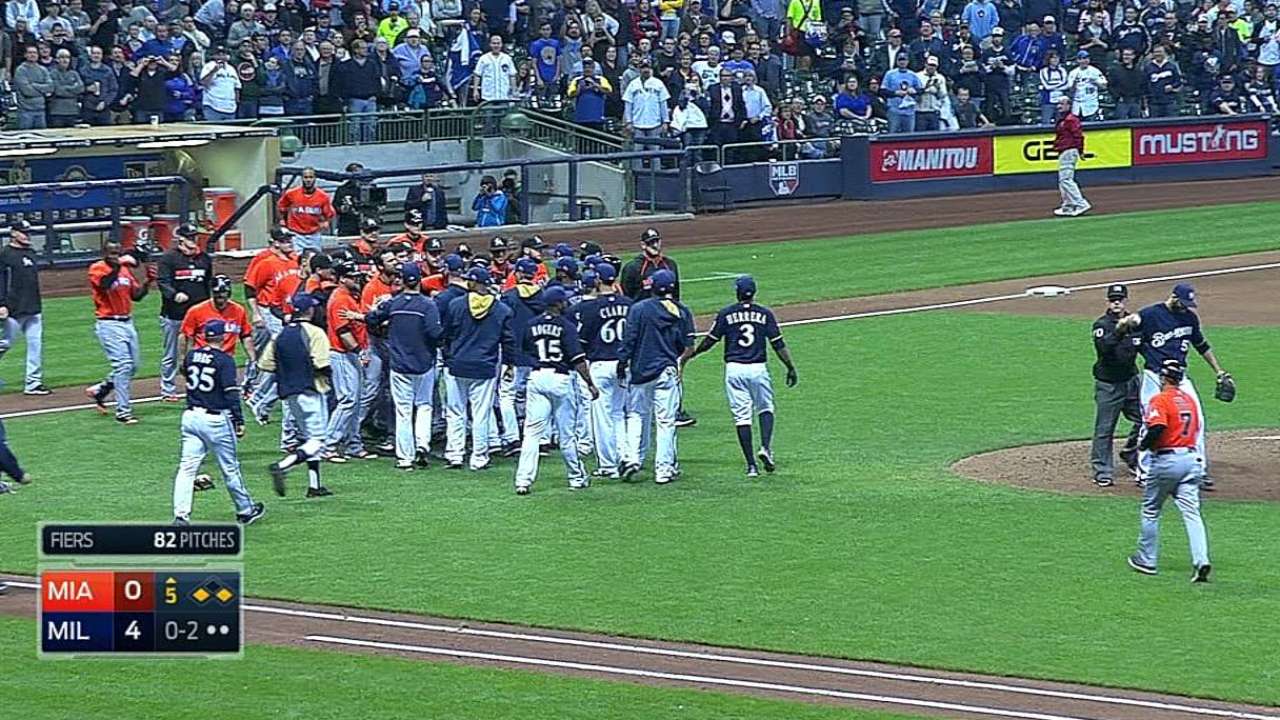 MILWAUKEE -- Losing in the midst of a playoff push was costly, but the Marlins endured a far more important loss when slugger Giancarlo Stanton suffered serious facial injuries when he was hit by a pitch from Brewers starter Mike Fiers on Thursday night.
The Marlins fell to the Brewers, 4-2, as starter Nathan Eovaldi was roughed up for four runs on eight hits in four innings to lose his fifth consecutive decision. The focus, however, was on Stanton, whose 37 homers and 105 RBIs are both tops in the National League.
When asked if Stanton could be out for the rest of the season, Marlins manager Mike Redmond said: "I don't know. It's not looking good, that's for sure. It's devastating for us. Devastating. For his season to end like that, that's not good."
Stanton lay motionless at home plate for several minutes as he was attended to by medical personnel. He was placed on a gurney and taken from the field on an ambulance cart and then taken to a hospital.
Afterward, the Marlins announced that Stanton had suffered multiple facial fractures, dental damage and a facial laceration requiring stitches and would be returning to Miami on Friday for further evaluation.
The injury to Stanton, who had played in all 145 Miami games so far, was a crushing blow to the Marlins, who had battled back into the playoff picture.
It wasn't even a hit-by-pitch, as Stanton was ruled by the umpires to have swung. That necessitated a pinch-hitter, Reed Johnson, to finish the at-bat. He, too, was hit by a pitch but, again, the umpires deemed he had swung. At that point, the Marlins were livid, both benches emptied and Redmond and Marlins third baseman Casey McGehee were ejected. One inning later, Marlins reliever Anthony DeSclafani hit Carlos Gomez with a pitch, and he also was tossed.
The second consecutive loss dropped the Marlins 5 1/2 games behind the Pirates for the second National League Wild Card spot after Pittsburgh beat Philadelphia. Miami is four games behind Milwaukee and 3 1/2 behind Atlanta, which was idle Thursday night.
Eovaldi, who has not won since Aug. 8, fell behind early when Ryan Braun opened the second inning with his 19th home run. The Brewers made it 2-0 in the third on an RBI ground-rule double by Aramis Ramirez.
The Marlins didn't capitalize on an opportunity in the fourth when Donovan Solano walked to open the inning and Stanton lined a double to left. Fiers then struck out McGehee and Marcell Ozuna, but walked Garrett Jones to load the bases. Adeiny Hechavarria struck out on three pitches to end the inning.
Eovaldi was tagged for two more runs in the fourth. Matt Clark, who made his Major League debut on Sept. 2 when he was called up from Triple-A Nashville, hit his second home run in as many nights, a solo shot to left-center. Scooter Gennett added an RBI single.
Fiers, who left after Stanton and Johnson were hit, allowed just three hits in five scoreless innings, striking out eight and walking three.
Ozuna accounted for the Marlins' runs with a two-run homer in the eighth, his 23rd of the year and fourth in four games.
Stanton came to the plate with runners on first and third with two outs and the Marlins trailing, 4-0. The second pitch from Fiers ran up and in, striking Stanton in the face as he tried to turn away from the pitch.
Johnson came up to complete the at-bat with an 0-2 count. Fiers' first pitch to Johnson hit him on the right hand as he was swinging, resulting in an inning-ending strikeout.
The benches cleared after the second incident, and warnings were issued. That's why DeSclafani was ejected after hitting Gomez in the left elbow. As acting manager, Marlins bench coach Rob Leary, by rule, was automatically ejected along with DeSclafani.
After the game, Redmond was not much calmer.
"I've never seen anything like that and I've definitely never seen two swings called on those plays," Redmond said. "That's for sure. I've never seen a guy get hit in the mouth and called for a swing. He's out there bleeding at home plate and for the first-base ump to say he swung at that pitch, he's coughing up blood, what a joke."
Fiers, who was extremely emotional after the game, said he was shaken after hitting Stanton, which didn't help him to face Johnson.
"We were trying to just go up," Fiers said. "The ball got away again. It was just really tough to settle down. A lot of tempers were flaring. For them to think that it was intentional, it is beyond me, and something I would never do.
Despite the importance of the game in the standings, Johnson said it was hard to focus on the remainder of the game after Stanton was injured.
"Even the rest of the game, just the emotions and adrenaline that's going through your body, you're not concentrating on baseball at that point," said Johnson. "Your mind's kind of everywhere with adrenaline and kind of angry and all that stuff at the same time, all those different emotions are coming through. It's tough to finish out a ballgame like that when one of your big boys goes down like that."
"The reason it's a tough one is we've probably lost the MVP of the National League for the rest of the year," Johnson said.
Jim Hoehn is a contributor to MLB.com. This story was not subject to the approval of Major League Baseball or its clubs.