Crew holds off Fish after Fiers hits Stanton
Righty K's eight in five scoreless, but final K leads to benches clearing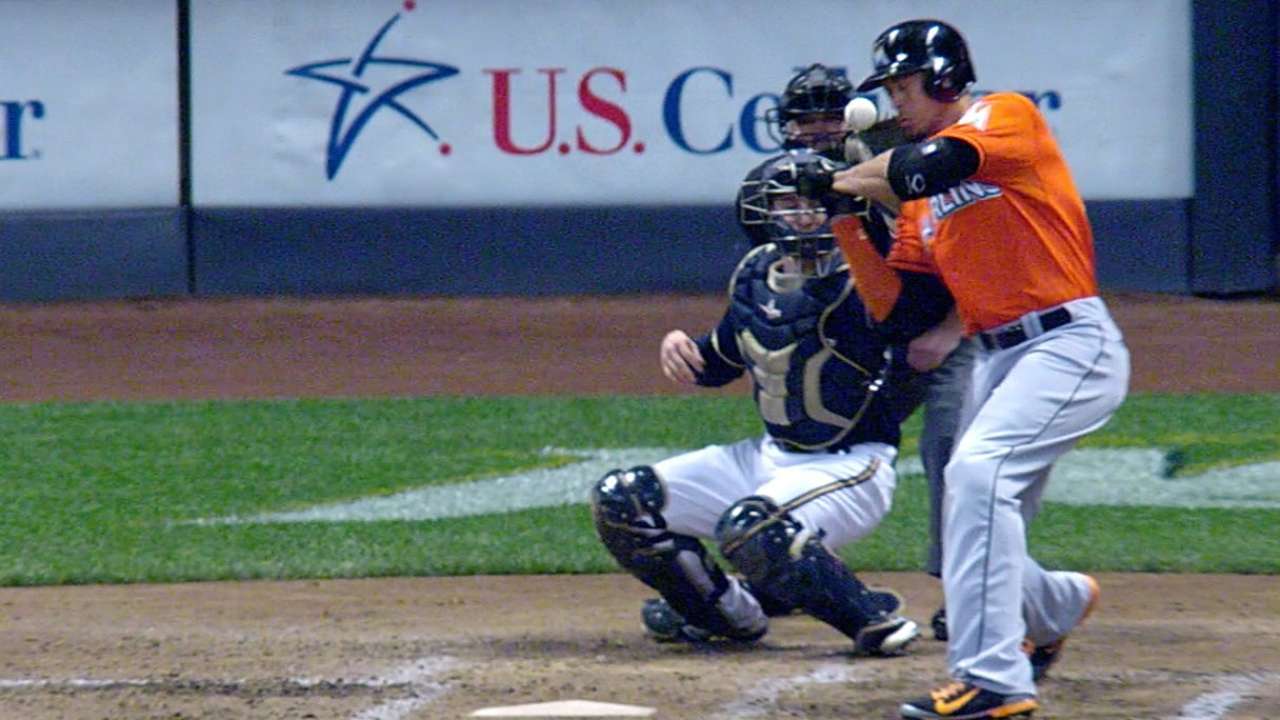 MILWAUKEE -- The fact the Brewers are on a winning streak for the first time in more than three weeks should have been cause for celebration. But the clubhouse atmosphere was muted at best following a 4-2 win at Miller Park that saw Marlins star Giancarlo Stanton seriously injured.
Stanton was transported to a local hospital after being struck in the face by a Mike Fiers pitch in the fifth inning. Stanton was being treated for multiple facial fractures, dental damage and a facial laceration while the Brewers were wrapping up a victory necessary to keep pace in the race for the second National League Wild Card.
"Obviously, we are thrilled with the win," said Brewers right fielder Ryan Braun, a teammate of Stanton in the last World Baseball Classic, "but it is a really difficult thing when you are playing the game and something like that happens. All we can do is hope for the best."
"It sure would be nice to win games and be able to come in afterward and enjoy it," Brewers manager Ron Roenicke said. "Everybody in there feels really bad about what happened with Stanton."
&In a game that included multiple delays and ejections after Stanton was struck, Braun homered in his return to the Brewers' lineup and Matt Clark went deep for the second straight night. Those solo shots backed Fiers during an otherwise solid outing cut short after the series of events in the fifth confused 34,028 fans at Miller Park.
The final result gave the Brewers their first back-to-back victories since Aug. 24-25, while Fiers logged his sixth victory in seven Brewers starts. Beginning Aug. 9, when Fiers joined the starting rotation in place of an injured Matt Garza, the Crew has won 12 games. Fiers has been the pitcher of record for six of them. The Brewers remained 1 1/2 games behind the Pirates in the NL Wild Card standings. Idle Atlanta fell one-half game behind Milwaukee.
Fiers logged five scoreless innings, with three hits, three walks and eight strikeouts, the last of which spanned two Marlins batters and resulted in Stanton being carted from the field with a gruesome facial injuries.
Stanton was struck on the left side of the face while in the act of swinging, according to the ruling from first-base umpire D.J. Reyburn, at an 88-mph fastball. Stanton was carefully placed on a gurney and taken to a local hospital for care.
"Fiers was really good up to that point," catcher Jonathan Lucroy said. "We got a win out of it, but we have to keep in mind that Giancarlo is hurt. Hopefully he's going to be OK. That's the biggest thing."
Stanton's replacement, Reed Johnson, inherited an 0-and-2 count and was hit on the right hand by Fiers' first pitch, again, according to Reyburn, while in the act of swinging. Before home-plate umpire Jeff Kellogg could appeal to Reyburn for a ruling -- an inning-ending strikeout of Stanton -- Marlins players rushed the field, where they were met by Brewers players. Miami manager Mike Redmond and third baseman Casey McGehee were ejected, and when the field was finally cleared, Kellogg warned both benches.
"It was very hard for me to take in everything at the moment and come back and throw another pitch," Fiers said. "I just want to send my thoughts and prayers and everything to Giancarlo Stanton. You never think of throwing at somebody like that. Never in my life has that happened. I just feel very, very sad that I hit him. I'm sorry to their teammates, their fans, his family. It is just tough."
When Marlins reliever Anthony DeSclafani struck the Brewers' Carlos Gomez with a pitch in the sixth inning, DeSclafani and Marlins bench coach Rob Leary were ejected by rule.
The Marlins halved their deficit in the eighth inning when center fielder Marcell Ozuna connected for a two-run home run against Will Smith. Ozuna homered in each of the four games in the series.
That was all the Marlins could muster. Francisco Rodriguez pitched a perfect ninth inning for his 41st save.
"We win a game and should be fired up, but it's hard to," Roenicke said. "You've got a guy that's probably the MVP, they're fighting for a Wild Card spot, and you just lose your best guy. I certainly don't like to see when stuff like this happens, and those other guys, they feel the same way."
Fiers was asked whether he would be haunted by the incident when he next takes the mound.
"It is going to be tough," he admitted. "Like I said, I've never been in this situation. I have to figure out something to kind of calm myself down and get back to just playing baseball. We're trying to win games here. We're not trying to hurt anybody. We're not going after anybody. One pitch got away and ended up hitting him in the face, and I feel terrible."
Adam McCalvy is a reporter for MLB.com. Read his blog, Brew Beat, and follow him on Twitter at @AdamMcCalvy. This story was not subject to the approval of Major League Baseball or its clubs.