Headley walks off field after HBP to chin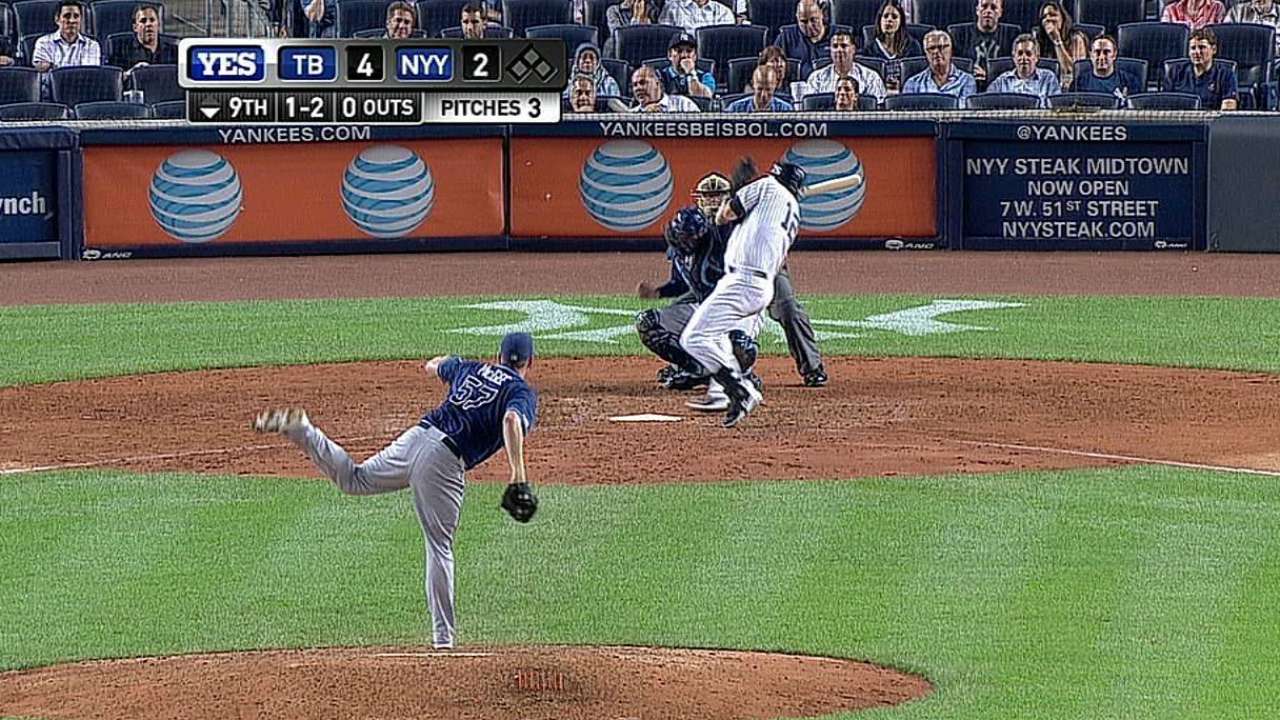 NEW YORK -- Chase Headley didn't get to celebrate with his teammates when Chris Young hit a walk-off home run Thursday night in the Yankees' 5-4 victory. Instead, he was getting showered, cleaned up and quickly ushered to a hospital.
Just moments before the heroics, Headley led off the bottom of the ninth inning and was greeted with a 96-mph fastball from Rays lefty reliever Jake McGee that sailed up and inside toward his face.
The ball struck Headley on his chin and he immediately fell to the ground, prompting doctors, including head team physician Christopher Ahmad, to rush to attend to him, eventually wiping some blood off his chin as Headley lay in the batter's box, still conscious.
"It's extremely scary," said manager Joe Girardi, "if you've ever been hit in the face with a fastball, any pitch."
Headley eventually sat up and walked to the dugout and into the clubhouse under his own power. Austin Romine pinch-ran for him at first base, eventually scoring on Chris Young's game-winner.
After the game, Girardi said that Headley would go to the doctor to get a facial X-ray, but he likely won't need stitches for the cuts and seam marks on his chin. The team left for Baltimore after the game, but Headley stayed in New York for the night to get his jaw tested and could rejoin the team at some point Friday.
"There's a lot of concerns because of where he got hit," said Girardi, also considering the possibility of a concussion. "He's really pretty clear talking to him in there. You're not sure when you get hit like that how you're going to be. He never lost consciousness from what I saw and seemed as good as you could seem getting hit with a [96]-mph fastball."
"Listen, there's no intent. I'm really hoping Headley's fine," said Rays manager Joe Maddon. "He looked like he was fine the way he got up like he did. The way the trainers were handling it, they didn't seem like they were really overtly concerned about it, so I felt good about that. I wish him well. We'll see him in a couple of days. It's an awful moment. Nobody wants to see that."
It was frustrating for McGee, too.
"I'm not going to lie, I was a little unsettled," McGee said. "I rarely hit batters. That was my second or third."
The pitch to the chin was the second hit batsman of the night, after Brad Boxberger pegged Derek Jeter in the left elbow in the eighth inning. Jeter's X-rays came back negative, and Girardi will have to see if his shortstop will be available for Friday's doubleheader.
"Players get through it, but at the time, it's scary and it's probably even more scary for the families that are in attendance," said Girardi. "You know [Headley's] wife's there. She's not exactly sure what's going on when he's laying on the field. But it's a scary moment."
Jake Kring-Schreifels is an associate reporter for MLB.com. This story was not subject to the approval of Major League Baseball or its clubs.