Rally efforts squashed after early ejections
Recker's HR provides spark but Mets fall to 6 1/2 back in race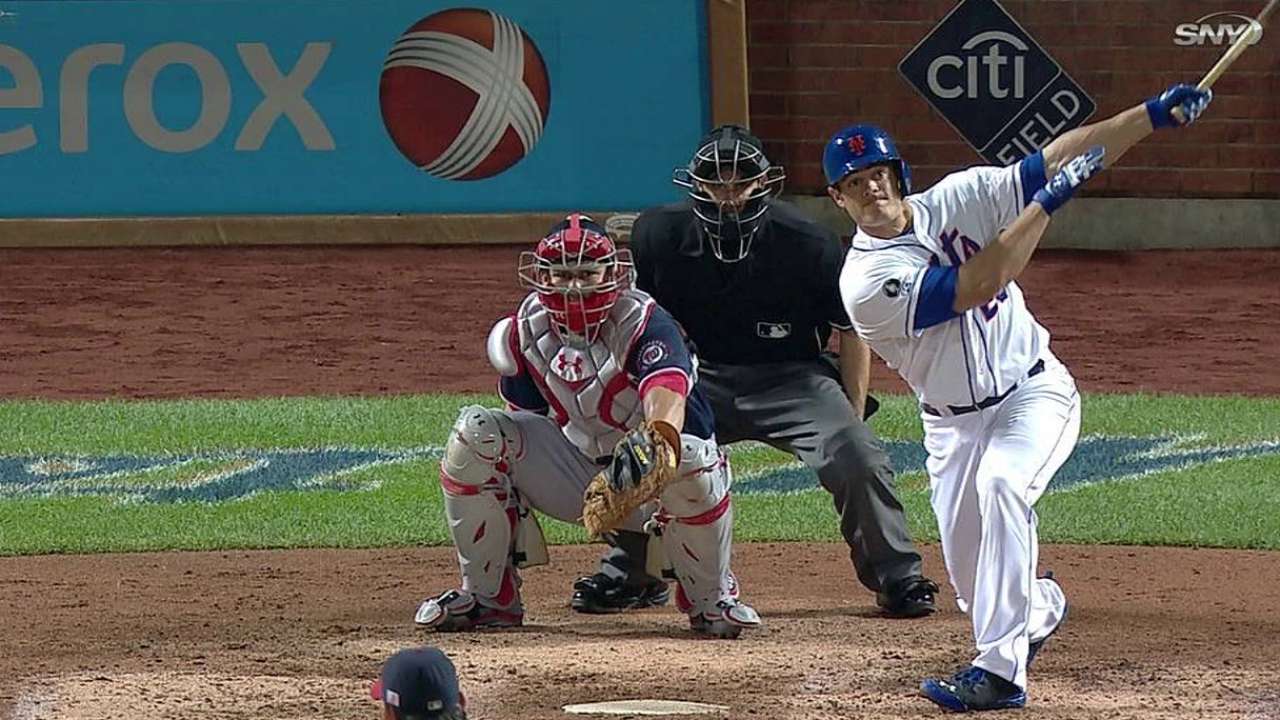 NEW YORK -- A few weeks from now, when the Mets scatter to their various homes and begin the long process of dissecting what went wrong this season, they can point to a great many factors. Power production. Injuries. Situational hitting.
Or, they can simply point to the Nationals. The Mets, who stand four games above .500 against all clubs from outside the District of Columbia, have won just twice in 13 tries against their playoff-bound division rivals. Their latest loss, a 6-2 defeat that included ejections of both starting pitcher Bartolo Colon and manager Terry Collins and an injury to infielder Daniel Murphy, effectively shredded whatever wisps of playoff hope still floated around Citi Field.
"We've got to play better," Collins said of his team's 12th consecutive loss to the Nationals at Citi Field, a stretch that has seen the Nats outscore his club 80-23. "That's the only reason why they're beating us at home. We're just not playing."
"I don't think anybody in here thinks we can't beat them," added catcher Anthony Recker. "We just made a couple mistakes early in the game that obviously hurt us, and we can't do that against a team like that."
Coming into the night trailing a quintet of teams in the National League Wild Card race, the Mets quickly fell well behind the Nationals and never recovered. Serving up two-run home runs to Adam LaRoche in the first inning and Anthony Rendon in the fourth, Colon proceeded to plunk the ensuing batter with a fastball in each instance. The second of them earned him an ejection from home-plate umpire John Tumpane, who also tossed Collins for coming out to argue.
"I was surprised because I didn't think I did anything wrong," Colon said. "I was surprised they threw me out of the game."
Colon gave up a total of six runs in three-plus innings, one of them aided by his own throwing error. The right-hander's inconsistency was once again plain to see; Colon owns a 1.62 ERA in his 13 wins but a 7.25 mark in his 12 losses.
"I was a little surprised by it all," Collins said. "I actually thought with what's going on, Bart was going to step up and give us a good ballgame. You don't look up in the third inning and see 70 pitches when Bartolo Colon is pitching. So it's obvious that he didn't have command of his stuff tonight. These guys are good enough that they're going to hurt you."
The Mets did claw back on a Recker solo homer in the fifth inning, going as far as to bring the potential tying run to the plate in both the seventh and eighth. But after Dilson Herrera singled home a second run against Nationals starter Tanner Roark to spark the former rally, reliever Craig Stammen induced a rally-freezing 6-4-3 double play from Wilmer Flores. An inning later, with the bases loaded and one out, Lucas Duda lined to shortstop and Recker whiffed.
Missed opportunities were everywhere for the Mets, who also squandered a two-on, none-out situation in the second inning when Travis d'Arnaud, forgetting how many outs there were, was doubled off first base on a popup. In the sixth, Eric Young Jr. singled with one out and moved to second base on an error, but -- with the Mets down five runs at the time -- was thrown out trying to reach third.
By game's end, the Pirates were wrapping up a win in Philadelphia, pushing the Mets 6 1/2 games out of a playoff berth with just 15 to go. Murphy and d'Arnaud were nursing various maladies, David Wright and Matt Harvey were on the bench as usual and the Mets, so spirited coming into the night, were left wondering how everything went wrong so quickly.
"It didn't go our way," Recker said, "but we definitely showed some fight. Obviously we haven't quit on the season and we didn't quit on that game."
Anthony DiComo is a reporter for MLB.com. Follow him on Twitter @AnthonyDicomo. This story was not subject to the approval of Major League Baseball or its clubs.