MLB.com Columnist
Bill Ladson
LaRoche, Rendon supply power to rattle Mets
Magic number at nine after Nats' 12th straight win at Citi Field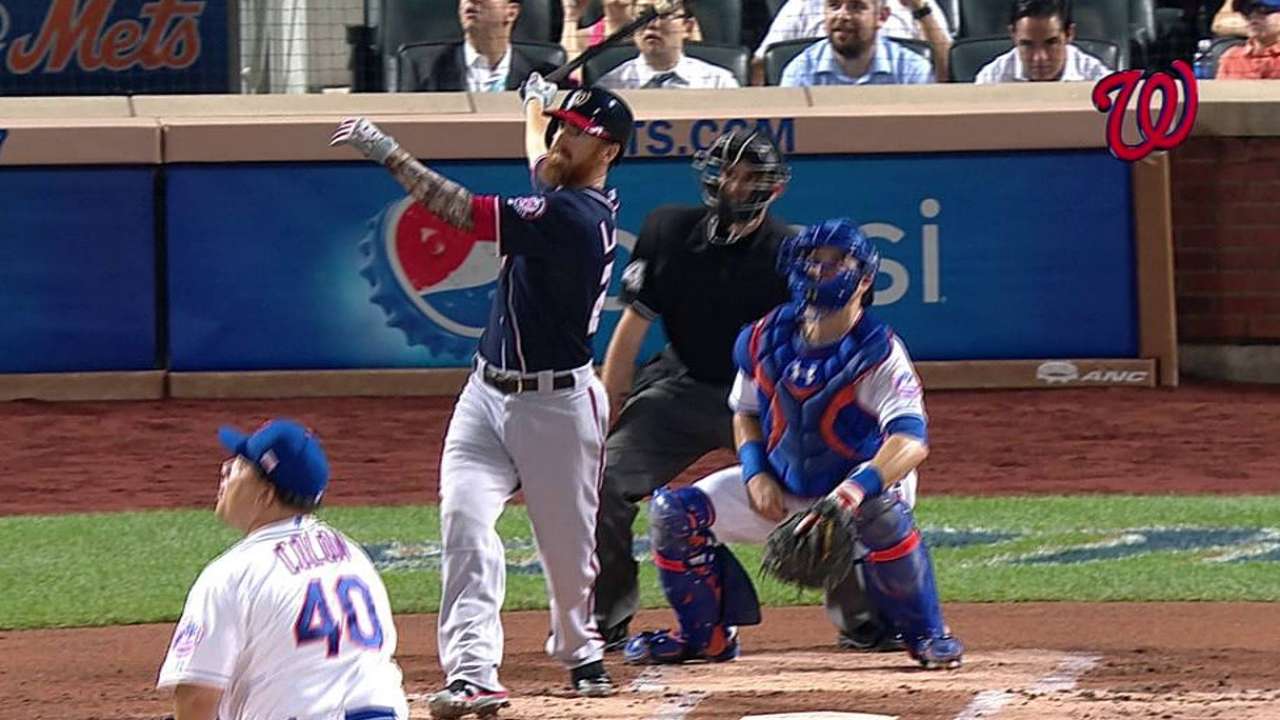 NEW YORK -- Adam LaRoche drove in three runs and helped the Nationals pound the Mets, 6-2, at Citi Field on Thursday night. The magic number to win the National League East went down to nine for Washington. The second-place Braves, who had the day off, open a weekend series Friday against the Rangers.
The Nationals went to work on Bartolo Colon in the first inning. With Anthony Rendon on first, LaRoche swung at a 3-2 pitch and hit a long home run that hit the foul pole in right field to give Washington a 2-0 lead.
Washington added four runs by the fourth inning. In the third, LaRoche ignored the shift in right field and drove in his third run of the game when he singled to left field, scoring Jayson Werth. LaRoche would then score on Wilson Ramos' groundout.
LaRoche's swing looks effortless and the ball is jumping off his bat. In fact, he is one of the hottest hitters on the Nationals. Not only is he hitting .361 against the Mets this season, he also is 11-for-28 [.393] with five home runs and 15 RBIs since driving in five runs against the Dodgers on Sept. 5.
"He has been doing it a long time," Werth said about LaRoche. "He has been a consistent second-half player his whole career. ... He is a good player. He has been doing it a long time. He is a big left-handed bat right in the middle of our order."
LaRoche, 34, needs five RBIs to reach 90 for the fourth time in his career. What does he think of his season?
"I really don't reflect back [on the season] until it's all said and done and I'm in the car driving back to Kansas," LaRoche said. "Until then, I try not to think about it."
An inning later, after Denard Span bunted for a base hit, Rendon belted an 0-1 pitch over the left-center-field wall to make it a 6-0 game. Rendon -- who is still trying to get over the flu -- ended up going 3-for-5.
"He has been doing it all year," LaRoche said about Rendon, 24. "The guy is unbelievable. You would not think how young he is because of his poise and the way he never changes regardless of the situation. Just the same old smooth swing. It's fun to watch."
Following Rendon's homer, Colon and Mets manager Terry Collins were ejected after Werth was hit with the next pitch on his left arm. It was the second time Colon hit a batter in the game. In the first inning, Colon hit Ian Desmond after LaRoche's homer.
Asked if Colon was trying to hit him, Werth said, "I don't know. It doesn't matter what I think. The umpire [John Tumpane] thought so. He hit Desi earlier in the game after a homer. He hit me right after. The home-plate umpire thought that was enough."
When a situation like that occurs, Werth realizes that the Nationals have a bigger goal to reach and that's to win the National League East. In fact, Werth never charged the mound.
"That goes without saying. I know the situation as good as anybody," Werth said. "We have a lot at stake this time of year. We don't have time for [stuff like that]."
Tanner Roark (13-10) broke a personal three-game losing streak by allowing two runs in 6 1/3 innings. The Mets didn't get to Roark until the fifth inning when Anthony Recker hit a solo homer.
Roark was taken out of the game after he allowed a bases-loaded single to Dilson Herrera two innings later. Craig Stammen entered the game and stopped the bleeding by inducing Wilmer Flores to hit into a double play to end the threat.
"I was commanding both sides of the plate. I'm not trying to nibble. I'm trying to make pitches, but trying to go right after them," Roark said.
The Nats won their 12th consecutive game at Citi Field, and that streak appears to be getting to Collins.
"We've got to play better. That's the only reason why they're beating us at home. We're just not playing," he said. "Just like tonight, we had several opportunities to get back in the game, and we didn't do anything. They did it. They have opportunities and they get big hits. Again, that's a credit to their team."
Bill Ladson is a reporter for MLB.com and writes an MLBlog, All Nats All the time. He also could be found on Twitter @WashingNats. This story was not subject to the approval of Major League Baseball or its clubs.