Colon, Collins tossed after Werth hit by pitch
Mets starter plunks two Nationals batters, both right after home runs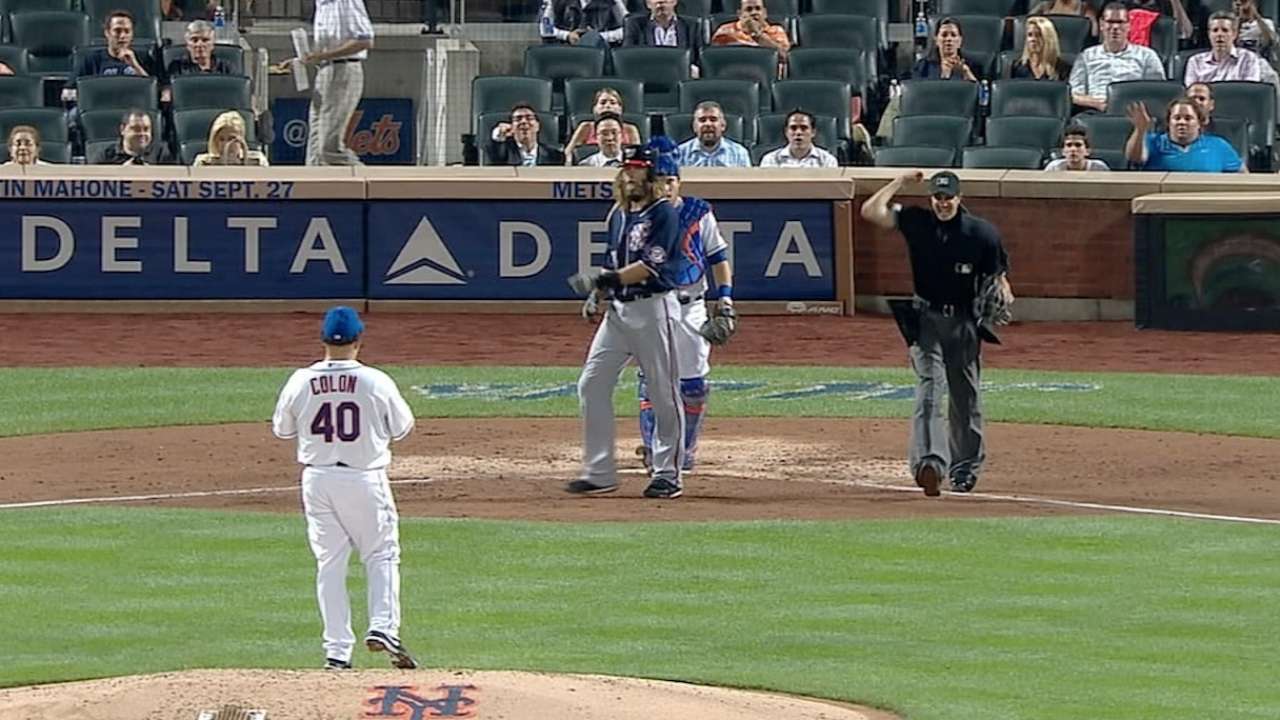 NEW YORK -- Mets pitcher Bartolo Colon and manager Terry Collins were ejected in the fourth inning Thursday, seconds after Colon hit his second batter of the game. Each plunking immediately followed a home run.
With the Nationals already leading by four runs in the fourth inning, Anthony Rendon increased their margin with a two-run homer off Colon. On his next pitch, the 41-year-old veteran drilled Jayson Werth in the left shoulder with an 89-mph fastball that soared near his head.
Home-plate umpire John Tumpane immediately ejected Colon, who remained on the field as Collins came out to argue. Only after Tumpane also tossed Collins did both men retreat to the dugout.
"I was surprised because I didn't think I did anything wrong," Colon said through an interpreter. "I was surprised they threw me out of the game.
"That was a two-seam fastball that moved inside to him. I was trying to pitch him inside. If it would have been a four-seam, it would have been a different story."
The story that Tumpane saw began three innings earlier, after Colon gave up a two-run homer to Adam LaRoche to open the scoring. He proceeded to throw consecutive fastballs to the next batter, Ian Desmond, plunking Washington's shortstop with the second of them.
"You have to be careful that you're getting banged around and drill somebody, an umpire can interpret it as intentional," Collins said. "You're going to go out there and argue with it, but you're going to lose the argument."
Asked if he thought the pitch to Werth was intentional, LaRoche smiled widely and said, "Nah, it just slipped."
Prior to Thursday, Colon had hit only three batters and walked 23 others in 179 2/3 innings. He gave up six runs (five earned) in three-plus innings against the Nationals, increasing his ERA to 4.14.
"I don't have an opinion one way or the other," Nationals manager Matt Williams said of the pitches. "I just know that he's got exceptional control. We deal with it and move on."
In the eighth inning, Mets third baseman Daniel Murphy was also hit by a Matt Thornton fastball. But considering how close to the strike zone that pitch was, and the fact that it brought the tying run to the plate, both Murphy and Collins said they never considered it intentional.
"Not at all," Murphy said. "Not at all."
Anthony DiComo is a reporter for MLB.com. Follow him on Twitter @AnthonyDicomo. This story was not subject to the approval of Major League Baseball or its clubs.