Karns set for Rays debut facing Blue Jays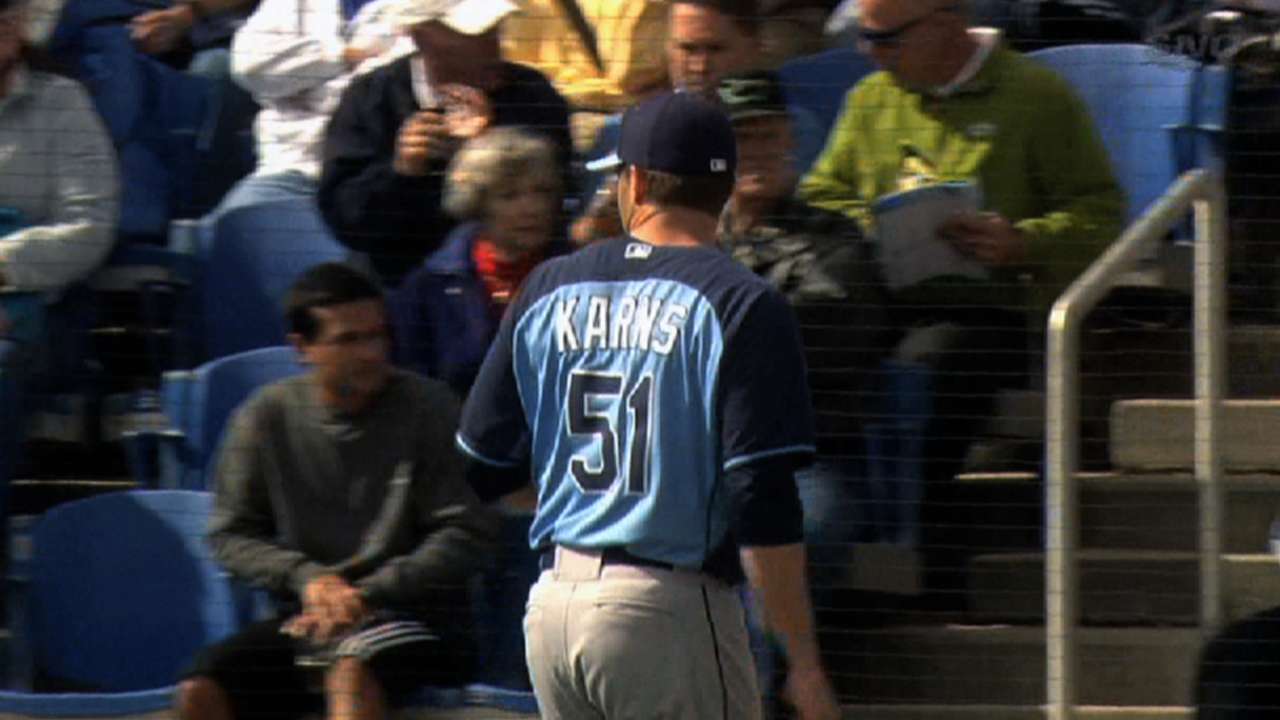 NEW YORK -- Nathan Karns will join the Rays from Triple-A Durham in Toronto after Thursday night's game vs. the Yankees and start Friday against the Blue Jays. He will start in place of Drew Smyly, who will not pitch for the remainder of the season after throwing a career-high 153 innings with the Tigers and the Rays, 54 more than his previous high.
Karns, the Rays' No. 15 prospect, was 9-9 in 27 starts at Durham this season with a 5.08 ERA, but his 153 strikeouts led all of Triple-A. He last pitched Saturday vs. Columbus (Indians) in the International League playoffs, allowing one run on three hits and a walk while striking out 12 in seven innings en route to a no-decision. This will be Karns' fourth Major League start and first with the Rays.
Karns came to the Rays in the trade that sent catcher Jose Lobaton to the Nationals. In three Major League starts with the Nationals in 2013, he went 0-1 with a 7.50 ERA.
Prior to the announcement that Karns would make the start, there was some conjecture that right-hander Alex Colome would be the pick, particularly after Colome, the Rays' No. 5 prospect, was scratched from his Tuesday night start.
"Both have been pitching pretty well," manager Joe Maddon said when asked about the decision. "I mean, Colome's been here before.
"... [Karns] had a really good outing last time. All year I've heard good things. He's been a little bit back and forth. There's been times he's been lights-out like he was the other night. Other times, maybe he doesn't survive the third or fourth inning. I've heard really good things about Colome. But really when it comes right down to it, for me, it was just about availability for Friday."
Maddon said that it is possible that Colome will join the Rays prior to the end of the season.
Catcher Curt Casali caught Karns while at Triple-A Durham.
"There's a lot of extremes, but one thing's for sure, he's got great talent, he's got a great arm," Casali said. "I think he struggled with some velocity issues midway through the season. But I think he's got it back. He's the kind of guy who can ramp it up to 97 [mph] if he wants to, then bend a really good curveball into the dirt that a lot of hitters have a hard time laying off of. A big thing for him is getting ahead early in the count. If he does that, he should be pretty successful."
Bill Chastain is a reporter for MLB.com. This story was not subject to the approval of Major League Baseball or its clubs.