MLB.com Columnist
Bernie Pleskoff
Top prospect on a power trip up the organization
White Sox Class A slugger Hawkins has tools to be above-average outfielder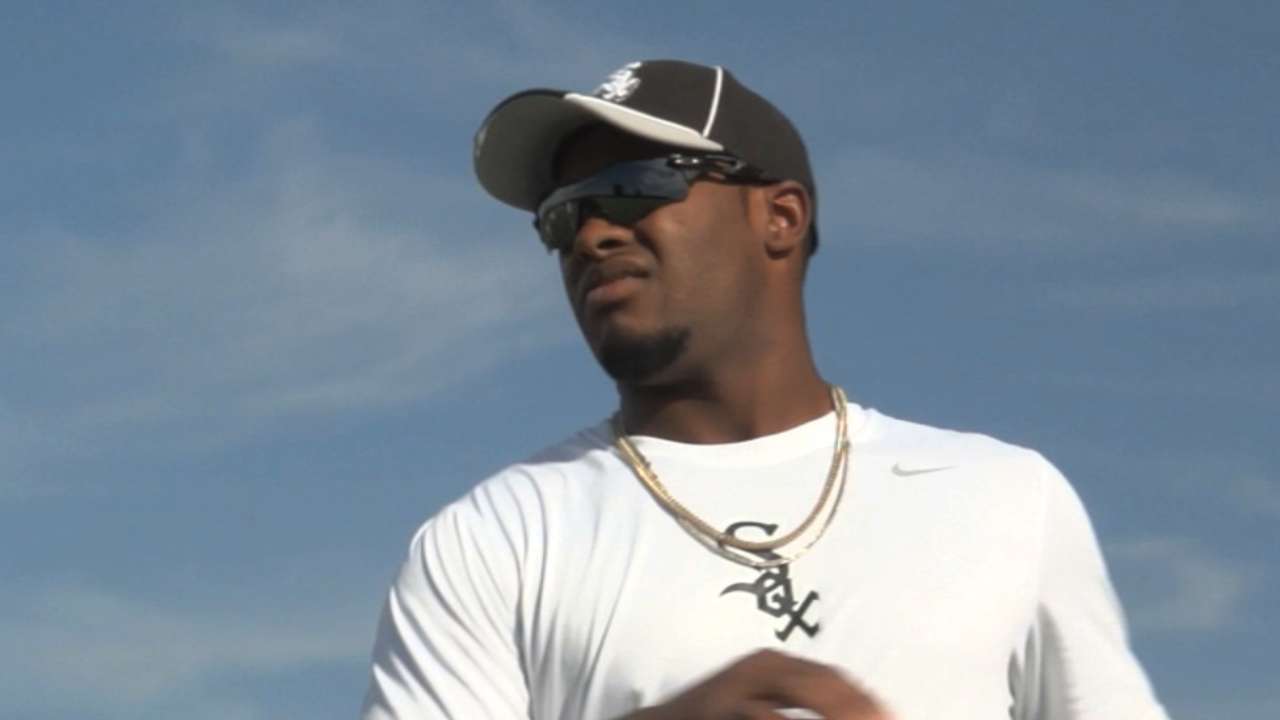 Chicago White Sox outfield prospect Courtney Hawkins exudes confidence. He is an outstanding athlete with both power and speed.
Hawkins was so good as a combination outfielder/pitcher at Mary Carroll High School in Corpus Christi, Texas, the White Sox selected the 6-foot-3, 220-pound right-handed hitter in the first round (13th selection overall) of the 2012 First-Year Player Draft. He chose to sign with the club rather than attend the University of Texas at Austin on an athletic scholarship.
Even though Hawkins threw his fastball in the mid-90s in high school, his hitting, speed and power potential were too good to ignore. That's why the White Sox have elected to use him solely in the outfield in his professional career.
Hawkins, currently No. 5 on the White Sox Top 20 Prospects list, is determined to succeed. With his older brother's guidance, he went from being heavy as a 13-year-old to a reduced weight early in high school. Now, Hawkins' weight is evenly distributed in a well-toned, physically fit frame. However, his weight and conditioning will be an important factor for him to monitor going forward.
Hawkins spent his first year in baseball as an 18-year-old playing in three leagues at three classifications. He began at Bristol, Chicago's Appalachian League Rookie-level club, where he went to the plate 159 times in 38 games. Hawkins hit .272 with three homers and 16 RBIs. He also stole eight bases.
Solid hitting led Hawkins to play for the Class A Kannapolis club for 16 games and then on to Class A Advanced Winston-Salem, where he finished the year playing five games in the Carolina League. He was extremely young for the league. Altogether, Hawkins completed his rookie season hitting a very respectable .284 with eight home runs and 33 RBIs. He stole 11 bases, being caught five times.
Last year, Hawkins returned to Winston-Salem for the entire season and was, again, young for the league. He hit only .178 in 425 plate appearances covering 103 games. Even though Hawkins scuffled, trying to blast everything out of the park, he did manage to belt 19 homers and drive in 62 runs. He was able to show his power, but there was a hefty price to pay. Hawkins struck out 160 times and drew only 29 walks.
Hawkins used a very aggressive approach in that second year, swinging for the fences and trying too hard to flash his huge strength and power. His strikeout total reflected a long, undisciplined swing that helped him learn his own abilities and taught him to adjust to the circumstances. Hawkins never gave up on himself.
To Hawkins' credit, this year has seen a marked improvement for the 20-year-old. He is hitting very well back at Winston-Salem, where he has shifted to left field from his usual center-field position that he played in his first two professional seasons.
Hawkins has extremely quick hands through the ball. His bat speed helps generate his game-changing power, but most especially to his pull side. Hawkins is most lethal on fastballs. That said, he has work to do on recognizing breaking balls and offspeed pitches as well as making sure he is more selective in his approach. Swinging at balls out of the strike zone has been among Hawkins' issues for development. His hand-eye coordination is very good, and he should be able to make an adjustment to be selective. In his career to date, and even this season, Hawkins has had difficulty hitting left-handed pitching.
In the past, Hawkins has missed development time with a shoulder strain, but his arm remains strong and efficient. He is capable of playing right field, but I think he is best suited in his current left-field position. I think Hawkins will develop into an above-average outfielder with good speed and agility.
Hawkins is able to steal and take an extra base when it's appropriate. His speed and baseball instincts add additional dimension and depth to his value. For now, Hawkins has work to do to shorten his long swing, improve his patience and pitch selection and refine his power with a less aggressive approach.
Bernie Pleskoff has served as a professional scout for the Houston Astros and Seattle Mariners. Follow @BerniePleskoff on Twitter. This story was not subject to the approval of Major League Baseball or its clubs.