Young's late heroics give Yanks thrilling walk-off win
Outfielder breaks up no-hit bid in eighth, hits game-winning HR in ninth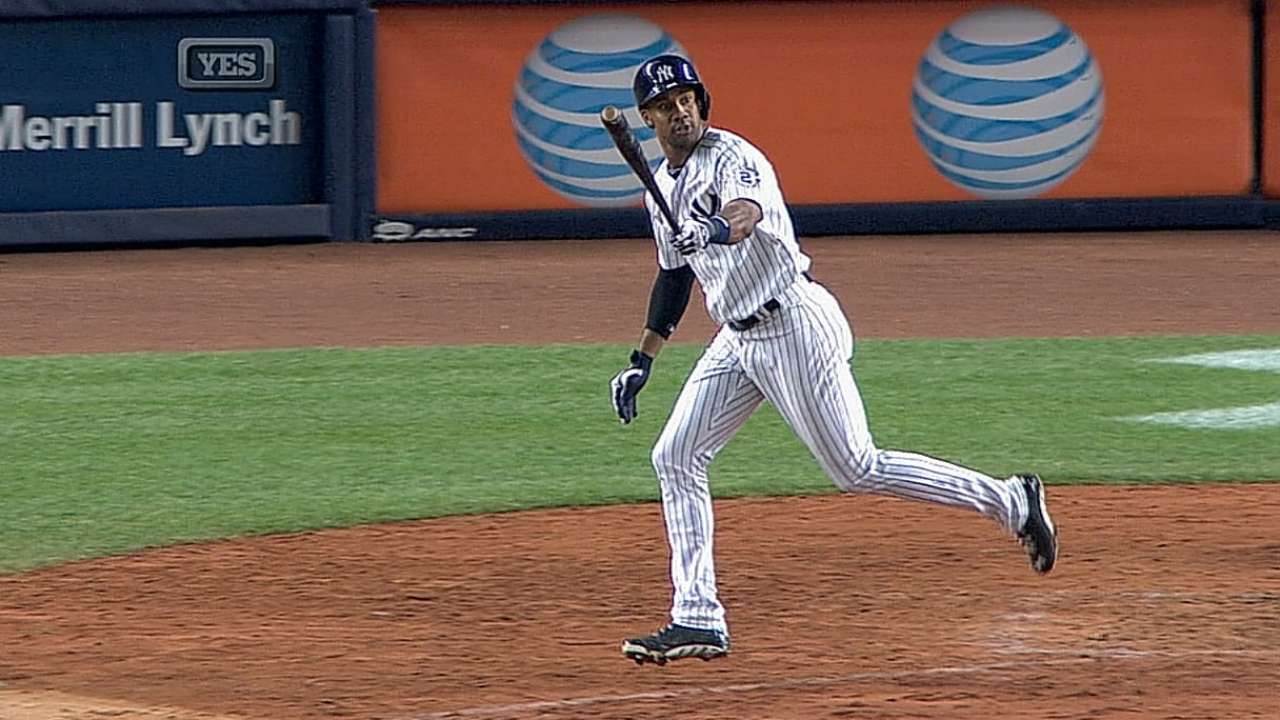 NEW YORK -- Chris Young says he could barely remember what came after the biggest moment of his 2014 season: when he slapped hands with third-base coach Rob Thomson, shuffled sideways down the third-base line and whipped his helmet to the ground before being mobbed by his teammates at the plate.
Young's walk-off three-run home run gave the Yankees a 5-4 victory over the Rays on Thursday, sending the crowd at Yankee Stadium into a frenzy celebrating the team's most unlikely win of the season. The Yankees pulled to within four games of the Tigers for the second American League Wild Card spot.
"It was amazing," Young said. "You feel like you're floating on a cloud."
The Yankees had been stifled by Rays starter Alex Cobb all night long and were poised to turn in another lackluster offensive performance. He carried a no-hitter into the eighth inning before he allowed a one-out double to Young, ending Cobb's night.
That paved the way for the Yankees' comeback, their second come-from-behind win after being down four runs in as many days, after not having that large of a comeback all season long.
Brad Boxberger replaced Cobb and allowed a pinch-hit two-run homer to Martin Prado, who did not start because of a left hamstring injury. That cut the Yankees' deficit to 4-2 and offered their first glimmer of hope.
In the ninth, the Yanks put the first two men on base against Rays closer Jake McGee. Chase Headley led off and, in a scary moment, was hit by a pitch on his chin and had to leave the game. Austin Romine pinch-ran and moved to third base on Ichiro Suzuki's double. Zelous Wheeler then struck out before Young went deep for the game-winner.
The Yankees could have hardly imagined this when they signed Young to a Minor League deal weeks after he was cut by the Mets after a disappointing season in Flushing. He was hitting .205 with eight homers and 28 RBIs with the Mets after signing a one-year, $7.25 million contract.
Young is playing with Robinson Cano's old number, 24, is using Alex Rodriguez's old locker and has been inserted into the starting lineup because of an abdominal injury to Brett Gardner. Young went 6-for-11 with four runs, two doubles, two home runs and seven RBIs during this three-game series against the Rays at a time when every game is so crucial for the Yankees.
"It's amazing how quick things can turn around for a player that plays every day," manager Joe Girardi said.
The Yankees are hoping Young's resurgence serves as an example for their season.
They are only four games behind Detroit, but also have to jump ahead of Toronto, Cleveland and Seattle, with just 18 games remaining in their season. To do so will almost certainly take an extended winning streak, and the Yankees have spent most of the season barely above .500.
But even when their chances have looked the most bleak, they have not lost hope.
Take for instance, in the eighth inning, as the infielders surrounded Girardi during a pitching change, Derek Jeter told the Yankees that they were about to score two runs in the bottom of the inning and three in the ninth.
Jeter says he does not make such bold statements often and joked that he is not a prophet, but he still had confidence that a team being no-hit at the time would manage to pull out a victory.
"I don't care how anything looks at a particular point, you have to have faith in your team," Jeter said. "At this point in the season, we can't change anything that's happened. We need to go out and try to win every game."
Michael Pineda turned in a solid outing, allowing 10 hits but holding the Rays to four runs in 7 1/3 innings. In the fourth inning, Yunel Escobar hit a three-run home run to left field to give the Rays a 3-0 advantage. Escobar added a solo homer to begin the seventh for his first career multihomer game.
That put the Yankees down 4-0 with Cobb cruising through their lineup with little resistance. He finished the day being tagged for one run on one hit in 7 1/3 innings, while walking two and striking out four.
In just two innings, the Yankees turned what could have been the lowest moment of their season -- no-hit in the middle of a push for the playoffs -- into a blissful walk-off victory that kept hope alive.
"It just says a lot about our character I believe," Young said. "You're not out of it until you're out of it. You give us one strike left in the game or whatever it may be, we still have an opportunity. All you can do is try to take advantage of the opportunity."
Jamal Collier is an associate reporter for MLB.com. This story was not subject to the approval of Major League Baseball or its clubs.